This is a quick post for Workbasket Wednesday because I also have a curriculum post coming your way on Wednesday…to make up for a few days I've been buried in morning meeting materials for TPT. 🙂
It's been a while since I focused on the older students specifically, so I want to do that today (note-anyone linking up can focus on anything they want, there is no theme!). One of the things that we focus on as students with developmental disabilities get older is life and job skills. [Tweet "Check out these 2 vocational skills that practice some skills that I know come in handy in my life in general and in doing office jobs."]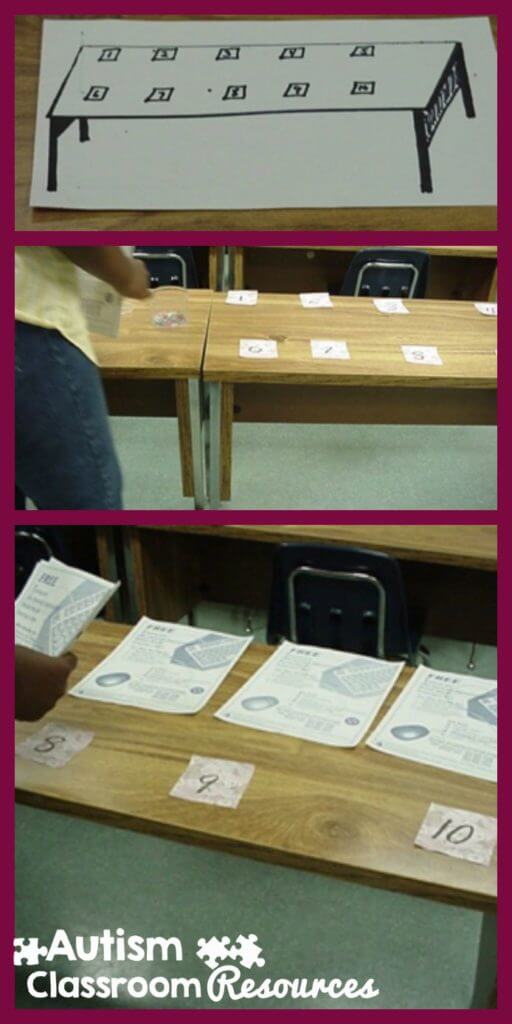 The first is setting up collating tasks. I'm sure as teachers none of you ever have to collate papers. One of the focuses you will see in the task below are that we use numbers on the table so that the students can set up the piles of pages (the numbers correspond to the page) so that they can go in order (left to right, top to bottom, like reading) to pick up the pages and keep them in order to staple or paperclip them. You could have a dedicated table for this in a work area, or if you don't have the space, make a poster with bulletin board paper with the template on it and roll it up when you are through. You can also make a diagram like the one in the top picture that shows the students how to set it up. Do what works for your students. However, this is the kind of task that is one of the reasons I don't really like using 3-drawer systems for work systems–putting many of the vocational tasks like this won't work if you are confined to the three drawers. Just something to keep in mind and I'll talk more about this in the future.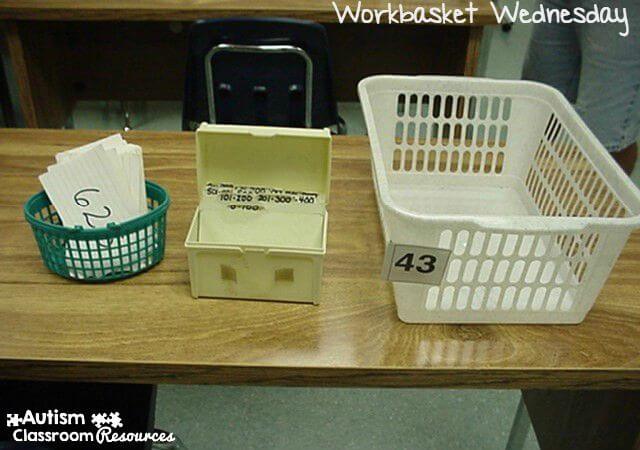 The next task is a filing task but it is a bit of a different twist. It is putting the cards between dividers that are ranges of numbers. This particular example was set up to work with a retail job in which the item numbers had to be stored. We may not do as much filing as we used to now that most of what we do may be on the computer, but the skill of knowing how to put something within a range of numbers continues to be an important skill on the computer or with paper. The 43 is the number of the task that would be in the student's list to follow to complete his or her work.
So hopefully that will give you some ideas for work tasks for older students working on vocational skills. One thing that might be useful to think about this year is that this program had set up a vocational area. If you have the space and you teach a high school or transition classroom, it might be something worth considering.
Want to link up to Workbasket Wednesday? I would love you to–just follow the directions below and if you have difficulties hit the envelope up at the top of the page and shoot me an email and I'll see if I can help!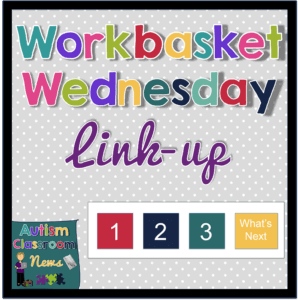 [inlinkz_linkup id=551376 mode=1]