I have been struggling to write this post this year. I've gotten caught up in trying to decide what symbol to use to represent autism. Traditionally it's always been the puzzle piece. But for the last 4 or 5 years, autism self-advocates have been very vocal that they are not a puzzle to be solved. And they are moving toward the infinity symbol for neurodiversity.
Reflections
It caused me to reflect on how much autism has changed since it was first identified. My sister was one of those who would have been identified had we used the criteria we use for diagnosis today. It took a long time to realize what it was, but it's so much clearer now.
My family gathered this past month to celebrate my mom's life. And when we talk about mom, my family's experience with autism is always a topic of conversation. The doctors told my parents to place her in an institution and they refused. We talk about the difficulty of finding someone who could explain her differences. And my mother was the constant advocate for finding her the teaching that my sister both needed and deserved.
The world was a much different place then. And yet we are still fighting some of the same battles of misinformation and misunderstanding. The world knows the word autism now. That is quite different than when I started in the field when people thought I was saying "artistic." But they don't always know what it means. So there is still work to do.
Symbols
I finally realized that the symbol is less important than the message. But that's not to say it isn't important at all. It is. It represents the people we serve. And if our message in April is to build acceptance in our communities, our schools, and our countries for people on the spectrum, we need to listen to their voices and accept them.
I have always accepted the puzzle piece and include it in my logo. To me it means that it is our responsibility not to solve the "puzzle of autism" but to figure out how to make pieces fit to create an infrastructure for all of ASD. To help our society be more accepting of the differences individuals on the spectrum bring to the richness of communities. I don't believe we need to make the individuals with ASD "fit."
Let's use April to make our communities more accepting of the diversity of autism.
My April Affirmations
So, here is what I do believe about creating acceptance for autism.
I believe we need to help our students, our family members, and our friends on the spectrum to find a place where they are loved, supported, and can be themselves.
And, as a family member, I also know that the differences aren't always easy. So in addition to acceptance, we need support.
I believe that we need to not just accept differences of all kinds, but embrace them and celebrate them.
I believe that individuals with autism (or autistic individuals) are people first…not a symbol, or a puzzle.
And finally I believe that we need to support our families and our caregivers, whether teachers, direct care staff, paras, related service providers or anyone working with individuals with autism or other disabilities.
So, in an effort to embrace the differences and support those working in the field, the special education community from TpT has come together to link up free resources for you.
So that's about as contemplative as I can get this evening on this topic. As for the symbol, I chose the symbol for neurodiversity (the infinity mobius strip). But I also included puzzle pieces…and the colors are to represent the spectrum.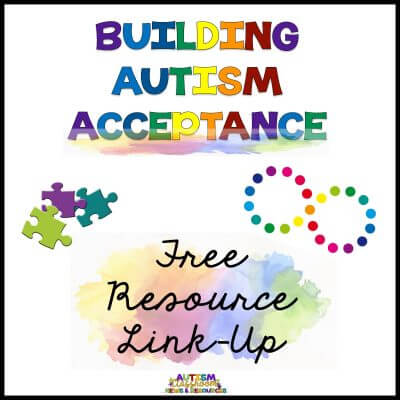 Whatever role you play in our autism community, I hope you will find a resource you can use to help improve the life of individuals on the spectrum and support their families.
And if you are a TpT seller who wants to participate, check the directions below for how to link up.
Until next time,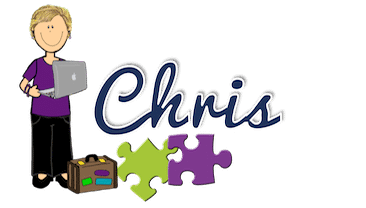 Link Up