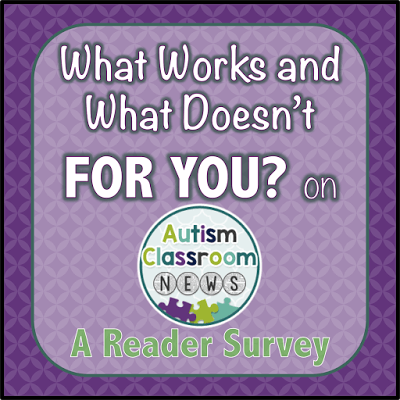 Whenever I set up a classroom to demonstrate strategies and train staff, the most critical part of the process is sitting down with the team at the end of the day and reviewing what worked and what didn't for the students and for the staff. This then leads to a problem-solving, brainstorming process to find solutions to fix what didn't work and not lose what was working. This problem-solving process is critical to any endeavor as it grows and changes. We repeat the process when a new student is added to a room or the schedule undergoes a change. Over time we get used to the routine and the problem-solving sessions become less frequent.
So, as this blog grows and develops I decided I needed to do the same type of thing here. I want to know what you want from the blog, what you like about it and what you don't. I'm planning on some upcoming changes (not drastic ones) that might enhance what the blog offers, but I want to see what you think of some of those ideas. So, if you wouldn't mind taking about 5 to 10 minutes (probably closer to 5) to complete this survey about what you would like to see from Autism Classroom News I would really appreciate it. TO COMPLETE THE SURVEY CLICK HERE. The survey is completely anonymous. Read on to learn more about ideas I'm having for changes (that are reflected in the survey) and some of my reflections on the blog, how it started, etc.

This blog began when I left my job working full time at Nova Southeastern University to pursue private consultation with teaching on the side. Like many blogs it started as a hobby because I needed a creative outlet to share information about autism. I never imagined that it would grow as it has and develop into such a large part of my life. I have always loved (and think I have an aptitude for) trying to bridge the gap between the research and the practice of educators. Trying to keep up with the research on autism and special education in general is a daunting task and a hard one to fulfill while running a classroom. In addition, research is not often conducted in the classroom and implementing strategies in a lab is much different than doing so while managing a class. My hope is that this blog serves to provide information about research-based strategies while also providing some ideas for how to implement them in the real classroom.
Many of my best ideas come from readers and my interactions with you on social media but I know I don't hear from all of you. I know that depending on the data from the site in terms of Pinterest pins and page clicks is one way to assessing what works and what doesn't. However, I also know that all of you are such busy people that there isn't always time to leave a comment on the blog or Facebook or let me know if you liked (or didn't like) something, so the numbers don't always tell the right story. In addition, there are times of the year that are particularly busy when a post or series might be really well-received but no one has time to look at it because they have 15 IEPs to write. Consequently, this is my opportunity when hopefully things are calmer to get some feedback from you so the blog continues to improve and meet your needs.
Ideas I'm Considering
I have so many ideas for some many things I can't possibly put them in order to share all of them. However, here are some of the primary ones that I'm thinking of now and that are addressed in the survey.
Newsletter:
I have been thinking of starting a monthly newsletter. I'm picturing the newsletter as being highlights from the blog and maybe other social media postings (because I know that there are some people who don't "Facebook" and they may miss some of those ideas). It would probably also include a product highlight or two of how it can be adapted or used in a classroom–nothing too extensive. Maybe an extension of a post or idea that can't be found anywhere except in the newsletter. And finally occasional freebies that would only be available to newsletter subscribers. I've included a question about your interest in a newsletter in the survey because I know it will be a time-consuming endeavor and if I commit to do it, I want to know it's useful and I want to be able to follow through. Also, if do a newsletter, I will start a mailing list specifically for that, so if you are reading this through an RSS feed or email, you won't have to automatically receive the newsletter since it's not really what you signed up for.
Posting Structure:
At the moment, I sort of post when I am inspired to post. I try very hard to post 3 times a week but sometimes life gets in my way. Consequently the posts don't really get posted in any kind of structured time frame. I would like to change that so that readers can predict when new posts will be available. At this point I probably won't commit to more than 3 posts a week (because I'm starting to contribute to another blog once a week as well-more about that in the future) but I could always add a post to the schedule if I was feeling really inspired.
Types of Posts:
I really like having the ongoing series of posts on specific topics, like the one going on now on Effective Intervention Strategies in ABA. However, I get bored with the same topics (and maybe you do too) even when there is so much more to say. More than bored, however, those posts take considerable time because they are meaty and heavy which makes getting the posts written and posted three times a week difficult. And of course other things interfere that I feel I must share and break up the series. I'm considering a posting schedule that includes one of the series posts each week (maybe on the same day so you could anticipate it) and the other two posts during the week would be tips about work systems or classroom organization or reviews of products or apps I've found that you should know about, etc. Those are time-consuming as well but they are more "fun" than say, writing about prompting, which is fun but not in the same way. 😉
OK, so this post, like many of my posts, has gone on way longer than I planned. I am really looking forward to hearing what all of you think. I'll leave the survey up through next Saturday. You can complete it through THIS LINK or you can complete it in the embedded form below. The survey is completely anonymous.
Thanks in advance for taking the time to read the blog and share your thoughts and ideas. I truly appreciate all your support!
Until next time,