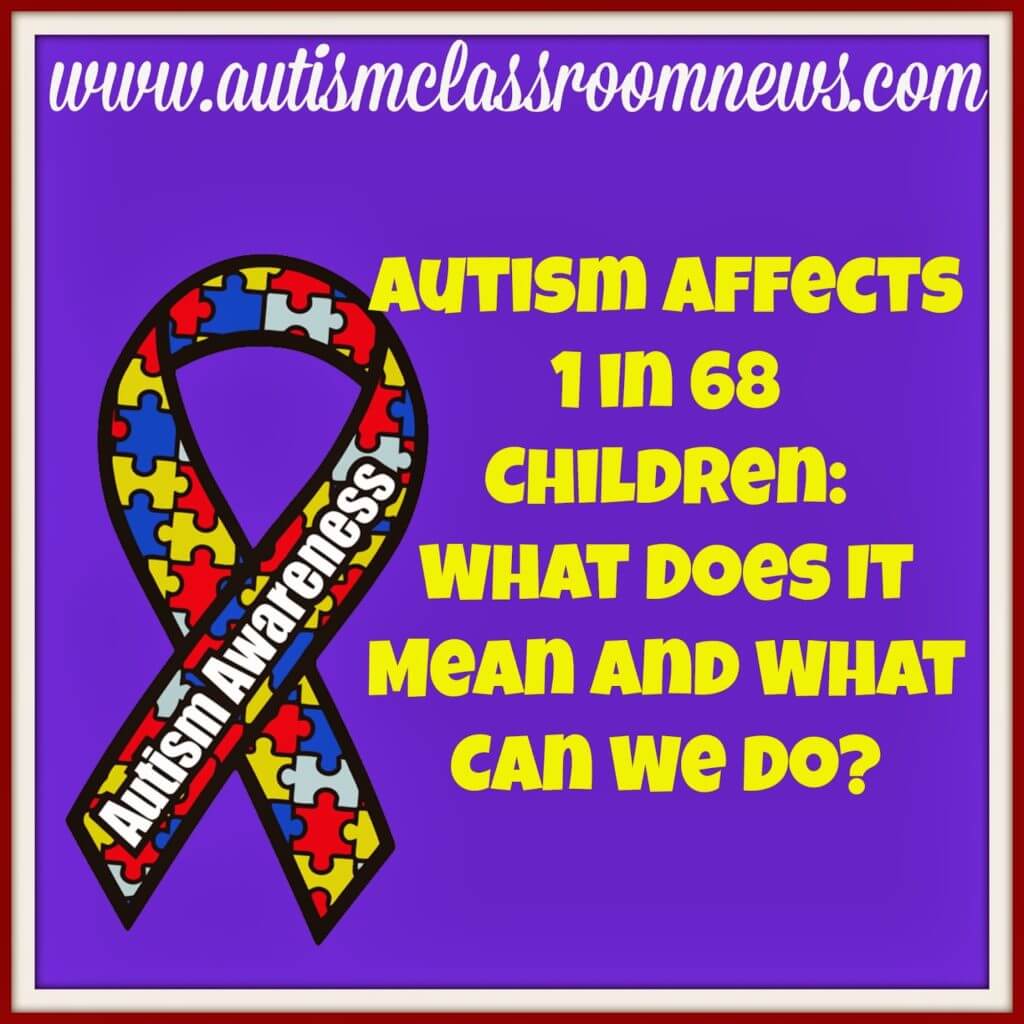 If you have ever heard me speak, you have probably heard me say that when I began my career, if you had told me that autism would be a household word that everyone is familiar with, I would not have believed you. And I'm not that old. Just in the 15 years I've been back in Florida, I began my consulting career getting on planes and if someone asked what I did, and I said I worked with autistic kids, people assumed I meant "artistic." Today, I sit next to people on the plane and they ask what I do, if I say I work with kids with autism, they have a story to tell me about their child, their nephew or their friend's child who as ASD. Autism prevalence rates have increased significantly in the last 20 years, clearly. As you may have heard, today, the CDC released new numbers in the prevalence of autism spectrum disorder. The new number are 1 in 68 children (8 year olds) have an autism spectrum disorder. I want to spend some time translating and relaying the numbers and then I want to spend some time talking about ways that you may be able to help your community be more aware and accepting of individuals with ASD.
First, the new numbers are actually from 2010. Yes, it takes more than 3 years to get the information gathered, processed and tabulated. This means that this present data is based on the diagnostic criteria from the DSM-IV–not the new diagnostic criteria that changed the way we classify ASD by integrating Asperger's, PDD, and Autism together under ASD. There is lots of speculation about whether this new diagnostic criteria will change the prevalence. This data doesn't tell us that because the diagnostic criteria used is the old one.
Our last prevalence data from this report is approximately a 30% increase over the prevalence from 2008 that was released in 2012. Since, this is data from 2010, it's reasonable to assume that autism diagnoses are continuing to increase at a similar rate–so the numbers may be even higher now than they were.
Diagnosis prevalence differs significantly across the 11 states that were studied from 1 in 175 children in Alabama to 1 in 45 children in NJ. It's unclear whether it's a change in incidence or practice of diagnosis. However, the prevalence rates were developed by reviewing either health or educational records of children, regardless of whether they had received any diagnoses or not. Therefore, it's reasonable to assume that it is not just a difference in screening or diagnosis that accounts for the differences. Consequently, your state may have a higher or lower prevalence than the overall average.
We continue to have a significantly higher incidence of boys than girls. Boys were 1 out every 42 8-year-olds. Girls were diagnosed at 1 out of 189–that's almost 5 times more boys than girls. While this difference has been pretty consistent over time, there is some discussion that girls are underdiagnosed. However, it is unlikely that that accounts completely for the difference. This difference has been too significant over too long a period of time so it is likely that there is something about autism that affects boys more.
Non-Hispanic white children are more likely to be diagnosed than non-Hispanic black children by 30% and were almost 50% more likely than Hispanic children to be identified with ASD. We have some research that indicates that non-Hispanic black children are more likely to be diagnosed with intellectual disability than ASD and Hispanic children might be less likely to be diagnosed because of language issues. It's not clear whether this is related to identification issues. There is some emerging research (not part of the CDC report) that indicates that some of these difference, in at least some areas, might be related to maternal education and SES more than ethnicity.
Seven of the 11 sites had enough information to determine intellectual disability of the children. This is an area that has seen a significant shift in the last 10 years. Thirty-one percent of children with ASD had IQ scores less than 70 indicating intellectual disabilities; 23% were in the borderline range and 46% were in the average to above average range with IQ higher than 85. This means that almost half of the children identified with ASD had average to above average IQs, as compared to 1/3 of those identified 10 years ago. This is significant but again it's hard to tell if we are identifying more higher functioning individuals who weren't diagnosed before or weren't identified as having ASD or if it's because our early intervention efforts are working. Likely it's a combination of both. Again there were significant differences with 48% of the non-Hispanic black children with ASD showing IQ scores in the intellectual disability range, 38% of Hispanic children and 25% of non-Hispanic white children. So again we do have significant differences most likely related to screening processes in identifying black and Hispanic children.
Finally, interestingly, approximately 80% of the children whose records were studied had a previous diagnosis of autism. There were 363,749 8-year-old children in 11 states whose records were identified. That means there are 20% of the population who, at the age of 8, had records indicating they qualified for an ASD diagnosis but who hadn't been formally diagnosed. That's hard to believe in this day and age. It's also important to note that the median age for receiving a diagnosis of ASD was 53 months. In a world in which we can reliably diagnose ASD at 2 years old. Higher functioning children (who received a diagnosis of Asperger's) were older at diagnosis and children with intellectual disability and an Autism diagnosis were younger.
You can read the full report HERE.
So, what does this all mean we need to do?
1. We still need to raise awareness.
Children aren't being recognized early enough to get the early intervention that we know is critical and effective. We still need to get the word out, do regular screenings in doctor well visits, and make sure our child find process in schools are identifying kids in our communities.
2. We need to make sure we are reaching everyone
We need to make sure that education, awareness, and screening efforts are reaching all of the population regardless of ethnicity.
3. We need to continue to build our infrastructure of services across the age span
As the population continues to rise, we need to make sure we have trained educators, trained healthcare professionals, and community awareness and education programs to help service providers (like police and fireman as well as cashiers and healthcare professionals) recognize autism and how to interact effectively with individuals on the spectrum. And this means that we desperately need to focus our efforts on increasing our supports for adults on the spectrum. This population was 8 years old in 2010…that means they are turning 12 this year. Before we know it, they will be adults….and those who came before are already adults. We don't have nearly enough supports out there after children age out of school to support them whether they are "high functioning" or have intellectual disability or are in the average range. They all need support. We need to work together as a united community to move our governments forward to develop those supports, because this is a need that is going to grow and lasts much longer than the school years.
So, with all of that said, we are coming up on April, the National Autism Awareness Month. If you are a professional or a family member here are some thoughts about how to help raise awareness and acceptance in your community.
What Can We Do?
Ask your principal if you could raise some awareness at a faculty meeting.
I love Catherine Faherty's Understanding Friends activities. This an awesome way to introduce autism to children's peers, but I also have used it with adults. The experiential activities are designed to help children (and adults) understand the sensory and communication issues of ASD and are great for raising awareness.
Present to a community group…
like the Chamber of Commerce, about the employment prospects for individuals with ASD.
Change your Facebook page…
or profile picture to the autism ribbon or the Light it up Blue icon.
Light it Up Blue in many ways with Autism Speaks.
In April I will post more about my plans for NAAM, but there will be a lot going on from a linky of products and resources, like last year's, some graphics, and lots more ideas of how to raise awareness.
How do you raise awareness? Share it in the comments!
Until next time,