A common activity in life skills classrooms includes grocery shopping activities for students. Teaching shopping is a critical life skill. And The primary shopping site for most adults is the grocery store. For effective independence in the community, life-skills students need to know how to navigate the grocery store, follow a shopping list, understand price tags and grocery ads, read food labels, and determine if they have enough money to make purchases at the cash register. 
What Happens When Students Lack Skills at the Grocery Store
I have had a number of personal and professional experiences with individuals with developmental disabilities who are living or learning to live independently or semi-independently. These students get to the counter at the grocery store and don't know that they don't have enough money to make their purchases. For some individuals, this results in a variety of problem behavior stemming from frustration at having to give something up, difficulty deciding what to put back, and just plain embarrassment.
We have all had it happen to us at one point or another. But it's usually the exception rather than the rule. It's one thing to get to the counter once in a while and not have enough money. It's another if that is what happens every time you go to the store.
Grocery Shopping Activities Need to Teach Economical Use of Resources
In addition, many of us and our students, need to get the most of our money at the grocery store. That means being able to understand how to use sales flyers and make economical decisions. For instance, is it cheaper to buy brand name item A with a coupon or Brand name B that doesn't have a coupon? If item A is on sale for buy one get one free (BOGO), is now a good time to stock up on it and buy 2 to take advantage of the sale?
Strategies to Teach Grocery Shopping Skills
Community-Based Instruction-Going to the Grocery Store in the Real World
So, for many of our transition-aged students, we typically schedule in regular community-based instruction to the grocery store so that students are practicing these skills in real life. This allows them (and you) to prepare for and handle the barriers and problems that might arise in the local grocery store. For instance, you might discover that the student struggles with the automatic doors at the front of the store. So you might never know that from practicing grocery shopping in the classroom. Then when you take a trip, you discover you have difficulty even getting into the store. Practice in the real store is critical as students get older. And these trips need to be consistent, planful and systematic to help build the skills the students need for transitioning to independence.
Create a Field Trip Prep Room Grocery Store
A field trip prep room is essentially a room where you set up community site that you will be visiting in the future so that students can practice their skills in a more controlled environment without leaving the school. You can do it in your classroom. But if you happen to have a spare room somewhere, it's nice to have a place that you can set up separately so it feels more like a shopping trip.
So, in this case you would set up a grocery store in the room. You can bring in empty cans and boxes of food items from home to set up shelves. A cash register and put price tags (just use office dot stickers for those). If you can find a shopping cart it's ideal. If you can't find a cart, perhaps a local grocery store would let you borrow a shopping basket, which might be a better size. Sometimes you can purchase those things from a dramatic play center set for younger students too and they don't look too young.
Essentially you are setting up a room as a grocery store. And the students come in with a grocery list and money. They find the food items and make purchases. This gives you the opportunity to practice things like putting their pin in if they are buying with a debit card. They can practice waiting in line, getting change, etc. It's a great way for them to practice in a protected way. Just remember that they still need to go to the grocery store, preferably one in their own community, to use their skills. Because only a grocery store is like a grocery store.
Grocery Shopping Activities for Students to Use to Prepare Students for CBI and the Real World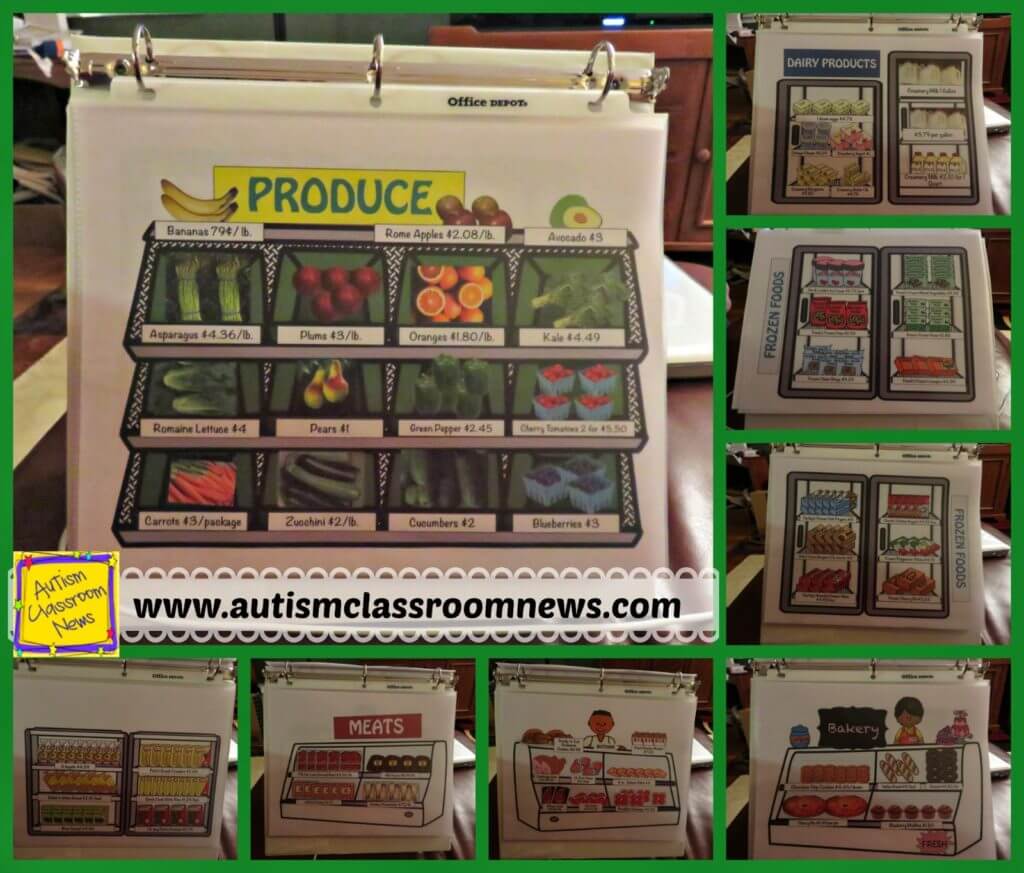 Maybe you are taking your students on progressive CBI trips to the grocery store and building up their endurance for making purchases. Or perhaps you don't have the budget or transportation to make regular trips to the store, but you want to start preparing your students to read grocery ads, and make good decisions about making purchases with sale prices and coupons, and find products in the produce section or the dairy aisle.
You can create a field trip prep room like I described above, and this set of grocery shopping activities can make that a bit easier. You can use it alone or add in real-life grocery items with empty cans and boxes. And even better, this set has task cards, worksheets and tools that students can use to practice the finding items in the store, math skills like calculating discounts, determining if they have enough money to make a purchase, etc. And you'll have a record of their progress with permanent work product to track how they are doing.
Pete's Grocery Store
This is my favorite part of the whole set. It includes a mock grocery store. You could use the PDF online as a virtual grocery store. Or print it out and put it in a notebook and use it as a catalog. Or place it on a notebook and use it as an easel as shown above. Laminate them into file folders as another option. Or, you could also print it larger and put it on large boards to simulate a grocery store in your classroom.
The grocery store pages use a combination of real photos and clip art to create a produce stand with fresh fruit and vegetables, a dairy section, meat counter, bakery, dry goods and frozen food aisles. There are prices for each item.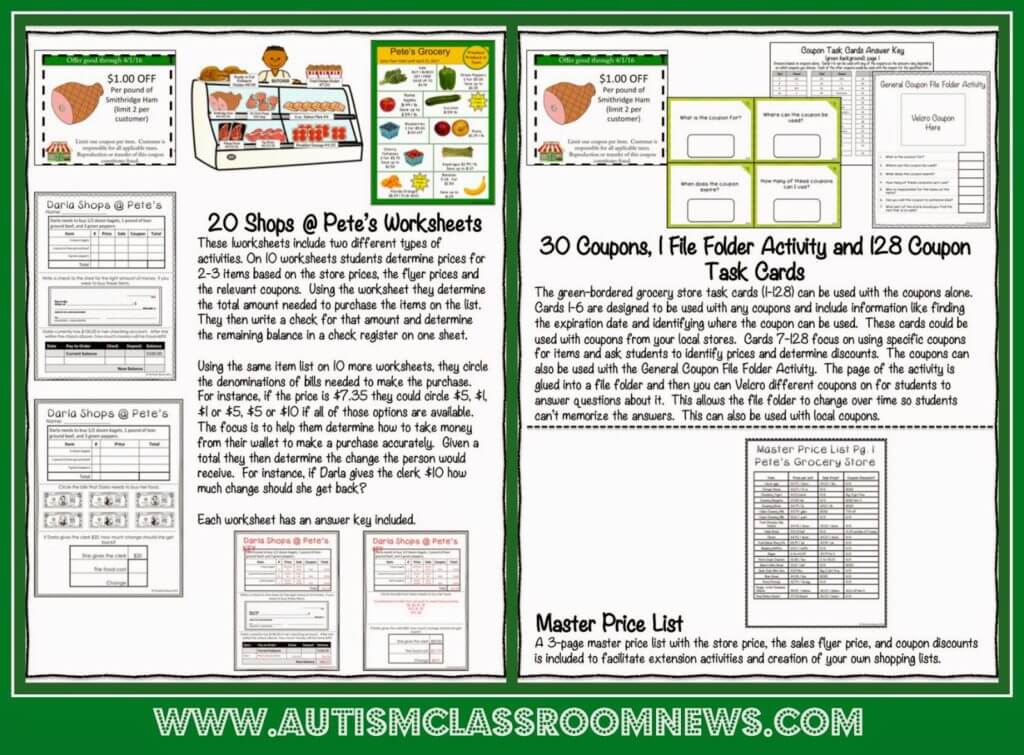 Grocery Store Activities for Students: Worksheets for Identifying Prices
Using the prices from the store, students find prices and complete 5 worksheets with pictures. These worksheets are perfect for students who are just learning about prices. The students find single items that have single regular prices (i.e., no sale prices).
Grocery Shopping Activities for Students: Using Coupons
Students who understand prices and are ready to branch out can begin to practice using coupons. There are 30 coupons for some of the items in the grocery store. Using just the coupons, students can complete 120 task cards that focus on determining prices and relevant information from the coupons.
In addition, task cards numbers 1-6 are generic cards and could be used with local coupons from flyers in your own community. This would be a great activity for students to generalize their skills to a local grocery store and to get further practice.
In addition to the task cards, there is a page that can be put into a file folder. With this worksheet, you can change out the coupon on the page. Then, the students answer questions about each coupon (e.g., expiration date). This way the students can't memorize the answers. This way, the file folder can be used repeatedly. This worksheet (or file folder) could also be used with local grocery store coupons and ads.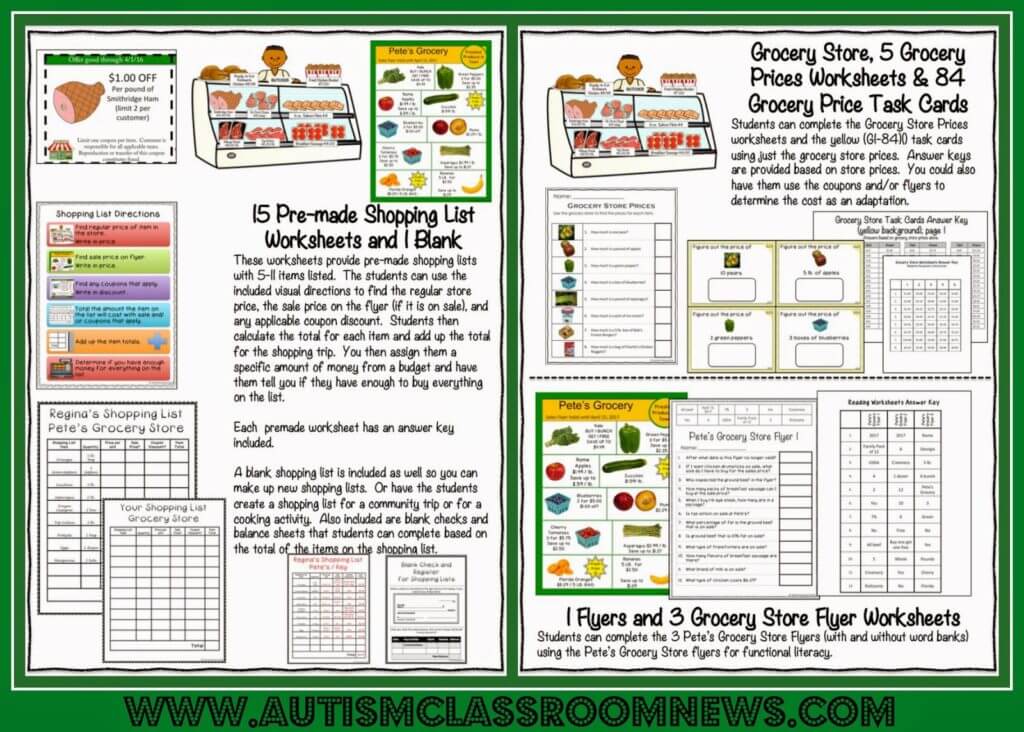 Grocery Shopping Activities for Students: Sales Flyer with Sales Prices
For students ready to tackle identifying and calculating sales prices, the set includes a 3-page sales flyer with sales prices for some of the grocery items in the grocery store. Some of the sale items and coupons overlap and others don't.
The students complete the 10 worksheets by finding find the sale price, if it applies, and then applying any applicable coupons, for each of the 2-3 items on the worksheet. The students then total the amount for that item and add up the totals of the food items on the grocery list.
On one worksheet, they can write a check and subtract the amount they spent from a register. On another worksheet with the same items, they circle the bills that they could use to pay the clerk for the items. Then they subtract what they paid from the amount they gave the clerk to determine change they would get back. This helps them determine if they have enough money for the purchases.
Pre-Made Shopping Lists For Calculating Sales Prices and Using With Your Local Grocery Store
Finally, using the store, the sales flyer, and the coupons, there are 15 pre-made shopping lists each with 5 to 11 items on them. The students determine the amount of each item based on the store, sales flyer and coupons. They then add up the costs. Students can write a check and subtract the amount on a register from a balance you give them. In addition to the pre-made shopping lists, there is a blank one. With the blank one, you can make your own from the materials in the pack or from your local store.
This is 174 pages of grocery store goodness is in my Teachers Pay Teachers Store aims to increase independence in the grocery store and community. But it can also go beyond the paper and pencil activities in the set, you can also extend student's learning in a variety of ways.
For more information, check out the preview in my TPT store!