When I do school consultation, I support both special educators and general educators (as well as related service providers, paraprofessionals and administrators). I frequently get called in because a school is trying to figure out autism teaching strategies to help a student with autism spectrum disorders or a related disability be successfully included in general education. And of course inclusion takes many forms for our students. It might include eating lunch with their peers in the cafeteria and going to recess. It might mean being in the general education classroom throughout the day. For older children it might mean working in the community or attending vocational classes at a local community college.
All of these situations are types of inclusion. They involve being part of the community. And they are important specifically for that reason…because of course our students are part of our communities.
So the question that I frequently get asked is "what supports do I need to help this student" to make a positive difference in their education. We all know that we can't do our job if we don't have the right tools. Our students can't be successful without the right tools either.
So, I decided I needed a toolkit to help show these autism teaching strategies and to help get teachers started. These tools will help successfully include students in their community and school environment.
The toolkit is available in my TeachersPayTeachers store, but some elements of it are also available free from the blog or my store (and I included the links here). I included them even thought they don't add to the price of the item because they were tools that teachers would need and I didn't want to send them all around the internet to find them.
I'm going to describe the elements of the toolkit and autism teaching strategies and I'll link to relevant blog posts as I go.
DAILY VISUAL SCHEDULES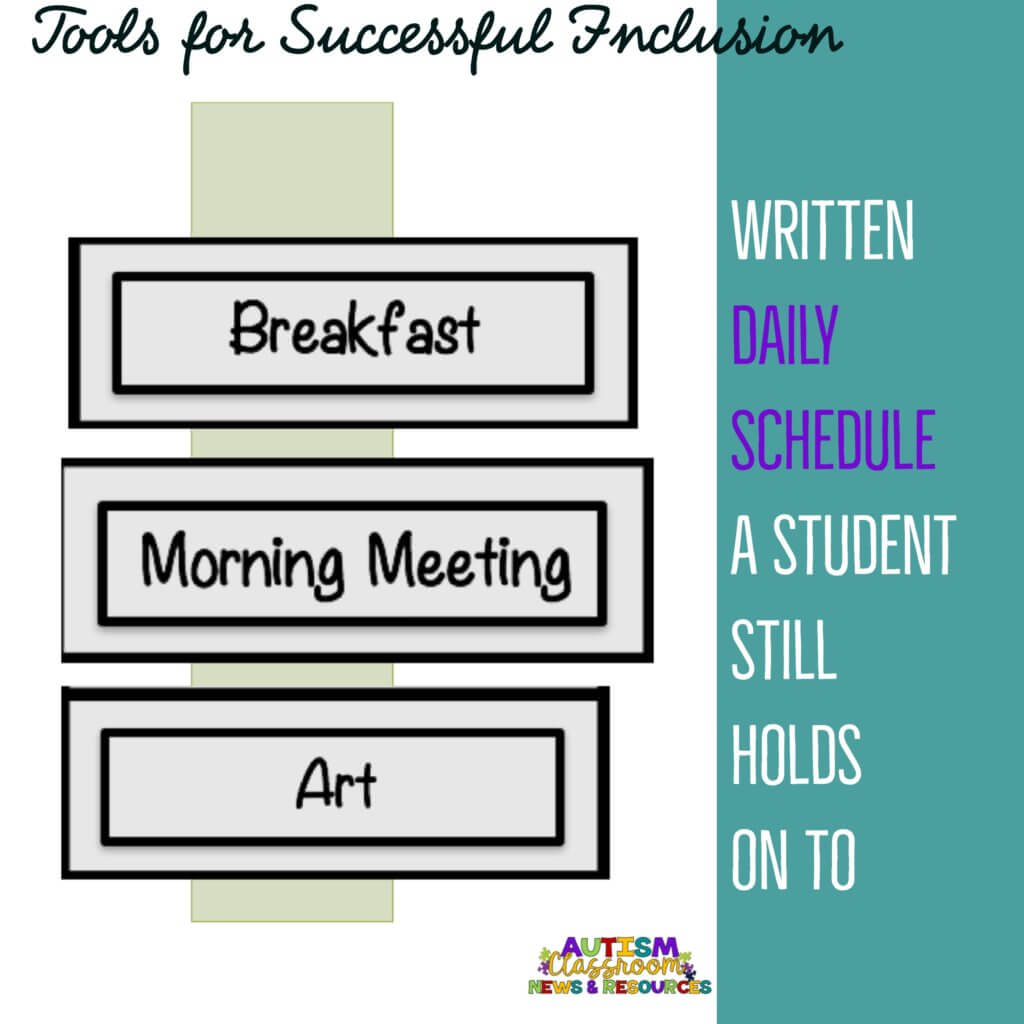 Most students on the spectrum do well with some type of daily visual schedule to help them understand and establish a daily routine. Some students are able to manage with a written class daily schedule. Some need a picture schedule and some can handle written schedules. Both are included in the Toolkit. You can read more about choosing schedule types in this post.
MINI SCHEDULES
Mini schedules are the best way to break down the sequence of upcoming activities and help autistic learners follow along independently. They serve a couple of functions for the students in the classroom and should be used throughout the entire school year.
They help students follow along with an activity
They helps them know when an activity will be over.
They build independence in gathering materials.
They build independence in completing routine activities.
They help students understand expectations of activities.
You can read more about mini schedules here and here. The inclusion toolkit includes the general / academic mini schedules from my store.
PREVENTIVE & REDIRECTION VISUALS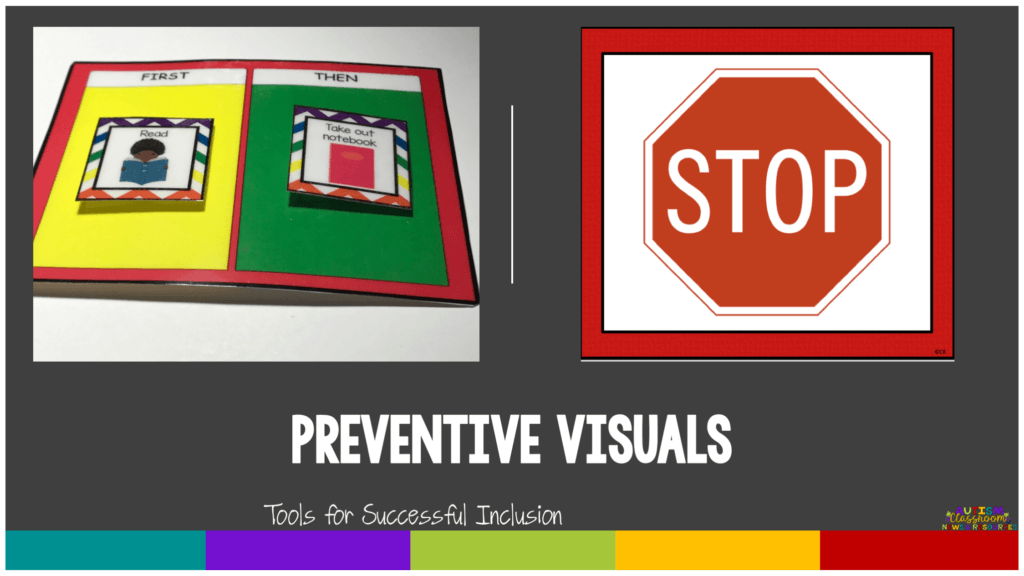 Visuals can be used in many different ways to prevent challenging behavior in autistic students and they are one of the most crucial autism teaching strategies you can implement. You can find the free stop sign in this post. I use it to show students when something is not available, to remind them to stay in an area, and to show something is off-limits. For instance, it is great to put on the screen on the computer when the computer is not available.
First-then is a great tool to help students see that they can do something you want them to do and then do something they want to do. You can learn more about them in this post and download a free one in my store here.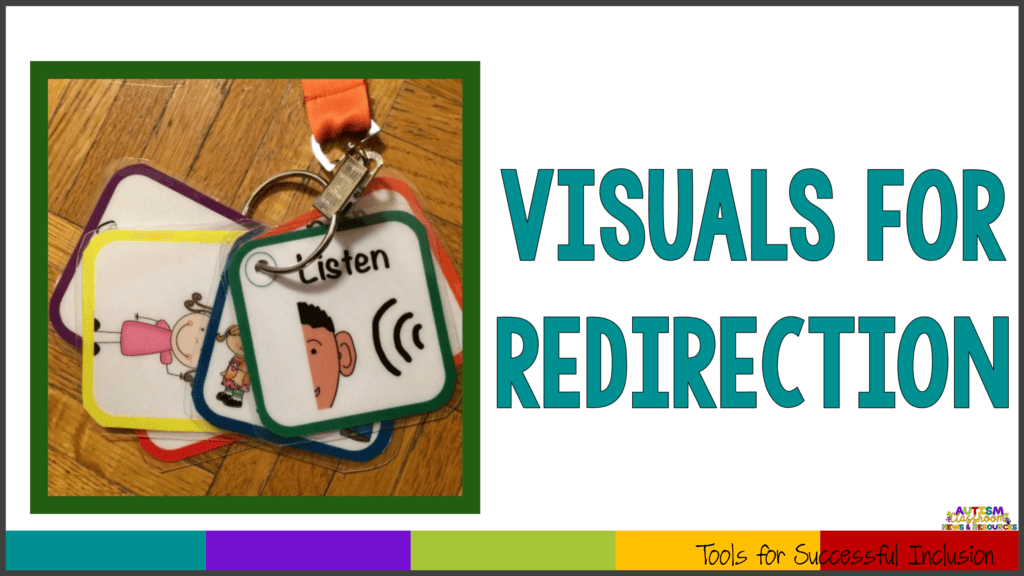 I love having these visual cues on my lanyard to redirect students when needed. There are simple, positive statements of what you want the student to do. This allows you to tell him or her what he should be doing instead of calling attention to the negative behavior you want him to stop. This type of redirection is much more effective than attending to negative behavior because it avoids reinforcing the negative behavior. And it also tells the student what to do instead.
Redirecting a student to a behavior you WANT them to do, instead of using no, helps them be more successful. #PBIS #autism
Behavioral visuals for remaining calm or calming down are also a great tool to have on hand, especially for visual learners. This set is part of my I Can Calm Down Toolkit (that includes social stories below).
They include visuals for a routine to help students be calm before entering into a class or activity. This helps the students with autism feel more successful when they get in the room.
They also include visuals for taking deep breaths, tools for teaching them to ask for a break (to leave the situation before they melt down), and possible break choices.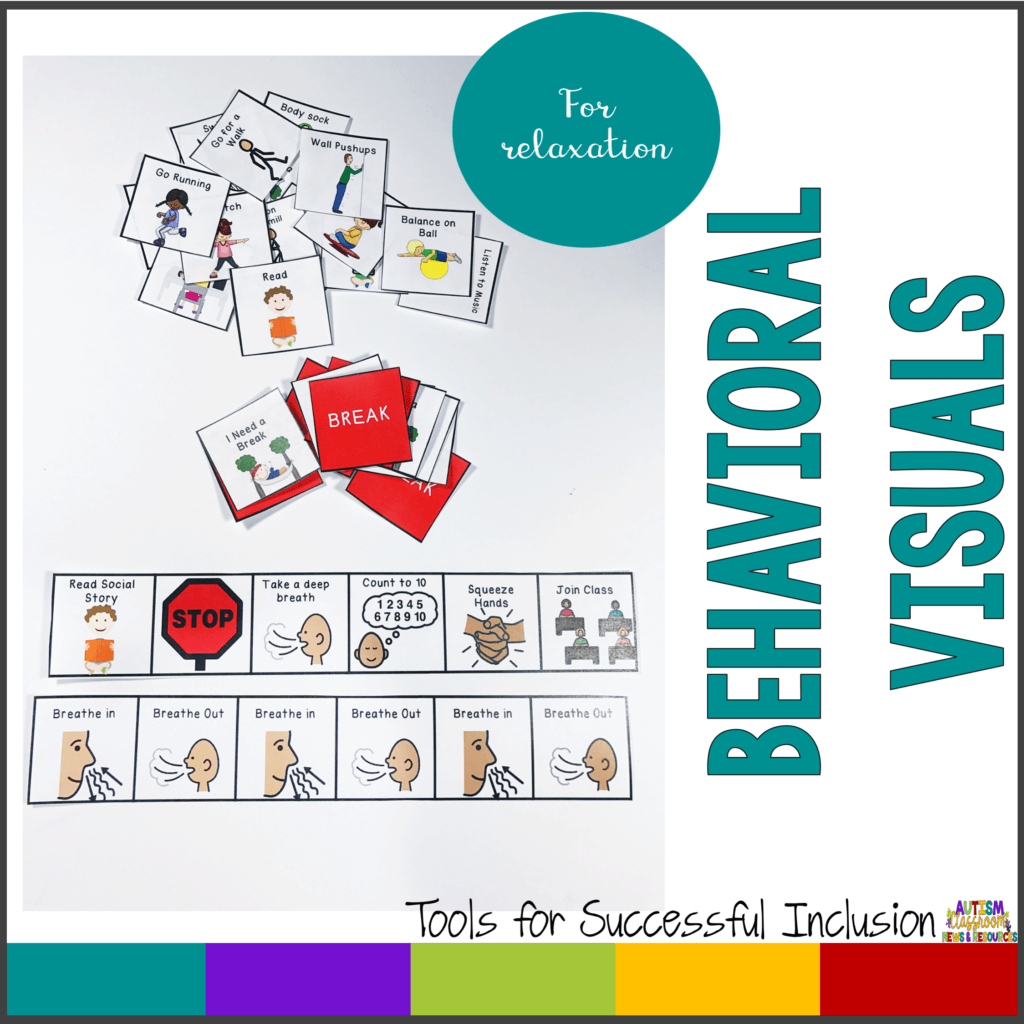 REINFORCEMENT SYSTEM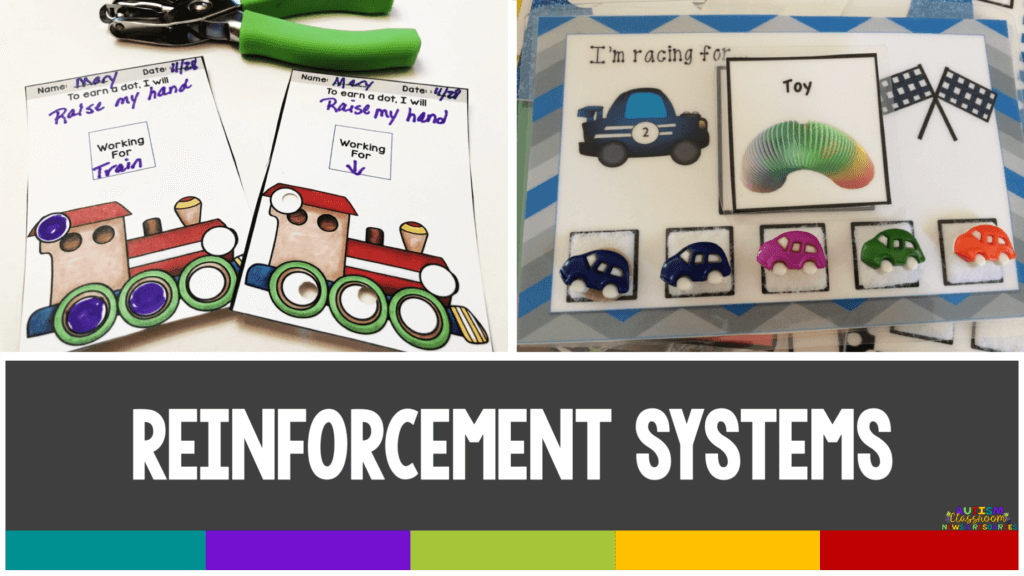 Reinforcement systems can be really useful in addressing challenging or inappropriate behavior, preventing behavior, and increasing independence. Included in the toolkit are token boards with different themes for preschool and elementary. You can download princess and train ones in my store for free. To see more about how I use them, check out this post.
Sometimes it's easier to use punch cards so you don't have to keep track of all the different token pieces. Students get a hole punched (or colored in) when they demonstrate the behaviors that you are reinforcing. When all the holes are punched or filled, then they get a the reinforcer like iPad, train, candy, etc. I made the punch cards so that at times you can use them to represent the reinforcer–for instance there is an iPad one. The kit includes a set of punch cards with different themes. Check them out here.
CONTINGENCY MAPS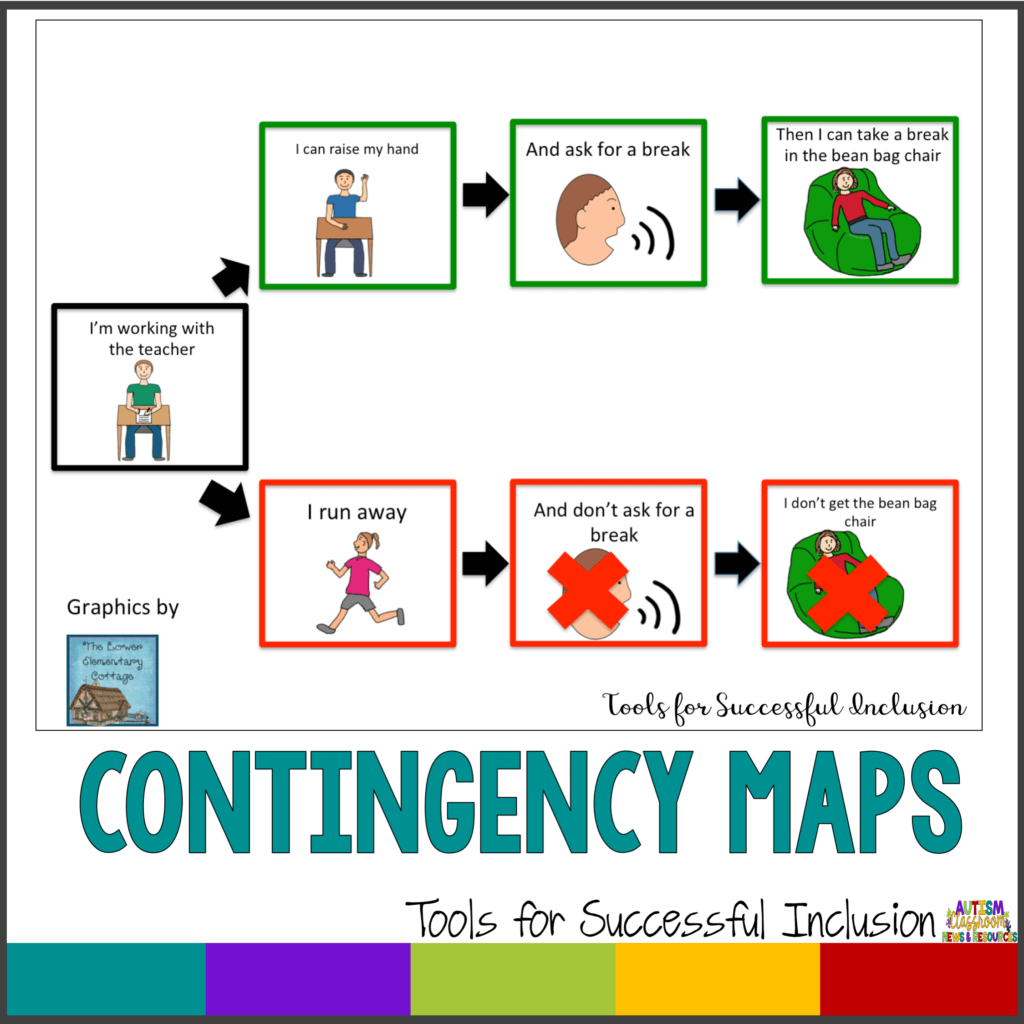 Contingency maps are one of the most important autism teaching strategies. They are a way of helping students see the consequences of their actions and choices. In this case, if the student raises his hand and asks for a break, he gets to take a break on the beanbag chair. If he runs away and doesn't ask for a break, he doesn't get the bean bag chair.
They represent the natural contingencies for the students and can prevent challenging behavior.
You can read more about contingency maps in this post and download a free set in my TpT store. They are also included within the Starter Kit for Successful Inclusion.
SOCIAL NARRATIVES
Social narratives are social stories that focus on presenting new information to students or helping them understand social interaction and social situations. They can also be used to help them understand the expectations of the teacher, situation, or other students.
Two sets are particularly helpful for students being included. One set focuses on classroom routines, like lining up and following the teacher's directions (e.g., Classroom Routines Social Stories). The other is my I Can Stay Calm social stories and visuals that focus on ways to remain calm, ask for a break, and manage anxiety.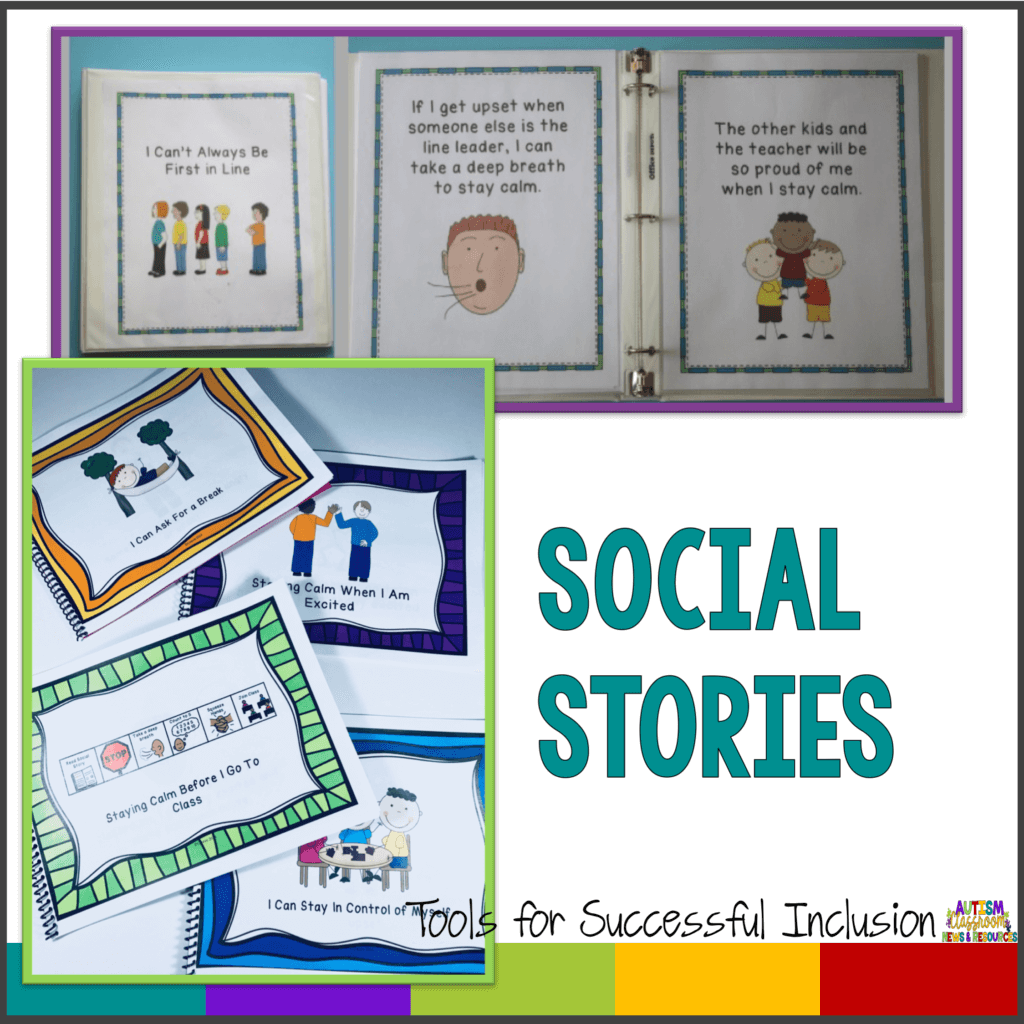 SOCIAL SCRIPTS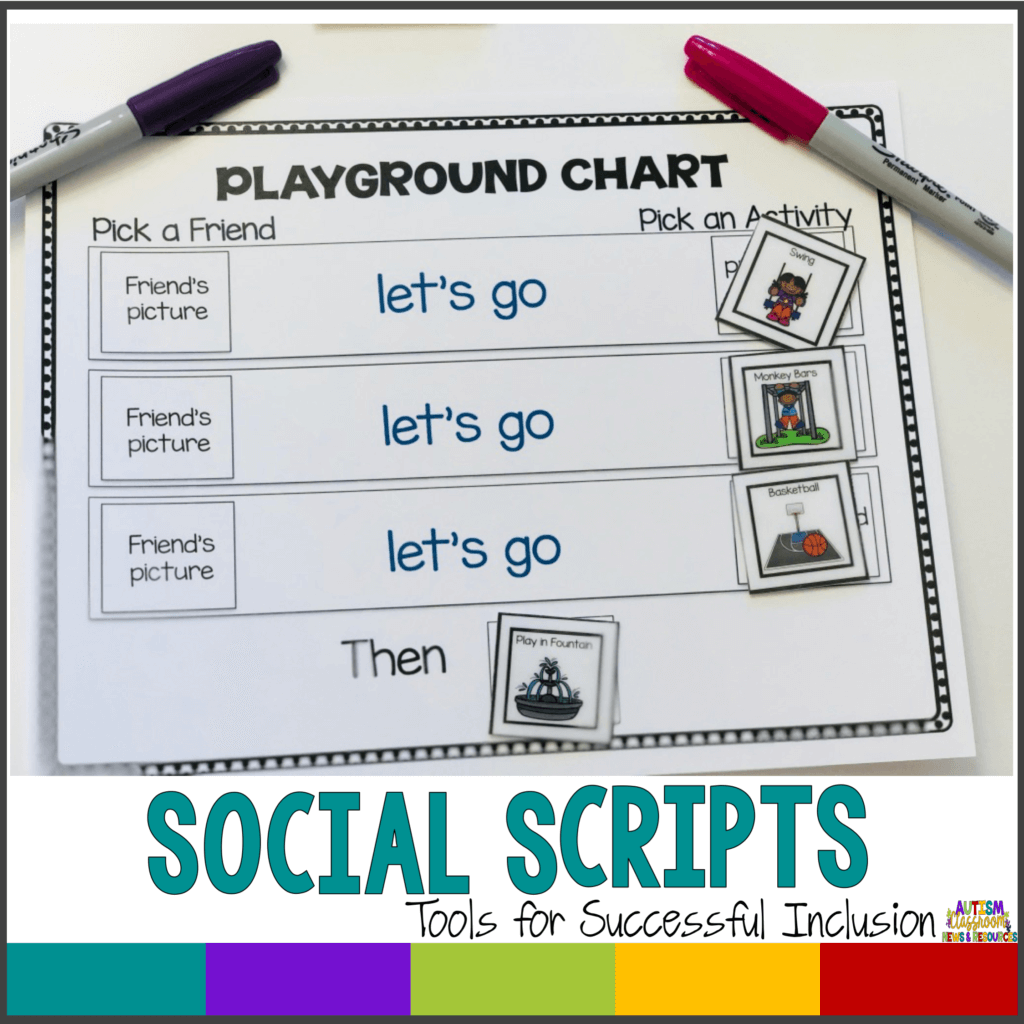 Social scripts are a good idea for autistic children and any other type of disability that impacts their social interactions. Social scripts are a great way to encourage interaction with typical peers. In this way, students truly are included as part of the community. Interaction and explicit instruction are elements that make inclusion truly meaningful and effective.
This playground chart helps a student choose a peer, choose an activity on the playground, and then use the script to ask the peer to play. It's included in the Starter Kit for Successful Inclusion, but you can also download it free in my store here. And read more about using scripts in the classroom here.
COMMUNICATION SYSTEMS
Every student should have the tools at his or her disposal to communicate effectively. #autism #aac
Some students in your class may be verbal and communicate effectively that way. Some may come to your class with their own communication device or tools. But every student should have the tools at his or her disposal to communicate effectively.
If the student has his/her own device, does it cover all the vocabulary and language needed for the activities in your classroom? For specials? For PE and recess? Sometimes, there just isn't enough space within a system to have ALL of the vocabulary needed.
These boards are designed to allow you to engineer the classroom with a combination of core and subject-specific vocabulary. Learn more about them from this post or check them out in the Starter Kit for Successful Inclusion.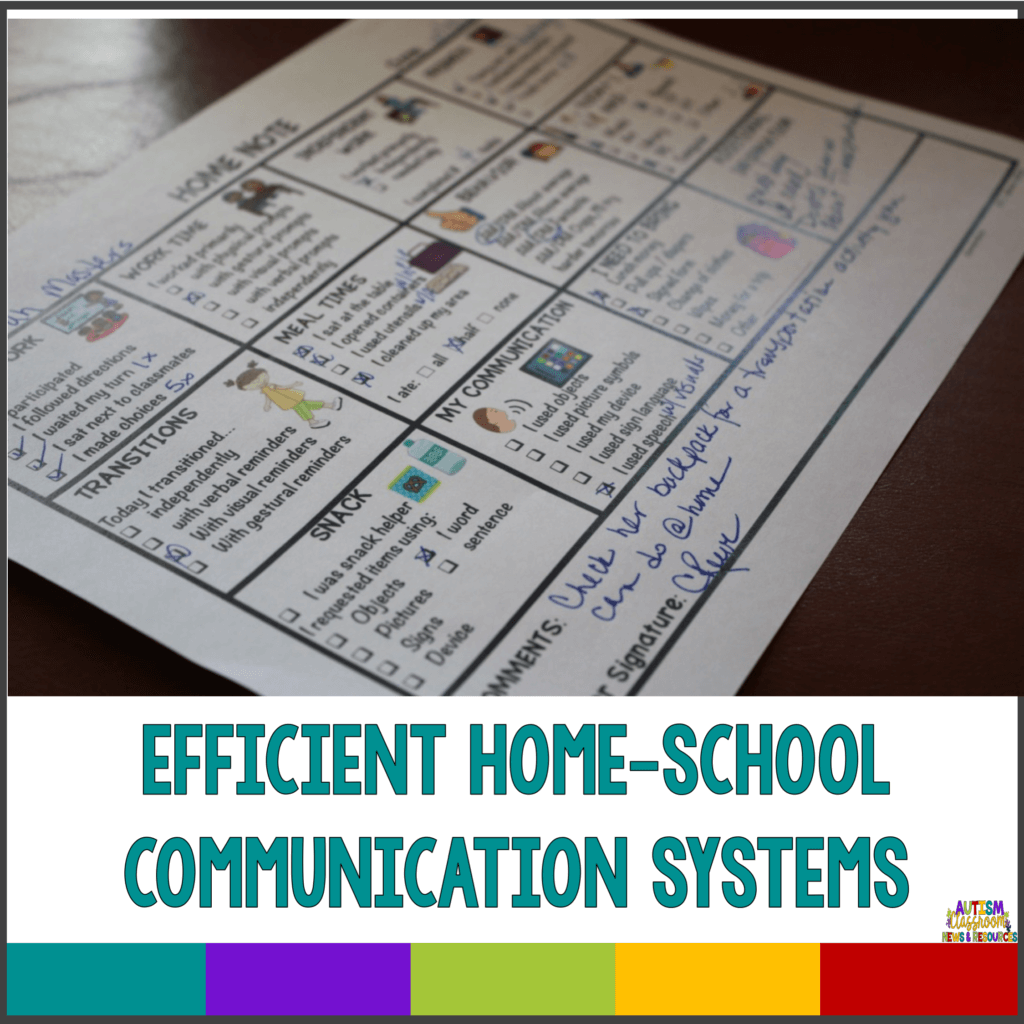 Finally, every special education teacher working with a student with special education services needs a good, solid communication system with family members. This is especially true if those students have difficulty communicating effectively.
These are students who can't go home and tell their parents what they did that day. Or who they played with. Or even what specials or therapies they had.
This efficient system of home notes is included in the Starter Kit for Successful Inclusion because
it is easy to use,
it shares meaningful and concrete information,
and it has visuals to help emerging communicators talk about their day.
Let's face it–there's no time for long notes in a notebook home everyday to discuss the child's day. In these notes, staff just check off the boxes that apply to the student's day and performance. There is even a note for families to complete and send back to school. There are lots of versions and you can learn more about them and school-home communication in this post.
So, if you are looking for tools to help you include preschool students and elementary students with autism, check out the toolkit below to help you implement the effective techniques listed above. I am working on one for secondary education students and their specific needs in the future as well!
And remember that you can also get your school on board with buying from TpT to allow you to have the resources you need without it coming from your pocket. If you want more information TpT in Schools, check here.
STARTER KIT FOR SUCCESSFUL INCLUSION
Looking for tools that can help get you started with including a student with autism or related needs? I created this kit for teachers just like you. Obviously it won't be every type of support you need. But this kit can get you started on the right foot, whether you are the general ed. teacher, the special educator supporting the student, or the administrator trying to figure out how to help make the program a success. Click the pic to check out this kit in my TpT Store!