Visual Schedule Series: First-Then Schedules (Freebie!!)
Visual Supports | May 31, 2013
First-then schedules are some of the simplest types of schedules that we use with students with autism and other disabilities. Simply put, it just presents what we need to do now (first) and what we will do next (then). It can be done with pictures, objects, in writing, or using apps. We typically use them in different ways depending on the student.
First-Then in Behavioral Suppoort
Sometimes we use them for behavior support, such as when we think (or know) that an individual doesn't want to do something we want them to do. In that case, we present the thing we want them to do in the "first" and the thing they want to do in the "then." The idea is to show them a preferred activity or a possible reinforcer to motivate them to complete the thing they don't want to do. We often will use this type of first-then schedule on a board like the one above or below.
We use them proactively (before a problem) and when a student refuses to complete a task. Ideally using them proactively is the best to avoid having adding the reinforcer (then) in when there is a problem, which could inadvertently reinforce the negative behavior (because it creates a reinforcement opportunity).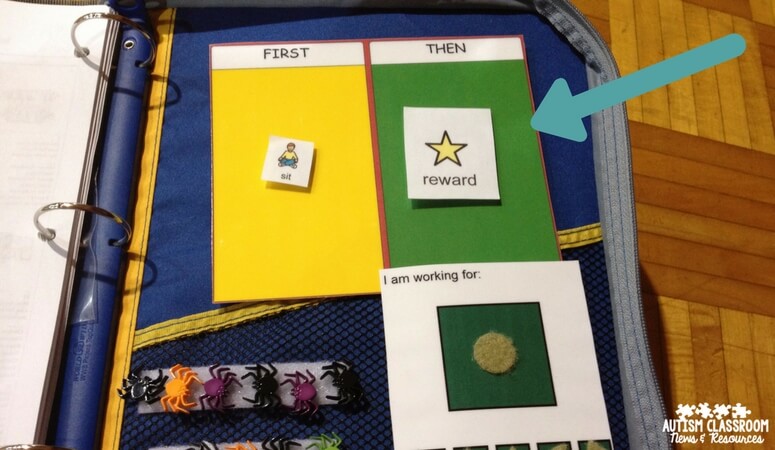 In the picture above, the first-then board is used to show a student that sitting in his PE class will result in a reward from his token board. The first then board is part of the set of tools his staff use and they keep their tools in a zip up canvas notebook (e.g., Trapper Keeper) so they are readily at hand. The student has a full day schedule on the front of the notebook and the first-then is used when a problem is anticipated.
First-Then as a Daily Schedule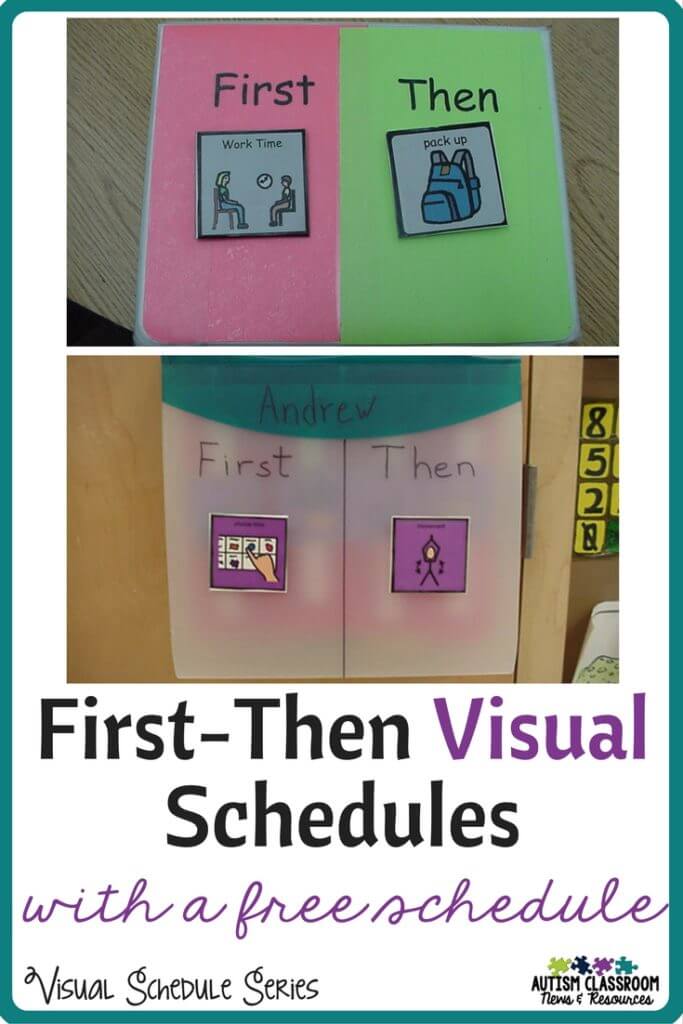 In pictures on the left, the student is using the first-then schedule as his schedule for the day. In the top picture, you see a binder with first work then pack up. For this student, we started working with him using a full-day schedule that was on the wall. In working with him for a day, we realized that he was struggling with the number of transitions this created for him. So, checking his schedule became an antecedent for problem behaviors. Each time he had to go to the wall, check the schedule, go to the check-in board and put on the visual, it was difficult for him to understand the process.
The second day we worked with him, we used this first-then schedule. The schedule itself was on the outside of a notebook, and the events of his day were on sheets inside the notebook in order. This allowed the staff working with him to quickly switch out the visuals for each transition. We started with the scheduled activity being followed by a reinforcer (e.g., first work with teacher, then play dough). Over time he was able to manage the schedule with just the events of the day. And eventually he was able to go into the notebook and change his own schedule. This greatly increased his independence throughout the day.
When we first gave him the notebook, the look of comprehension that came over his face was amazing to see. It seemed as if he was saying, "Oh! Now I get it!" His behavior was significantly better using this schedule than the first one we tried. The picture below is a similar situation and you can see how we stored the schedule on the wall. This student was not able to independently manage his schedule. He did best when only shown 2 pictures at a time rather than a full-day schedule.
Caution with Daily Schedules
A word of caution, however. Don't start an entire class on first-then notebook schedules at the same time when they haven't been taught to use them. We tried that one time and were constantly looking for the schedules because the students weren't independent at keeping track of them. In short, it was disaster. The next day we broke it down and just started with 2 of the students. Then we added more as the first ones became independent. You can also use first-then boards to show students what will happen after a desired activity. Helping students to know what is coming next sometimes helps them to make the transition more easily.
First-Then Doesn't Have to be Pretty
And then we have the on-the-fly option. You can just draw it out on paper, post-its or dry erase board and use writing if the student can read. Just make sure that the student is able to clearly comprehend what is written.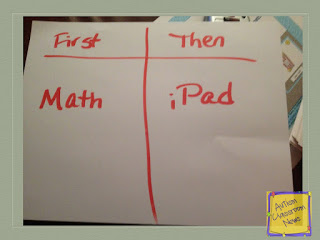 And finally, I promised you a freebie! Simply download the boards, laminate it, and put velcro on it to hold the pictures.
SIGN UP FOR FREE TIPS EACH WEEK IN YOUR INBOX AND GRAB A FREE SET OF FIRST-THEN BOARDS FROM THE RESOURCE LIBRARY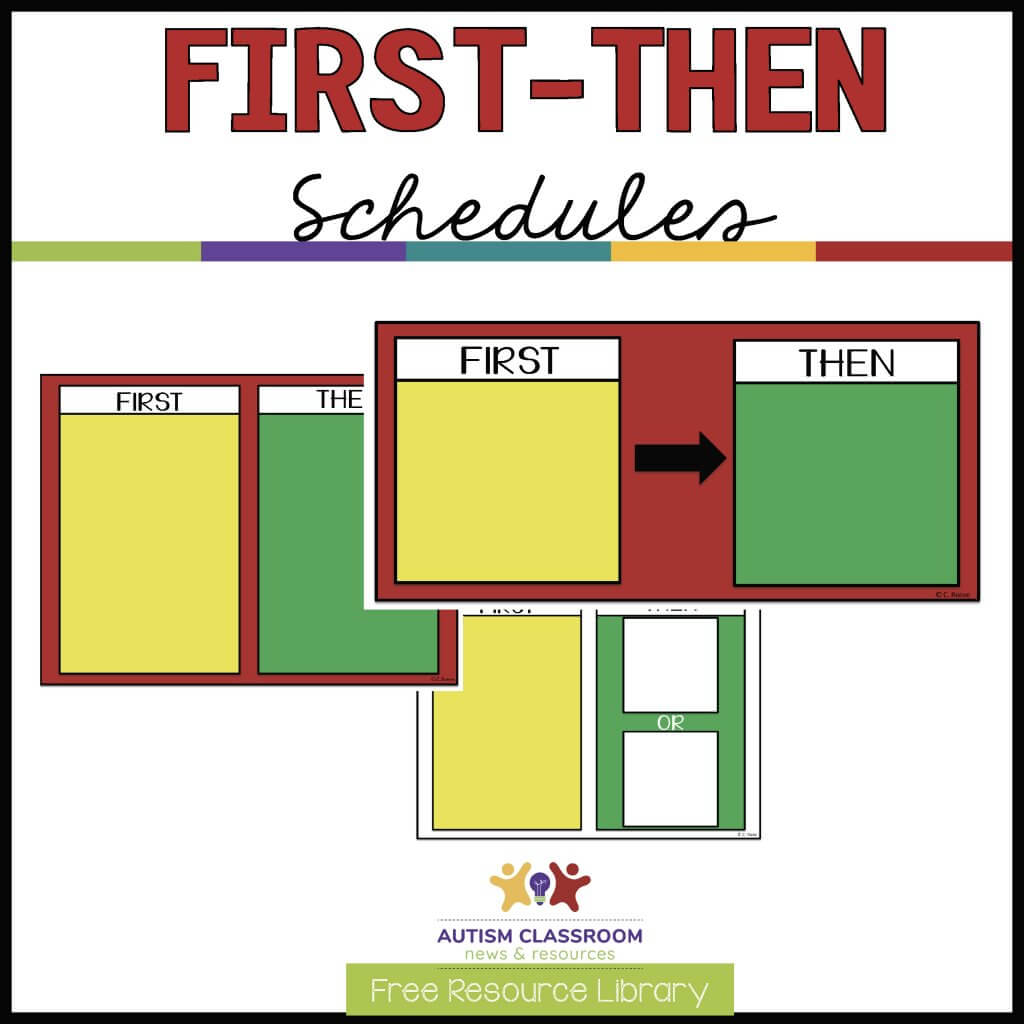 This first-then download is expanded from the version available in my TpT Store. It includes boards in different sizes, with less color, and in black and white. And you are welcome to send them home to parents of students on your caseload.
Grab them from the Free Resource Library. Click below to navigate or join the free library.
This is part of an ongoing series of posts on different types and uses for visual schedules. You can check out the visual schedule series here.
Come join our community for training and ideas you can use and connection with other special educators who get it.