How do you teach visual schedules in the classroom as a special education teacher? Try this scenario. You are starting in a new class or trying to start implementing visual schedules in the classroom but your students don't know how to use them in a great way yet. You have put the schedules up and in place but your students only use them with hand-over-hand prompting on not as a part of their daily routine. And your staff isn't quite sure what to do with them for your students with special needs. So consequently they aren't moving your students towards independence? Or maybe some of your students are using them but there are no clear expectations as to how they should be using them. Therefore, you have students who aren't making headway in this great independence people tell you visuals can provide.
Sound familiar? It's a pretty common question and it tends to be the thing that gets left out. A consultant comes into the classroom and tells you that you need to implement visual schedules in the classroom. While the consultant should do more than just recommend, sometimes you are left on your own to figure out the use of visual schedules in the classroom.
The way schedules are sometimes presented, they sound like magical fairy wands that will solve all your problems in your classroom schedule, right? Wrong! Just like everything from math to behavior, schedules require us to teach the students to use them too. Young children don't come pre-programmed to use them.
Just like everything from math to behavior, schedules require us to teach the students to use them too.
HOW DO YOU TEACH STUDENTS TO USE VISUAL SCHEDULES IN THE CLASSROOM?
START WITH A FEW
First don't feel you have to start everyone on schedules at once. It does take time to teach students visual schedules in the classroom independently and if you try to do it with all the students sometimes it gets too crazy. When things are chaotic in the school day, you can't build the independence needed.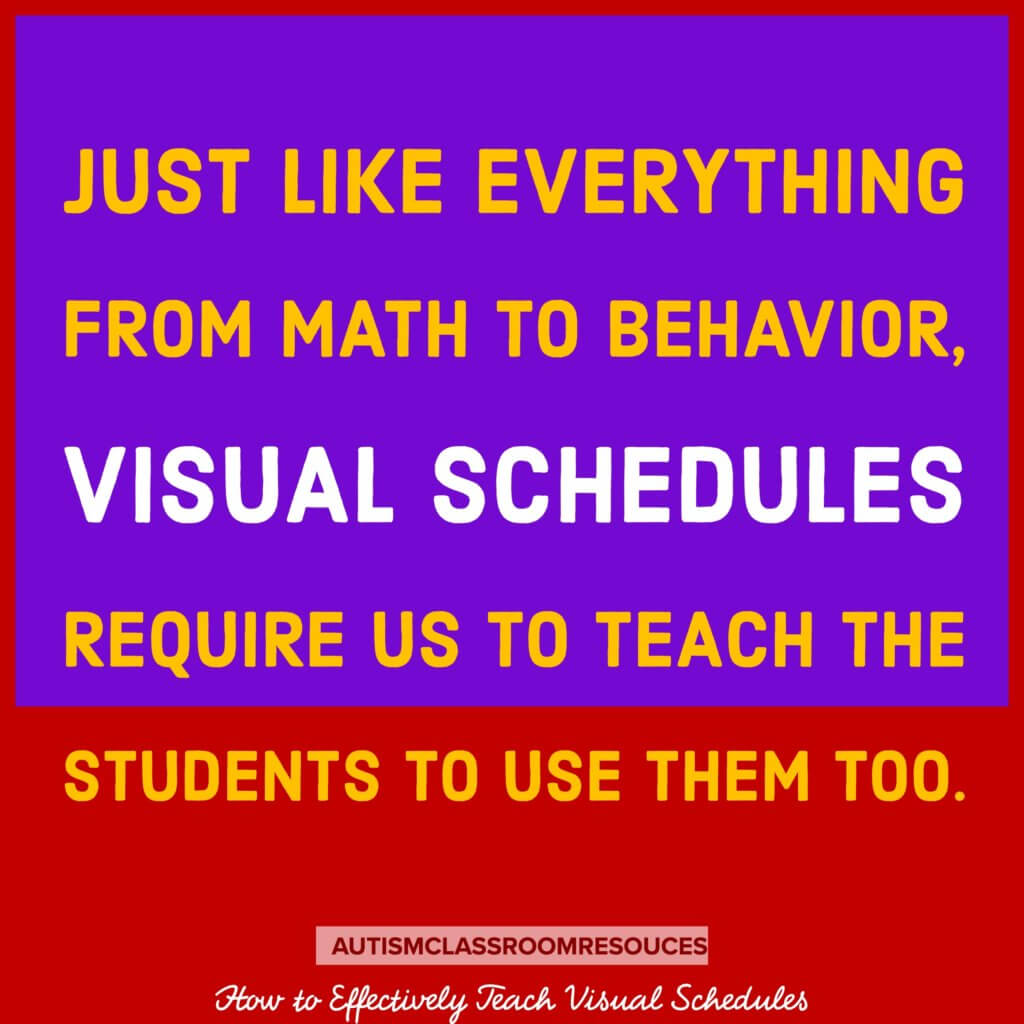 CHOOSE YOUR MOST INDEPENDENT STUDENTS
Start with the students you think will become independent fastest. Counterintuitive I know. But if you start with the most complex they will take the longest to become independent and you won't be able to to move forward to other students.
Instead choose one or two students per adult who is available to teach during transitions. For the rest of the students either bring them their visual to transition or just transition them to the next next activity without the schedules. You'll get to them soon, when this group becomes more independent.
DETERMINE TYPE OF SCHEDULE NEEDED
Next determine the type of schedule each student needs. If I am not sure about needs, I start with picture symbols on the wall and adjust from there. Not everyone needs the same type of schedule.
Next, unless your students are independent at tracking and keeping materials, I would avoid putting every student on a portable schedule like a file folder or notebook at the same time. They are great for students who can manage their materials. However, I once started a whole class on them and we never had the schedules we needed when we needed them and the staff managed the schedules because the students didn't know how. It was crazy. We switched to wall schedules with one student with a notebook and the day was much smoother.
MOVE TO THE NEXT STUDENTS
Then when those first students get independent, pick up the next student. Start with the students who are most independent because they will master their schedules fastest and allow you to move on to the next student.
CHECK-IN STATIONS
Finally I highly recommend check in stations that have matching visuals at the place the student is going. They take their visual with them and match it to a visual at the area to check in. This helps make the schedule use more concrete and they can see how and why to use it. When they just remove a schedule piece and put it in the finished pocket without a check in it becomes a task they have to do with no meaning.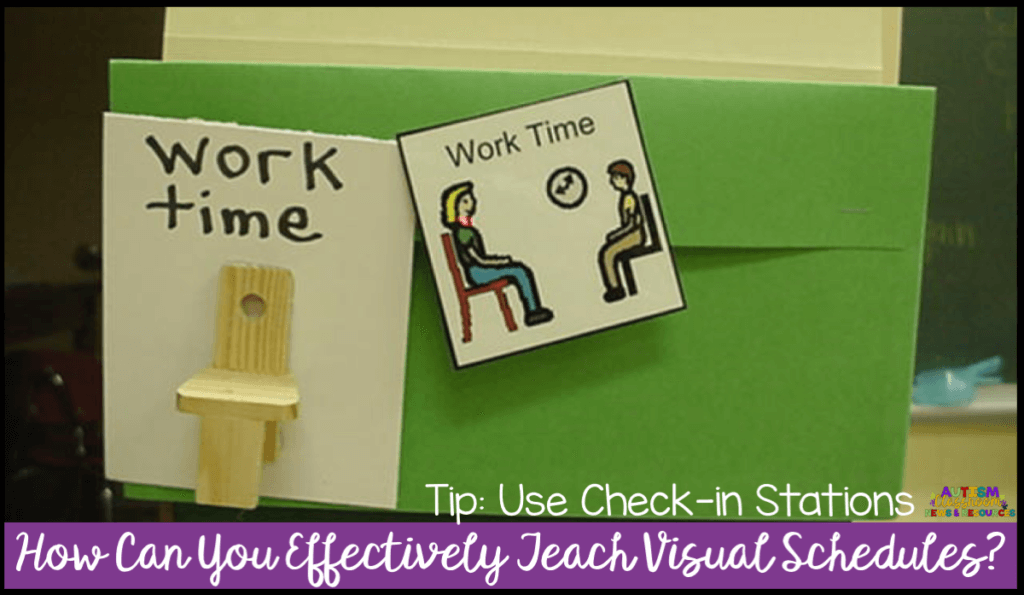 Schedules are wonderful tools for teaching independence but also for the ultimate goal of teaching flexibility. If we do it right students should never become rigid using schedules. And if they can navigate any next task and part of the day without assistance, reminders and problems on the worst day then their schedule is like my calendar and to do list. And I wouldn't even try to live without them these types of visual schedules in the classroom.
LOOKING FOR VISUAL SUPPORTS?
I've got themed visual bundles including picture-symbol schedules (with words), written card schedules, visual cueing rings, group schedules, classroom rules and autism classrooms job sets. All in sets for preschool / elementary and secondary students.
Click the images below to check out more about visual schedules in the classroom in my store!