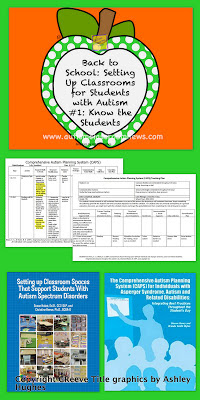 In the last post, I started talking about getting to know your students. Today, I want to focus on the same goal but talk about how to integrate that information into classroom planning.
For previous posts in the series, click the apple.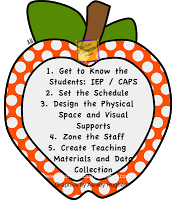 One tool that I find particularly useful for figuring out how the IEPs are going to be implemented across the students' environments is to complete a
The Comprehensive Autism Planning Comprehensive Autism Planning System for Individuals W/ Autism Spectrum Disorders & Related Disabilities
for each student. I base it on his or her IEP and it maps out how the IEP goals and objectives will be taught throughout the day as well as the accommodations and modifications that are needed or allowed for the student. I
wrote a post
about it probably long before you discovered the blog but the links are current and it gives a more thorough overview. I know that there is already a lot of paperwork required of special ed teachers, but really this document serves multiple purposes.
Disclaimer: This post includes affiliate links that pays me a small amount for recommending products but the price is the same for you. All of the recommended products are ones use myself and product choice is not affected by this agreement.


Maps out the IEP implementation
The CAPS is a tool that is used to plan out how the IEP will be implemented across the student's day. For students who are primarily included in general education, it uses the classroom schedule to determine where, when and how his IEP goals can be implemented and what supports are needed for each activity. In the picture below, I used a traditional CAPS form to map out how the student's needs will be met across the general education schedule. The highlighted targeted skills are the skills on her IEP while the non-highlighted ones are those that are being worked on as part of the curriculum.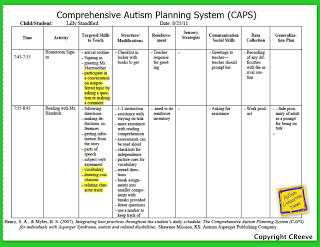 In the next picture, I used a form called the CAPS-Teaching Plan that Dr. Kabot and I developed. I find it easier for more self-contained schedules to map out the needs of the students and then base the schedule on those needs. So whereas the traditional CAPS starts with the schedule, the Teaching Plan CAPS starts with the student's goals and objectives and then determines what would be the best activity, teaching strategy, data collection system, and what supports will be needed for the student to be succesful. This helps the teacher determine what types of activities are needed in the classroom. For instance, if all the students need small group instruction for most of their goals, then there will be more small group instruction than whole group instruction. Some classes may have students who need the opposite. The CAPS-Teaching Plan helps the teacher figure that out.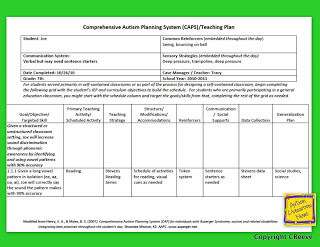 Communicates information to all staff across environments
One of the great things about the CAPS is that you can share with all the staff supporting the students and not only will they know the student's IEP and curriculum goals, but they will know what types of supports are needed in the different settings and activities. It combines the IEP-at-a-glance idea with practical implementation information.

Identifies teaching strategies

The CAPS-Teaching Plan helps teachers identify what teaching strategies and/or curriculum are going to be used to teach the skill. I actually developed it because I found that teachers were having a difficult time talking about how they taught skills. I would ask how a skill was being taught and they would say, "in the play area." That would be where the skill is being taught but not how. How a skill is taught would be something like discrete trial training, Pivotal Response Training, or using Edmark Functional Word Series. I've found another benefit of this CAPS form is that when it's done, it's a great way to communicate to parents to show them how their child's program is being implemented. This really helps to build trust with them when it is clear you have thought it out at the beginning of the year.
Informs the schedule development

I use the CAPS-TP to determine what types of activities and settings students need to address their goals. Then when I go to make the schedule, I can look at the types of activities they need and that tells me what the schedule needs to look like and how much time needs to be allocated to different types of activities.
Plans data collection procedures
And finally, on the CAPS (either form) you identify how the data is going to be collected on that skill. That might be work product, tests, a discrete trial data sheet or a self-monitoring sheet (among others). Whatever it is, if you plan it out on the CAPS then you know what systems for data you have develop and you know what skills need to be put on different data sheets. For instance, I use group data sheets in the classroom and the CAPS tells me what skills need to be on which group data sheet. And again, it really helps to build trust with parents and respect from administrators because you can show them exactly how you will be implementing and assessing a student's program.
There is so much more to learn about the CAPS and what goes into writing one. To get more information, I highly recommend Shawn Henry and Brenda Smith Myles' book. You can grab it through my affiliate link by clicking on the picture below. Also, as a freebie, you can download a copy of the
CAPS-Teaching plan by clicking here
. It is in Microsoft Word so you can use it to plan out your students' programs. Other versions of the CAPS are available through
my older post here
. And there is an
Autism Internet Module on the CAPS here
(free account for login).
Our next step will be setting up the classroom schedule. Have you ever used the CAPS? Share your thoughts about it in the comments. Until next time,