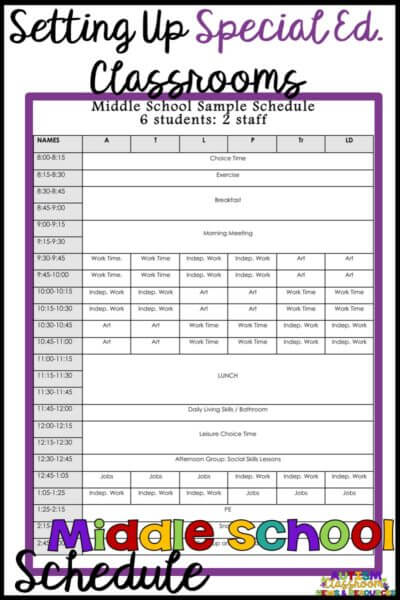 In this post in the Setting Up Special Ed. Classrooms series, I'm talking about a middle school schedule that might be a little more realistic for some of you than my last post. I realize that most of you don't have 2 teachers in your classroom, like the schedule I shared in the last post, so I wanted to share one that might be a bit more representative of your day.
Middle School Schedule
This one is a middle school classroom, again of a self-contained classroom, with 6 students and 2 staff.  You can see the students were able to manage longer large group times.  Choice time (a time to work on communicating choices and engaging in leisure activities somewhat independently) was scheduled for morning because of busses being unreliable and one staff having to be out waiting for the busses to arrive.  So to keep students engaged, we wanted this to be at least structured but easy to supervise.
After morning meeting, the students went into a rotation with work time (explicit instruction in small groups focused on curriculum and IEP goals), independent work time (structured work system) and art.  Luckily these students were able to work independently to some degree, so the structured work system time was not "manned" by a staff member but they were supervised as the teacher or aide worked with their own group.   The use of structured work systems allowed us to break the groups down into groups of 2 instead of 3, allowing more individualization.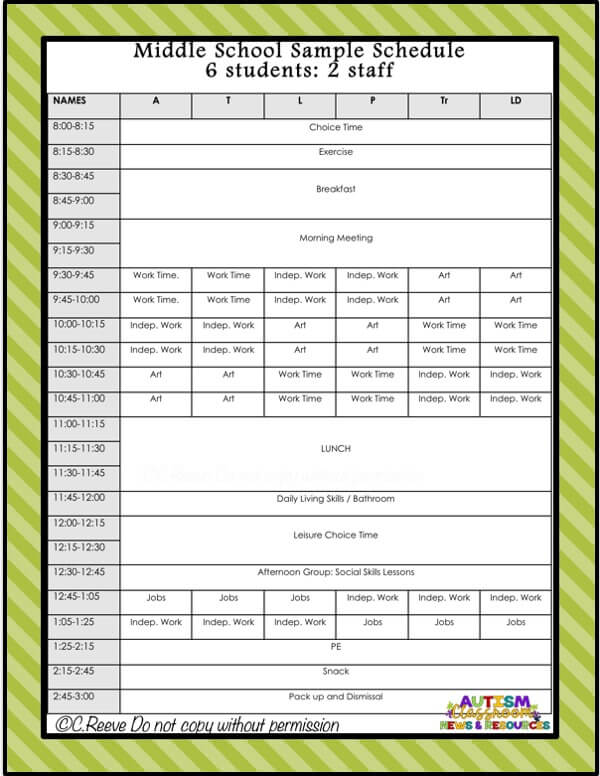 In this class, because there were only 2 staff, there was a longer period of time with leisure choice time after lunch to allow for lunch breaks.  These students had a second independent work time in the afternoon, with different tasks than the ones in the morning, and classroom jobs.  Typically we had academic independent work in the morning and vocational tasks in the afternoon in the systems.  We also scheduled a group social skills time for this group who needed to work on taking turns, conversational skills, and other interactive skills.  This also became a time later when the students could go into general education settings for a variety of planned interactions to support social interaction skills as well.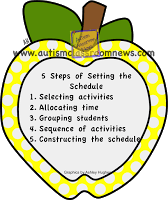 Next we will talk about an elementary classroom talk about students who are included for part of the day as well.  For more examples of schedules, you can check out our Setting Up Classroom Spaces (on the left side bar).
 To check out other posts in this series, click here.
Until next time…