I wanted to share my Hanukkah and Christmas printables for basic literacy and math. They are great for work systems, morning work and independent work.  They would work well for kindergarteners, early childhood classes, and special education.
Whew!  I can't believe I finally got this one finished.  First, you should know that I am crazy for the holidays and I have fallen in love with Creative Clips' clipart.  I wanted to make a set of tasks that was a bit more challenging than my previous ones but still address basic skills.  I've tried to make them in such a way that there are re-usable materials (e.g., file folders) for practicing skills and worksheets for documenting mastery (for those of you needing materials for alternate assessment materials).  This is a huge set of tasks (131 pages!) and is now available in my TPT store.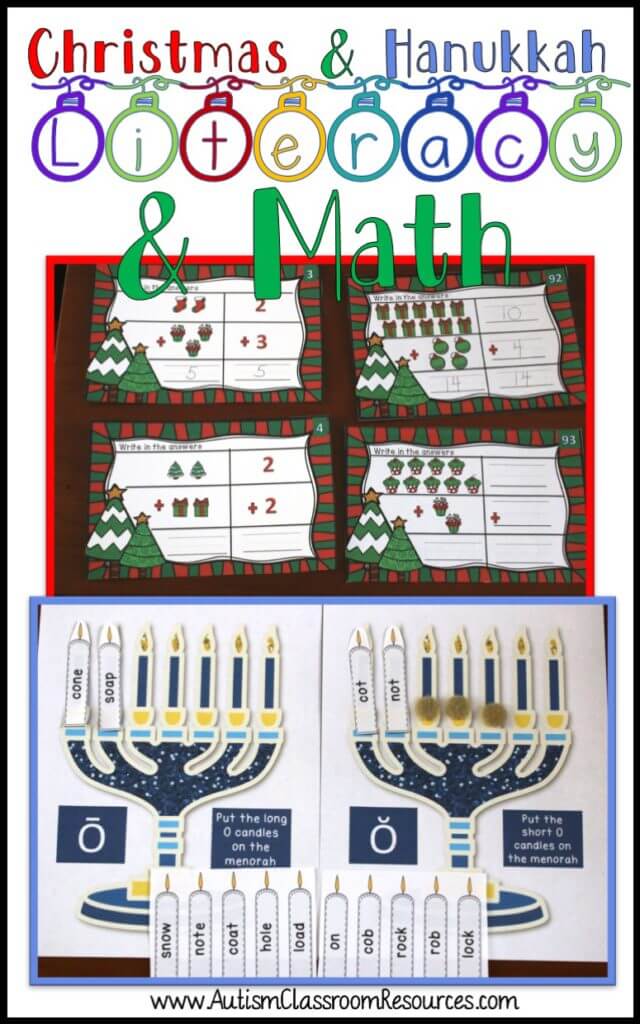 So, let me tell you a little about
this newest product designed for the holidays
.  This pack is a large set of resources focusing on early elementary literacy and math skills.  It includes file folder games, print and go resources that produce evidence of mastery of skills related to the manipulative activities (file folders). Pictures include elements of both Christmas and Hanukah related items.  Total there are 14 reusable color resources (e.g., file folders), 110 addition task cards, and 22 black-and-white print and go sheets.  The print and go sheets are designed to provide work product / documentation for mastery and extension of the skills
that can be taught and practiced with the reusable color resources.
In this set you will find materials to create the following:
LITERACY ACTIVITIES
Letter Matching File Folder
There is 1 file folder matching capital letters to capital letters along with the labels for the file folder front and tab.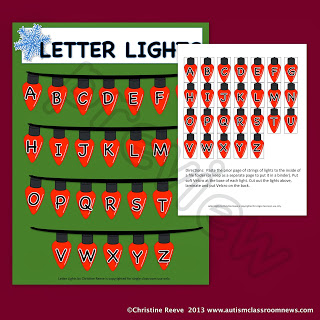 Sorting by Category
There are 3 sheets that can be kept in a binder as a printable (color) re-usuable activity to sort pictures into categories of animals, clothing and food that can be laminated  (HOLIDAY)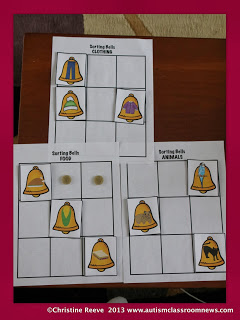 Full Color File Folder Word Sorts for Long and Short Vowels
There are 5 full color activities for reuse in learning to sort words with long and short vowels.  These can be laminated and reused in binders or to create file folder activities. (2 CHRISTMAS, 2 HANUKAH,1 WINTER)
Below are examples of each type….there is another christmas tree and another menorah folder activity in addition to these.  I've put in cues for where to put the Velcro and there are picture directions for all the folders.  I figured we use picture cues with our students, why not for ourselves?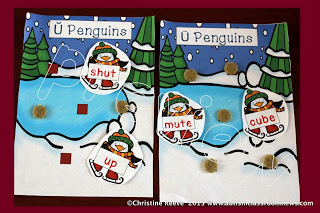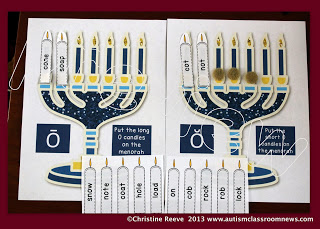 Each of the file folders also come with labels for the front and tab of the folder.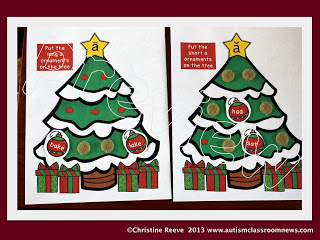 Print and Go Word Sort Cut-and-Paste Sheets
There are 15 print and go worksheets (black and white).  I designed these for students to be able to show mastery on skills they practiced on the file folders and then to extend their skills.  You can use them as worksheets that students cut and paste or you can laminate them and cut the words out, using Velcro to make them reusable.  They also are handy to print out on days when there is just too much "holiday" going on and you need a quick activity.  There are 3 for each vowel (a, e, i, o, and u).  Of the 3, two use the words that are used in the reusable laminated activities and 1 presents new words.  The first two require sorting 8 words and the third requires sorting 10 words.  (MIX OF HANUKAH, WINTER AND CHRISTMAS)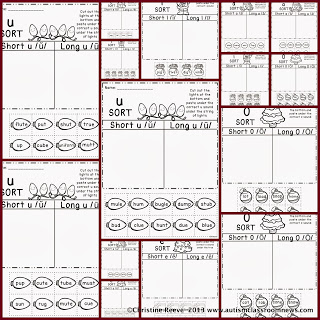 MATH ACTIVITIES
Addition Task Cards
There are 55 full-color task cards with single-digit addition problems providing visuals. Students add the numbers and count the corresponding items to determine the total.  Lines are provided for writing in the answers. Students can add the numbers and use the visuals to count the total. (CHRISTMAS).  In addition there are 55 full-color task cards (same problems as those above) with just the items so the students then write the number of items on each line and add them. (CHRISTMAS)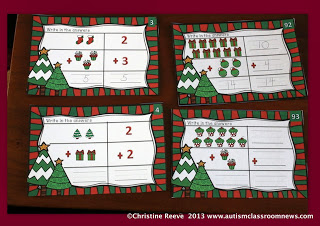 Along with these, there are answer sheets and answer keys.
Patterning Manipulatives
There are 3 sets of grids and color visuals for setting up patterns for students to complete with laminated, re-usable pieces. These can be either in a file folder or laminated pages to keep in a binder.  The patterns can be changed each time the students work with it to keep them from memorizing them. (HANUKAH, CHRISTMAS AND WINTER)  This is an example but there are 2 more–one is Christmas oriented and one is winter oriented.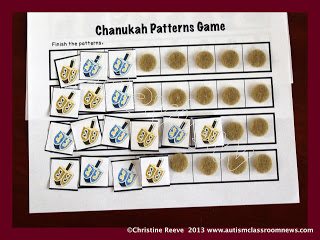 Print and Go Patterning
There are 6 black and white cut-and-paste sheets for students to complete 1 type of pattern per sheet (AB, ABC, ABBA, AABB, ABB, ABCD).  These can be done by the students as cut and paste activities or you could laminate them and reuse them with Velcro. (HANUKAH, CHRISTMAS AND WINTER).  I made these for students who are not able to master multiple patterns at one time but need more practice with each one.  Then there is is 1 black and white cut and paste sheet with 3 different patterns (ABC, AABB, ABB).  This can also be used as cut and paste activities or laminated and reused with Velcro. (HANUKAH)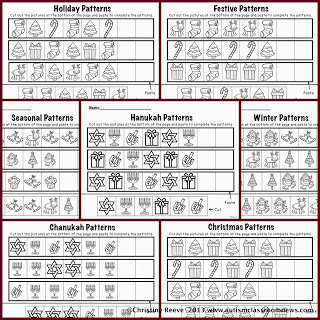 Sort by Size
There are also 3 sets of materials for sorting items (color) by size (large, medium, small).  Each set has 3 sets of items to sort and can be sorted onto a grid of either large-medium-small or small-medium-large. These can be laminated in a file folder for reuse or could be used as a cut-and-paste for the students.  Below is an example of the one with cupcakes.  (CHRISTMAS)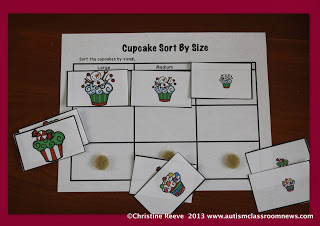 1 file folder (color) for matching patterned Christmas trees.  These can be laminated for reuse and used as a simple matching activity.  (CHRISTMAS)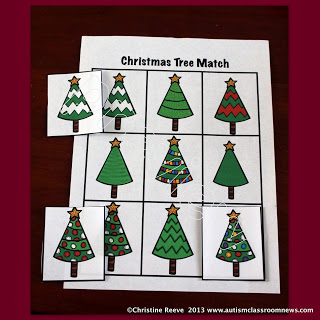 All of the colored printables can be used in file folder activities or as separate sheets that are kept in binders.  The colored materials can be used to teach and practice the skills (sorting short and long vowels and patterning) and the black and white materials can be used to document mastery of the skill.