I highly recommend cooking in the classroom for any age students. It's particularly important with older students, but there are a ton of skills that can be integrated into cooking regardless of the grade level.
A cooking lesson is a great way to include a variety of students in a task, each at their own skill levels. And it's a perfect way to work on a variety of academic and functional life skills from preschool and elementary school to high school and transition ages. And the best part of cooking in the classroom is that students are motivated, so they stay engaged.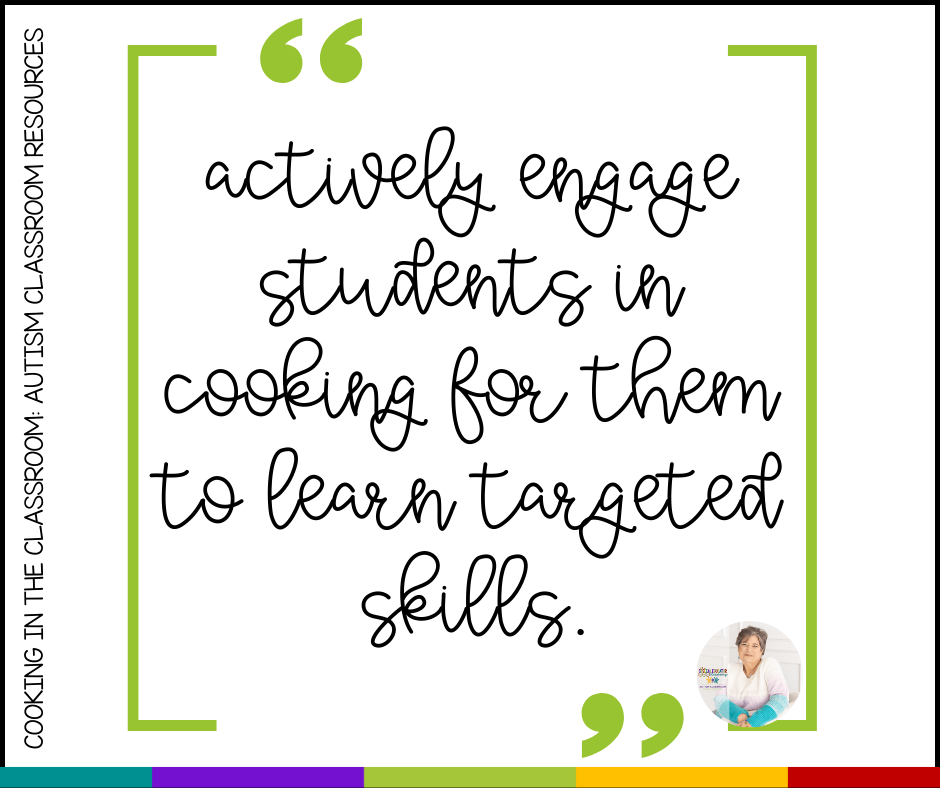 I like cooking in the classroom with students of all ages because you can work on tasting new foods, language skills, academic skills and more. However, it becomes even more important as students get older and need to learn skills to learn skills for living on their own or with support.
Teaching Academics with Cooking in the Classroom
Cooking gives you the opportunity to work on practical applications of so many academic skills. When you are cooking, you can work on sequencing the steps of the activity, math skills by measuring and adjusting recipes, and reading skills for reading the recipe and following the directions (i.e., showing comprehension). You can have them sequence the steps before and/or after they have cooked the recipe.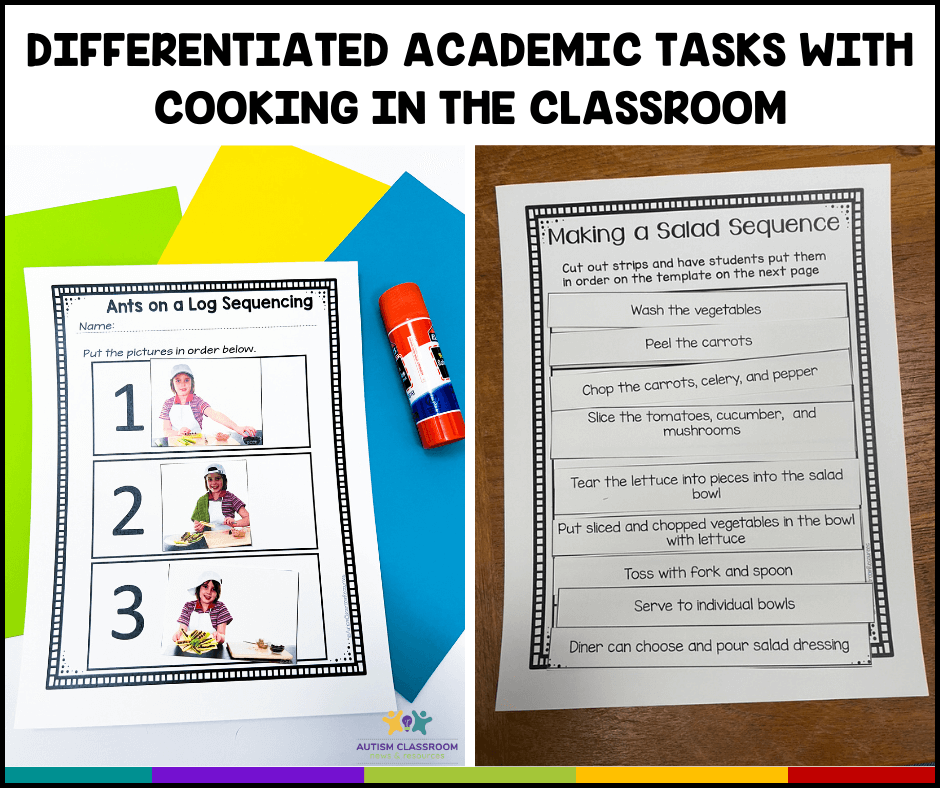 You can work on science activities like using yeast to get the chemical reaction for a dough to rise. Learning how to make water boil and learning about chemical changes is just one one of many cooking science experiments. And you can work on nutrition by choosing healthy recipes and making choices for healthy eating.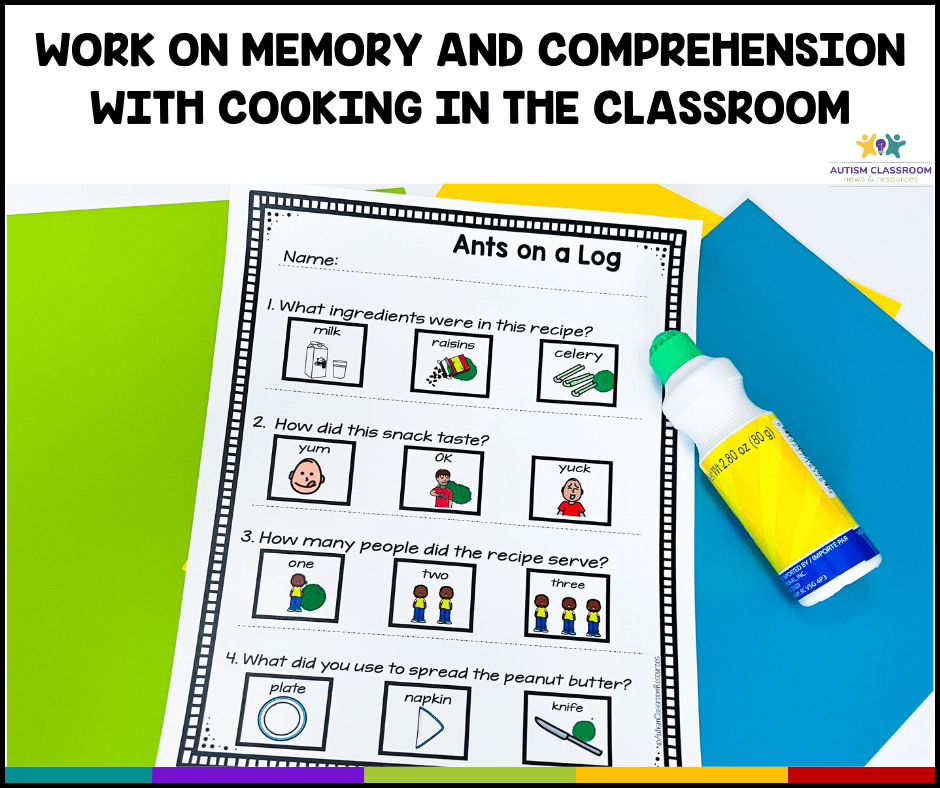 Communication & Social Skills with Cooking in the Classroom
And of course you can work on communication skills with cooking by having students ask for food items they need for a recipe. You can pair students off in small groups and have one read the recipe while the other gathers the ingredients. And you can work on students reading aloud by reading the recipe to the class as they cook the meal.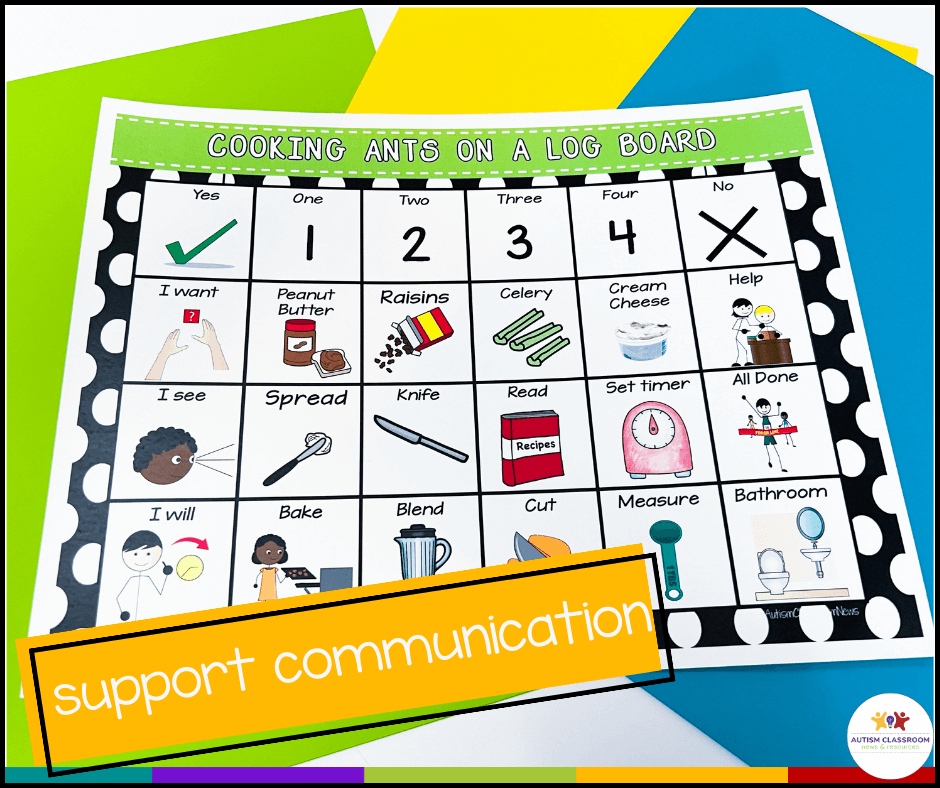 You can also encourage interaction by pairing up students and having them work collaboratively to make their meal of their recipe. They can work on dividing up the job, doing their part, and sharing materials. And it's a great way to encourage communication by having students work side by side on a common activity rather than always working off on their own.
Tips for Making Cooking in the Classroom Successful
So it's clear that I think cooking in the classroom is a very important skill, and it provides great hands-on experiences for students to learn new material. And it's a fun way for them to get hands on experience with a good life skill. But without the proper planning it can be tough. So here are 10 tips that can help it cooking in the classroom be successful.
1. Choose a recipe that is simple enough for your students to follow with limited assistance.
Too many times, we get into the cooking recipe and it turns out to be too difficult for the students. I've often seen this result in the school staff cooking and the students watching. This is not the type of engaging activity you are trying to create.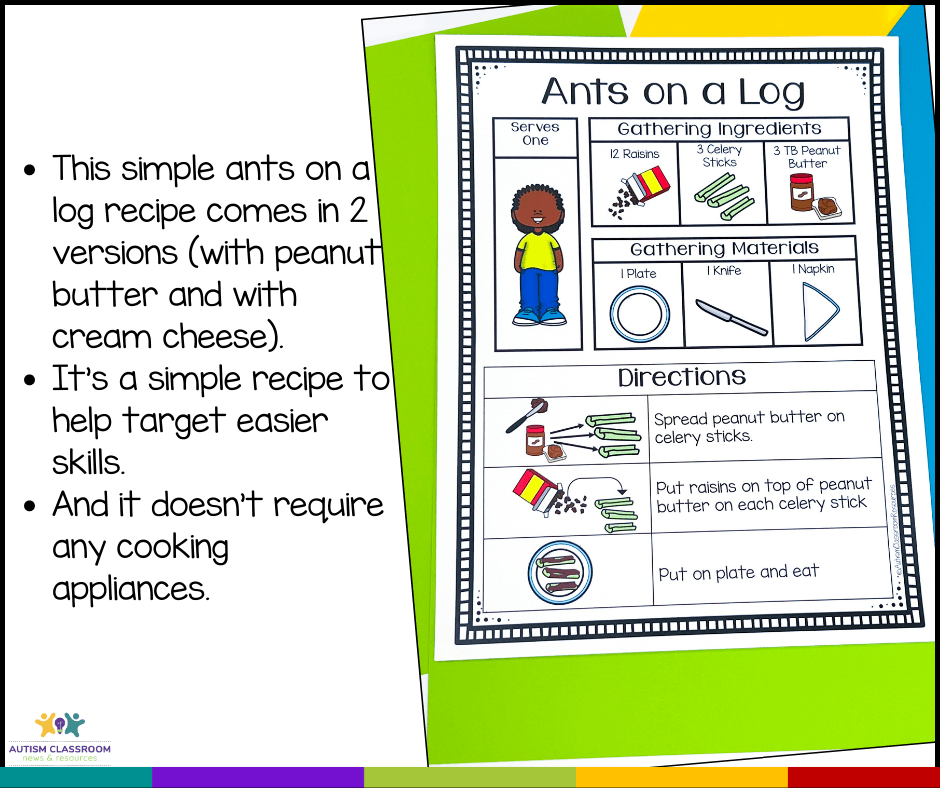 If the students are not at the point where they can safely operate the stove or that is not a goal at this point, choose a noncook recipe. Simple recipes like fruit salad, tossed salad, or Ants on a Log don't require any cooking, so they are great for students who aren't ready to use the stove or the oven. And they are great if you don't have a stove or an oven because they aren't needed.
2. Complete Your Lesson Plan with a Specific Goal for Each Student
You want to make sure that every student can participate in the cooking activity. And you want to make sure that each of them is learning something new. It might be fine motor skills of putting sprinkles on a cupcake for a younger student and working on using a knife responsibly for an older student.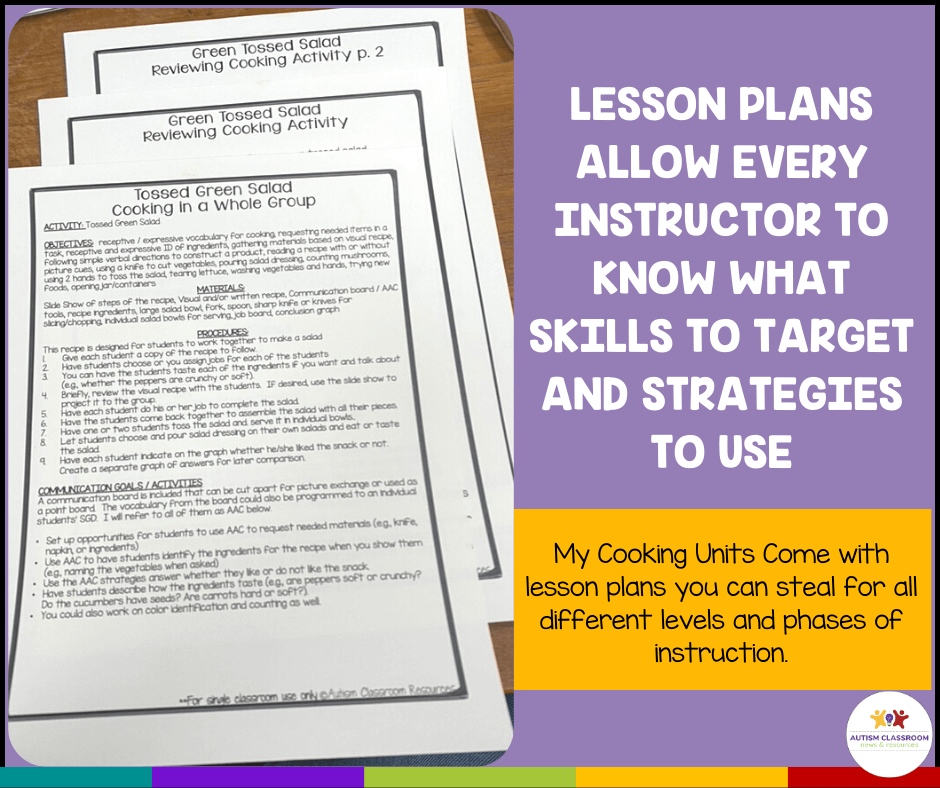 You also want to make sure that the classroom staff or peer buddies are aware of the goals you have for each student when cooking in the classroom. Having a goal for independence in reading during cooking has little impact if the peer buddy or adult doesn't know that is what you want to focus on and you aren't there to intervene.
3. Plan Specific Lessons Around the Recipe
These lesson plans can include sequencing the steps of the recipe (before and after cooking), making a grocery list for needed ingredients, going to the grocery store and purchasing the items, and cleaning up and storing leftover ingredients. I've got a whole set of cooking activities in my store for cooking in the classroom that already come with all the planned lessons around them. You can find them here.
4. Choose a Recipe That Fits the Needs of All Your Students
When you cook in the classroom, younger students (e.g., elementary and preschool ages) can do theme-related recipes that go along with what they are studying in class or the book of the week. These items are typically no-heat recipes that are appropriate for snack foods.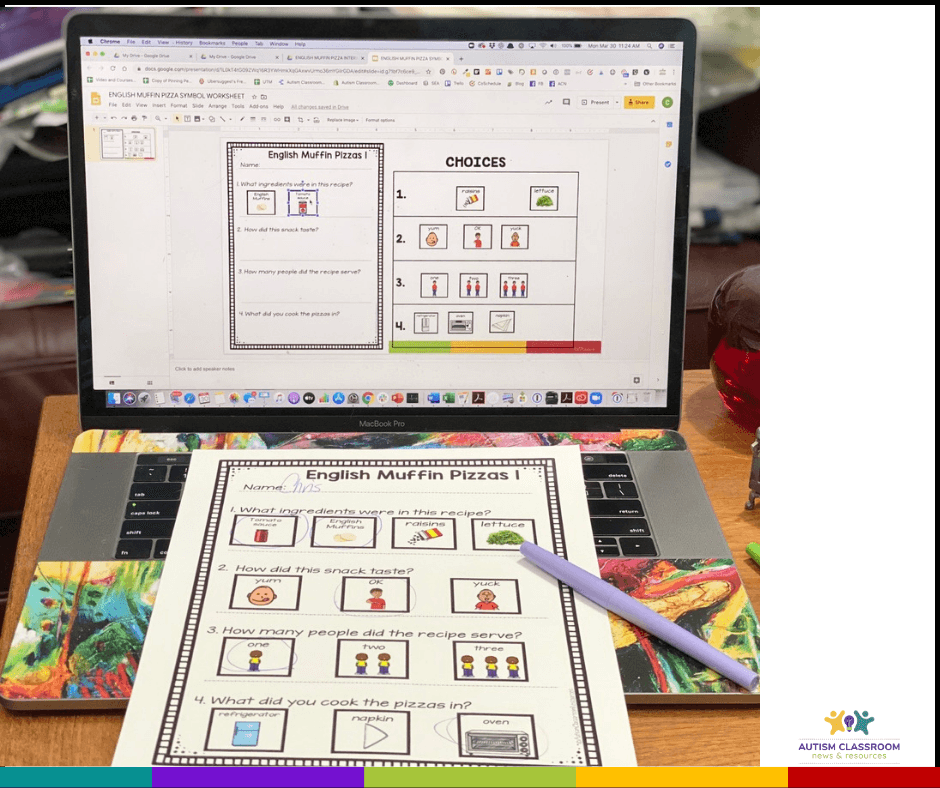 Older students should be working on more practical recipes that they would be able to make on their own after they transition from school. Simple things like scrambling eggs, making coffee or tea, making toast, and cooking oatmeal might be good tasks to work on depending on the skills of the students. Even if you don't have a complete kitchen, some of these can be done with a toaster oven, a crock pot, or a hot pot.
And don't forget to plan for food allergies or restrictions. In special needs classrooms, you will always have students who can't eat certain food items. But you can make substitutions, like substituting cream cheese for peanut butter in Ants on a Log in this lesson.
5. Do a Test Run if You Haven't Made the Recipe Before
This is along the same lines of advice I give for morning meeting–that you should read the book first before you read it to your students. With cooking, you don't always know where something could go wrong until you try it. You could cook it on your own or with another student. But it's really helpful to know the glitches in the process before you present it to the class to complete.
6. Present the Recipe in a Manner that EVERY Student Can Follow
If you have some readers and some nonreaders, consider making multiple copies of the recipe. Make some with pictures and some without. This will allow each student to follow along as the item is prepared. Visuals are a good way to help students follow written directions when their reading comprehension is problematic. You can grab my cooking units with ready-made lesson plans and visual recipes here.
7. Assign Roles to Students Based on Their Skills
You can assign roles to students or have them make choices. Roles could be assigned by writing them on slips of paper and having students pick one. Students could earn the opportunity (through their behavioral system) to have first choice of roles in cooking.
The teacher could assign roles based on the skill they want the students to work on. For instance, a student working on reading directions could be the reader, while a student working on measuring could measure out the ingredients. Remember that there are many roles that can go into a cooking project from setting the oven temperature, to stirring, to using a mixer or a blender, to measuring, to timing. Having students each have a role means they will be more engaged and you'll have less distracting or disruptive behavior.
8. Incorporate Assistive Technology and Augmentative Communication Tools As Appropriate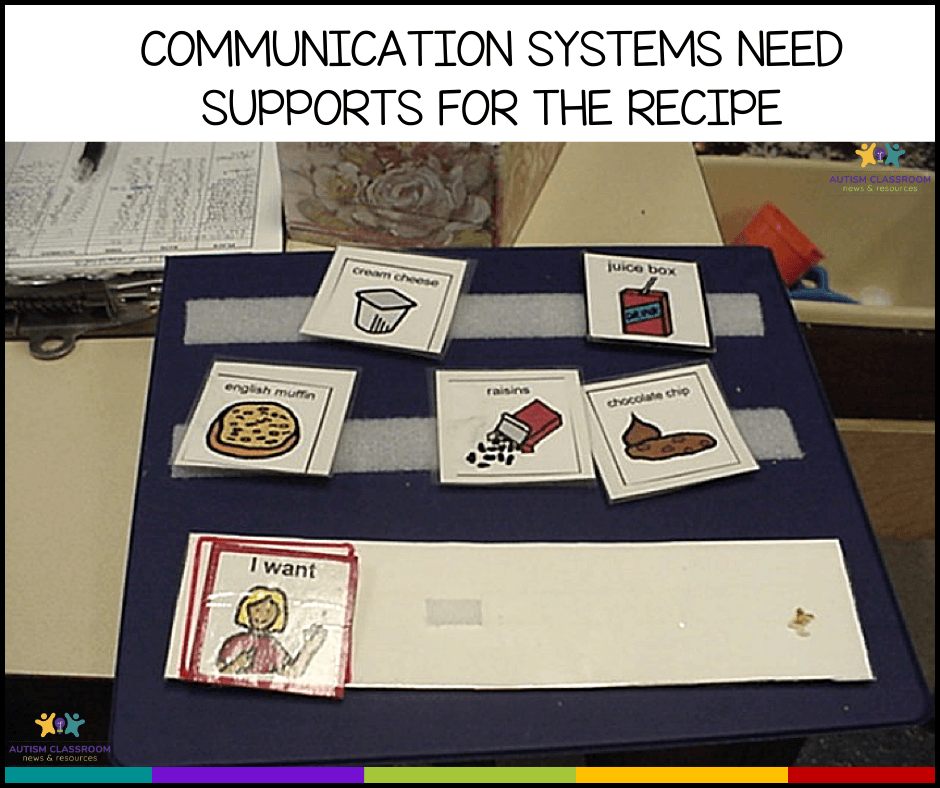 Students who are working on simple switch access can use a link to operate a switch and turn on a mixer or a blender. Students using switches to communicate could use a sequential step communication (like a Step-by-Step) to read the recipe one step at a time to the group.
Students working with PECS or picture systems could ask for the ingredients needed to complete a step. And if the student is just learning to communicate, choose an ingredient that would be reinforcing that he or she can have a taste of after asking so the reinforcement is more immediate.
9. Teach Good Hygiene and Food Safety Procedures
For young children this means washing your hands before you start to cook and not licking the spoon while cooking. For older students, it could mean learning to wear gloves (as they would need to on a job site), washing hands after handling raw meat (as well as before cooking), and proper handling of food when serving.
10. Share the Food the Students Make
You don't have to consume all of it, but eating is great opportunity for students to try different ingredients. Younger children can eat one item for their snack and take one home to their parents. Older students could invite peers in for a snack or meal and serve them and share food. Nothing brings people together for social interaction like food. And that gives the students who did the cooking an opportunity to be proud of their accomplishments.
Looking for a variety of cooking lessons with the lesson planning and supports already developed?
Check out my cooking activities in my TpT store below. Cooking is such a great teaching activity whether you are working on recognizing different foods, how to plan nutritious meals, or learning new cooking techniques. There is something for every age student to learn.
Additional Web Resources for Cooking in the Classroom
Bry-Backmanor–these are symbol recipes with few words but contain a variety of simple recipes (e.g. making jello) that are great for functional skills.
Making Learning Fun–this site offers symbol-based recipes for student snacks.
Cooking for Engineers–this site offers a variety of photo supports for cooking. It's a bit text heavy but for students who benefit from reading the recipe and seeing what the step looks like, it's a good resource for practical recipes.