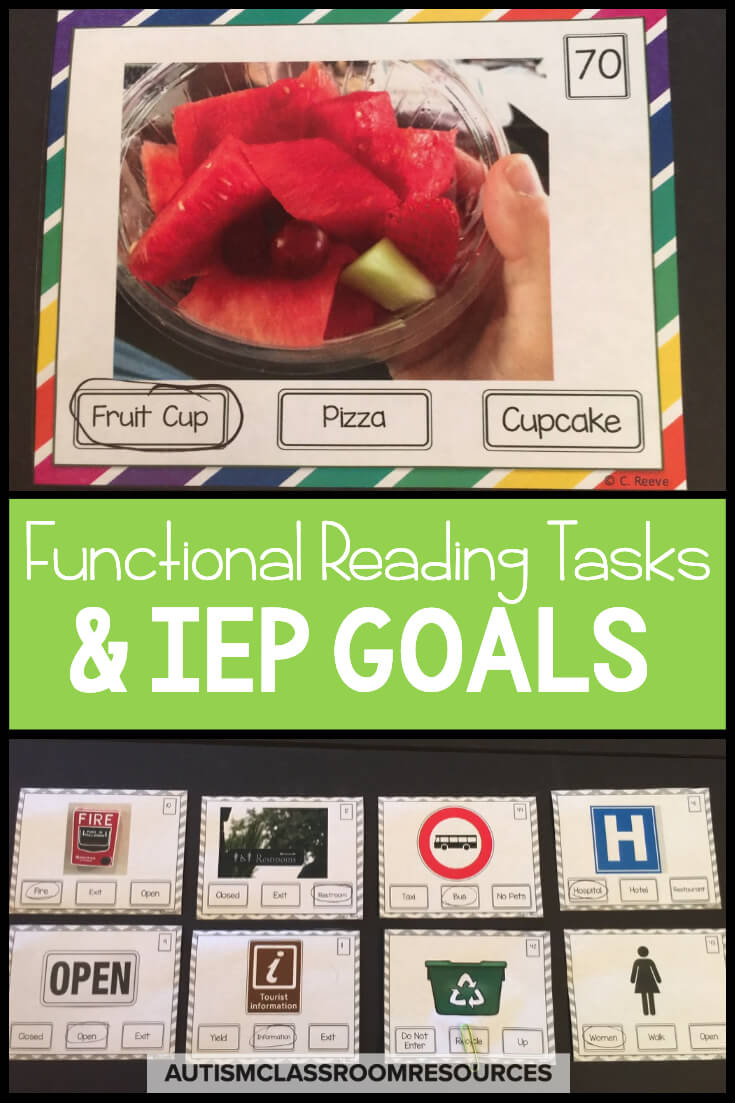 Functional reading skills are critical for students on the spectrum and other disabilities. Reading is something that needs to be used. Even students who are not book readers can often learn single sight words that can impact their independence in their communities.
We need to make sure that our students have the ability to function as independently as possible. That includes being able to read signs, grocery ads, words on the job and words on menus.
The Thanksgiving Menu Math ,that I talked about in an earlier post is an example of a task that includes both math and some functional reading. I thought I would use my Functional Reading Task Cards as an example for IEP goals for functional reading.
Functional Reading Task Cards
Essentially these are sight word multiple-choice task cards that the students can use a dry erase marker, pen, or clothespin to choose the word that matches the picture. There are also answer sheets if the students can use them instead. The multiple-choice options can be a word bank the students use.
The idea behind them is to provide practice in reading comprehension of sight words beyond what a sight word, functional or environmental print curriculum would provide. They are intended to be used for either explicit instruction with the teacher or other staff and/ or for independent work systems.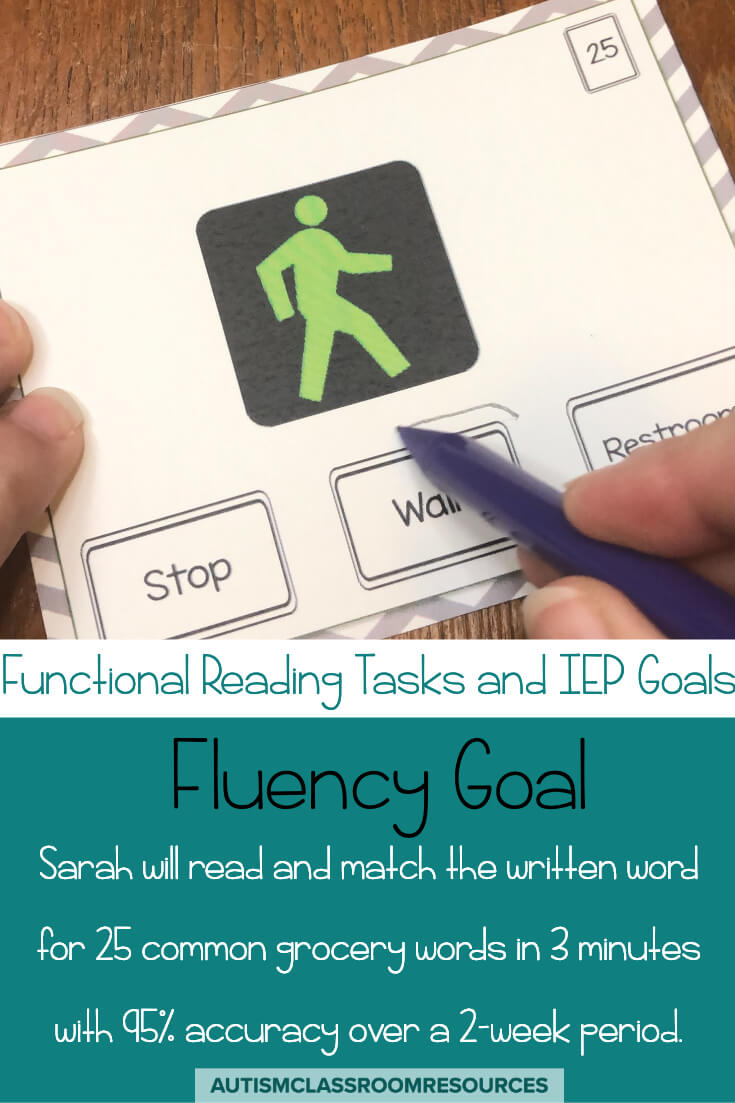 Reading the Signs task cards focus on reading functional environmental signs. Food Words are a supersized set of words for the grocery store or restaurant.
Some have words on the pictures (e.g., mayonnaise label on a jar) and some do not. I've set them up so that they are are differentiated across the set and explained that in the instructions.
IEP Goals for Functional Sight Word Reading
So, let's think about IEP goals for reading. This product focuses on comprehension, but you can also use them to work on fluency of reading and comprehension together. And, you always want to make sure you are generalizing the skills.
Also remember that you write the goals is based on the present level of the student's performance. So how you use them might differ from student to student.
IEP Goals
Accuracy & Comprehension Goal
Sarah will read and match the written word to 25 common signs in the environment with 90% accuracy for at least a 2-week period.*I put the mastery criteria somewhat high because this is a basic skill.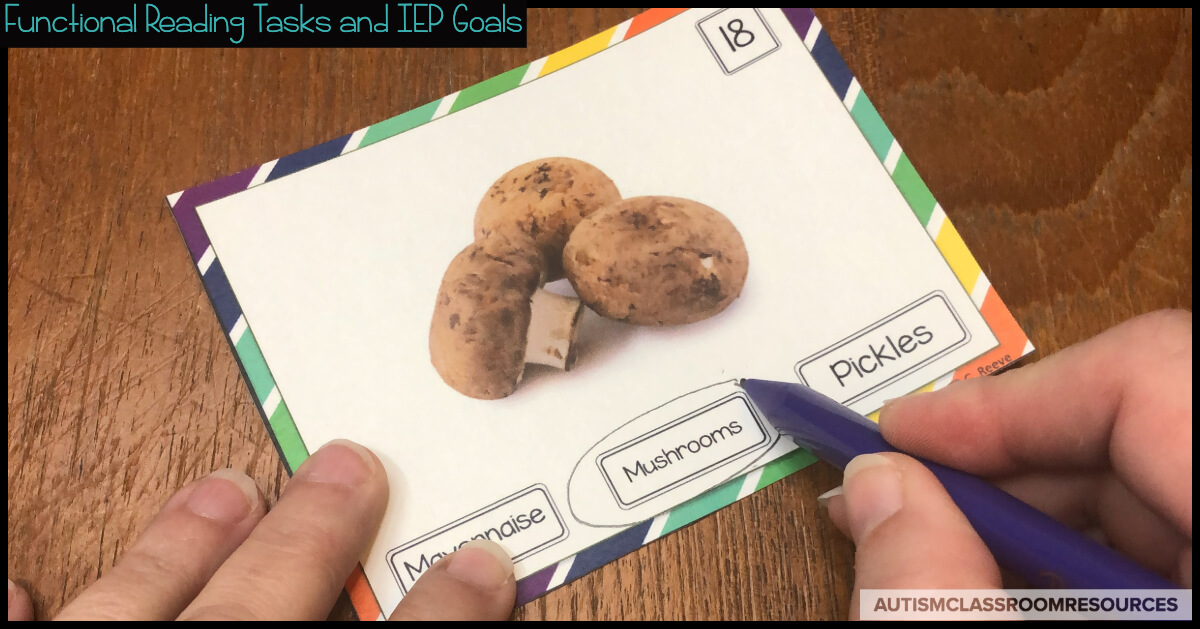 Fluency Goal
Sarah will read and match the written word for 25 common grocery words in 3 minutes with 95% accuracy over a 2-week period.
generalization Goals
You would work on these skills after the task cards were mastered. You can use the task cards or other materials for them.
Given a grocery ad, Sarah will match pictures of 25 grocery items to their words in the ad with 90% accuracy weekly for at least 2 weeks.
When given a menu of known and unknown grocery words without pictures, Sarah will state why she could eat for a meal in that restaurant with 100% accuracy for 2 weeks with each of 3 menus in the classroom.
When going to a restaurant, Sarah will order a meal by reading the menu, determining what is available and ordering the meal independently with 100% accuracy over 5 community-based outings.
Hopefully those goals will give you some ideas to jump off of for your students.
Interested in purchasing the Functional Sight Word Task Cards? Click on the pictures below to check them out in my store.
Until next time,