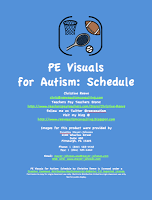 Have you ever tried to figure out how to help students with special needs like autism participate meaningfully in PE? In my work with schools I have seen all varieties of PE for all different ages. Some schools have adapted PE for students with special needs and teachers who are specially trained to accommodate all different types of learners. Most schools, however, don't have this opportunity unless it is specifically outlined as an educational need for a student. Sometimes PE classes are set up for self-contained classes and many times students are participating in the general education PE class with their grade. This resource is designed for busy PE teachers (or special ed. support staff) to use to help structure the PE class with visual supports. Like the Art Visuals for Autism and Music Visuals for Autism, other products I've sold on Teachers Pay Teachers, these visuals are set up so they can be printed, put in sheet protectors in a notebook, and arranged as needed to make a schedule. This way the schedule can be made on the fly if you don't always know what the activities of the day will be. Here is an example of a schedule for doing an obstacles course. The class starts with the teacher giving directions (Listen to the Teacher), then the students do stretches and then they line up for the obstacle course.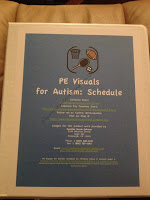 In this set, there are 35 visuals to make a schedule including a "Fun Activity" to use a reinforcer for students who may not find PE so exciting and need a motivator to make their way through the schedule. The set costs $2.50 on TPT. The set includes visuals for:
| | |
| --- | --- |
| Sit | Run |
| Walk | Stand in Line |
| Listen to Teacher | Put on Safety Equipment |
| Put on Helmet | Stretches |
| Jumping Jacks | Jump Rope |
| Pull-Ups | Pushups |
| Situps | Dribble |
| Shoot Baskets | Catch |
| Obstacle Course | Parachute GAme |
| Yoga | Ride Bike |
| Ride Scooter | Jump on Trampoline |
| Exercise Bike | Treadmill |
| Basketball | Baseball |
| Hockey | Soccer |
| Field Hockey | Race |
| Bowling | Roller Skate |
| Weight Lifting | Fun Activity |
Are there other visuals you think should be included in the schedule? Leave me a message in the comments with your ideas.
Images
for this product were provided byThe Picture Communication
Symbols ©1981–2010 by Mayer-Johnson LLC. All Rights Reserved Worldwide. Used
with permission. Boardmaker™ is a trademark of
Mayer-Johnson LLC. DynaVox Mayer-Johnson
2100
Wharton Street
Suite 400
Pittsburgh, PA 15203

Phone: 1 (800) 588-4548
Fax:
1 (866) 585-6260