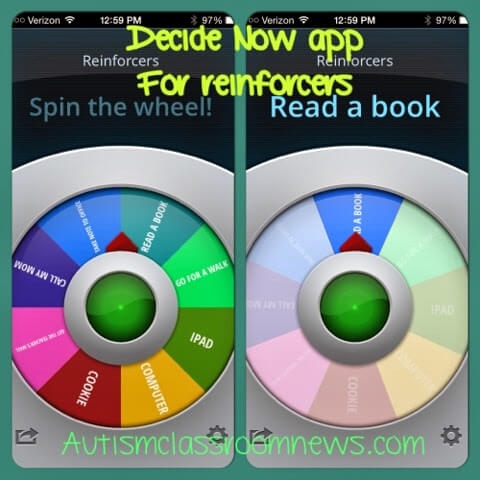 You know I like to find new ways to keep reinforcement in the classroom fresh. I wrote about it in a number of posts that you can find HERE (along with a few freebies). One problem that we often have with reinforcers is that after a time, they stop working because the student has satiated on them or they have just lost their excitement. Consequently I'm often looking for ways to keep reinforcement fresh by developing ways to vary them or developing ways to make them surprising. I've used my QR cards for surprise helpers and for surprise reinforcers for that (read more about them here). I have also written the reinforcer names on pieces of paper and put them in sealed envelopes that the student picks and opens. I've wrapped presents with reinforcers or put them in closed boxes for kids to pick. And of course the treasure chest in most classroom reinforcement systems for young kids exist for this purpose as well.
As I was putting together a presentation today, I re-discovered a new one and wanted to share it with you. According to Pinterest, which seems to have replaced my memory these days, I pinned this about 9 weeks ago from Miss Lifesaver's blog. Although the blog is unfamiliar to me, I'm guessing I did my Pin for Later technique that involves pinning and then forgetting it. In this case I also added downloading it and forgetting about it to the process. My mind becomes more complicated as I age. 🙂
Decide Now is an app for iPhones and iPads (Apple only) that essentially works as a giant electronic spinner kind of like Wheel of Fortune. It costs 99 cents which is worth it for me because kids will be more excited about it than a spinner I make with a paper clip.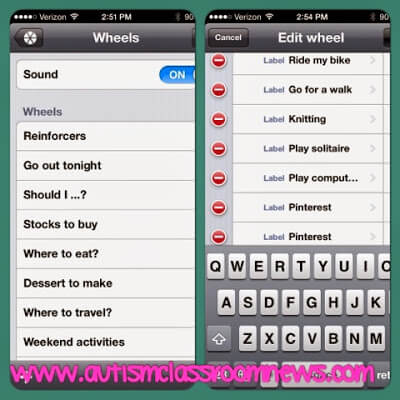 Essentially, you can set it up to have different selections on the wheel and then you spin it and it chooses one for you. There are a variety of options already set up, but I quickly set up one for reinforcers (above). Obviously if you were using it for reinforcers for an individual, you would set it up with only the things that have shown to be reinforcing for the student in question. As you can see in the picture below, essentially you choose the edit button and then add in the categories. It will take you 2 minutes–maybe more if you don't type fast on your iPhone or iPad. If you were using it for classroom management rewards you would customize it with more general options. You can see the two set up screens below.to the right.
Here are some initial thoughts of ways you could use this app:'
Choosing students for groups or class jobs (Put their names on the wheel)
Choosing the order of activities for work time
Choosing reinforcers or prizes for the class in a classroom management system
Choosing reinforcers for the specific student to keep the reinforcers fresh (prevent satiation)
Choosing the next goal to work on in social skills instruction
Choosing leisure activities to engage in during breaks in the class or down time at home (see the picture for mine–as you can see you can add ones that are highly preferred multiple times, thereby increasing the chances to getting it….Pinterest addiction anyone?)
There are so many ways to use this app to make ordinary activities more interesting, in the classroom and at home. I've thought it would be handy when going to dinner with friends where none of us supposedly care where we go to eat. Here are some resources and information that might be helpful.
Disclosure: I bought this app with no intention of doing a review of it, but really felt it was interesting enough to share with you.


Currently as far as I can tell this app is only available through iTunes for Apple devices. You can download the 99 cent version here. There is a Lite version that you can download here for free, but you can't change what is on the wheel beyond the 8 presets, so it really doesn't work well for a classroom. If you want to see it in action or need a tutorial (although it is ridiculously easy to set up), you can check out this YouTube video.
There is an Android app called Let Android Decide that looks similar, but I don't have an Android anymore so I can't give you more information about it. You can check it out here. It's made by a different company than Decide Now.
There is a webpage called Wheel Decide that you can create a wheel with your own options and it will spin. It's not quite as colorful and without creating an account I can't see anyway to save the options, so you would have to set it up each time. I think if you create an account you would be able to save them.
I really don't see any drawbacks to the app. It does exactly what I would want it to do and is easy to use. One of the real advantages of it for me is that it would be really appropriate to use with older students (middle and high school) as well as adults whereas some of the other methods for mixing up reinforcers (e.g., treasure box) really aren't as age-appropriate.
So, what ways do you keep reinforcement fresh for your students? Have you used this app or this strategy? If so, what types of wheels did you make?
Until next time,