Welcome to day 2 of the Special Education Valentine Blog Hop. Remember, everyday come back and check the graphic at the top of my blog for the day's featured blogger and pick yourself up a little Valentine sweetness throughout the whole month. Welcome to those of you who are new to my blog and thanks for the support from all of you who have been here before.
I am excited that I have a date before Valentine's day because it means that my freebie and post get to be about Valentines.
These are two interactive books I have in my TPT store designed for students who are working on vocabulary and are great for students using speech generating devices or switches. They are the same book–one is made with photographs and one is made with clip art. They focus on verbs related to Valentine's Day like mailing a letter, painting a picture and cutting out Valentines. Similar to all my interactive books, there are 3 versions of each book. One has pictures to match picture to picture; one has a blank space where the students find the picture to match when the word is read; and one has a blank where students verbally or with AAC say the word based on the picture. So, if you happen to be running ABA programs, they address matching picture-to-picture of actions, receptive actions, and expressive actions.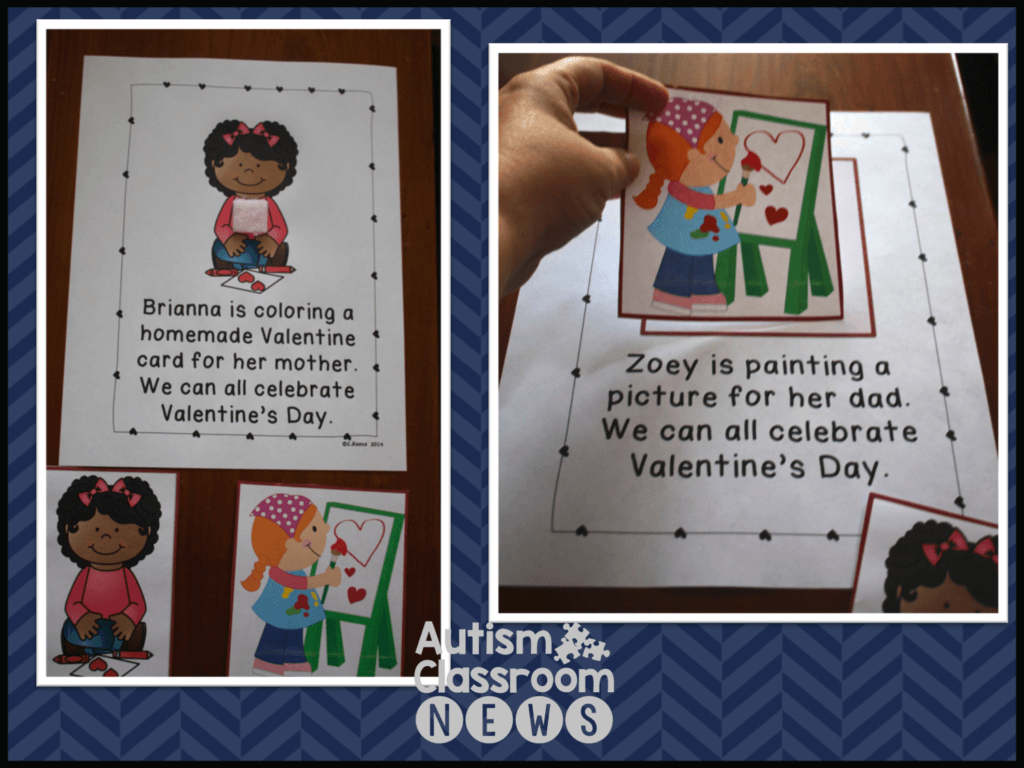 I made these last year for Valentine's but wanted to show you how they line up to common curricula we use in special education. One of the things that folks of Facebook had indicated would be helpful would be products that line up with common curricula we use in classrooms like the Strategies for Teaching Based on Autism Research (STAR), The Assessment of Basic Language and Learning Skills-Revised (ABLLS-R), and the Verbal Behavior-Milestones and Placement and Placement Program (VB-MAPP). So, I have started to do that with my adapted books in particular since they work on vocabulary and I decided to start with Valentine's Day. The chart below shows you what items on the assessments these books line up with in addition to the general attending to a book type of item that I didn't include. The last column on the chart shows the PEAK which stands for Promoting the Emergence of Advanced Knowledge and is another ABA curriculum that is just being published and goes a bit beyond the other curricula. I am just becoming familiar with it and I'll share more information about it when I've had more time to review it.
It's actually kind of interesting to see where these curricula match up and where they don't…I'll do a post on that at some point in the future.
So, if you are interested in the Valentine's Interactive Adapted books, you can read more about them IN THIS POST that describes them and gives extension activities for them as well. You can also find them in my TPT Store. The clipart version is HERE and the photograph version is HERE.
In keeping with the Valentine's vocabulary theme, I made a new free file folder just for this hop. It's a file folder of hearts for matching associated items–shoe-sock, pencil-paper, etc. Click on the picture below to download it.
Below are some Life Skills Valentine activities as well, including a freebie that is available in my store for those of needing materials focusing on more life-skills.
I will be back on Wednesday for Workbasket Wednesday, so get ready to link up or satisfy your craving for workbaskets (yes, I can't believe I just wrote that sentence either, but it's late. Forgive me.). In the meantime, make sure you check out the calendar at the top of the blog for your daily Valentine sweetness…including tomorrow's featured blog Mrs. H's Resource Room!