With most students with autism, we could spend all of our time teaching language skills and never even touch on other skills. That means that we need LOTS of different resources…that often address the same skills. But that can get boring….which means we need even more materials to keep them from getting bored.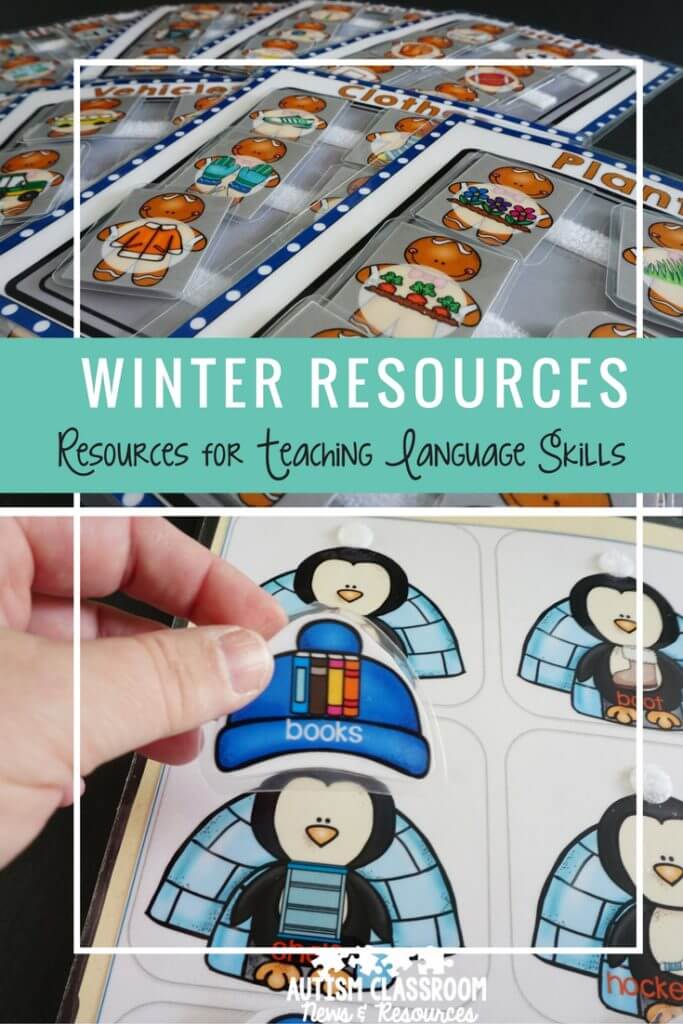 Plus, we have to make sure that the students generalize their skills beyond our 1-1 or small group instruction so they can use the skills. Consequently, making language materials in the classroom can be a full-time job. That's why I've been focusing on my seasonal sets of interactive books, color generalization materials, and receptive vocabulary activities. I've been talking about my interactive books and how I use them in the last few posts here, here, and with potential IEP goals here.
First, let me share the winter version of my Autism Receptive Vocabulary Activities for teaching receptive identification of items by features (characteristics), function (what we do with it), and class (category). These are great for helping you break down your small group instruction.
These gingerbread men are sorting mats for 9 different categories. I make them as mats (as shown) or as cookie sheet activities so that I can use just the number of categories I need for each student. There are 6 items for each category and the vocabulary overlaps with the other activities. You can also bind them as a book or attach them with binder rings. There is another sorting activity here (snowballs)that aren't shown here. It has similar categories with a couple of differences.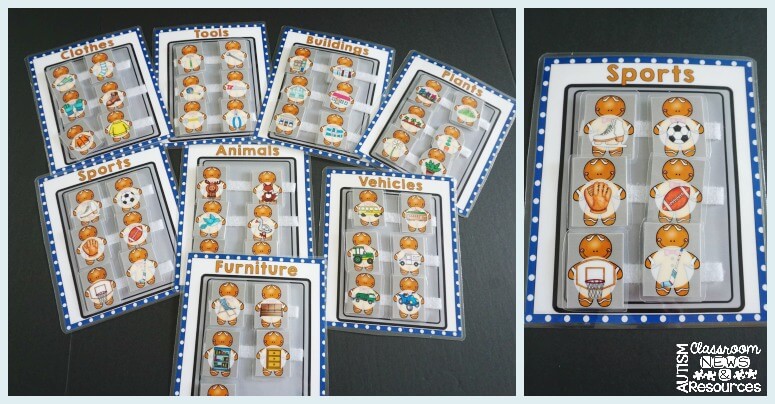 I like to use these as either an independent work activity or to give to another student while I'm doing discrete trials or other explicit instruction (e.g., reading) with another student in the group. This has the student practice skills related to the language instruction we are doing but a bit more independent.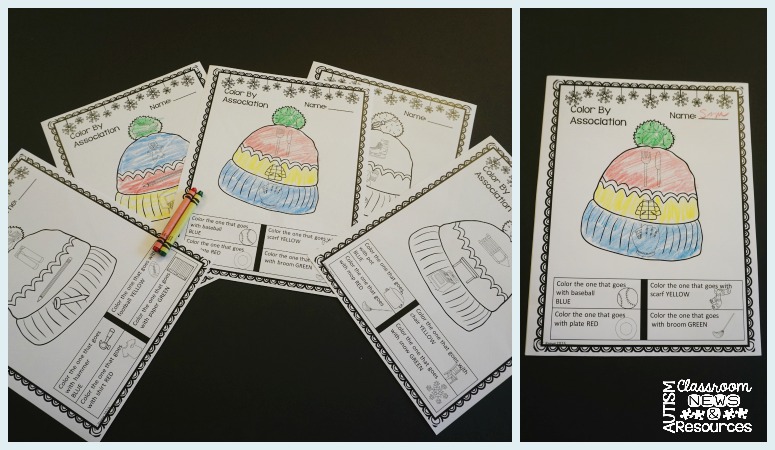 These activities are great because you can print or copy them and the kids can do them immediately. I use them when I'm working with small groups. One student can be working on this type of sheet with me telling him/her to color the one that goes with the catcher's mitt blue and they can work on finding it and coloring while I administer trials or other instruction to other students. Then I can check back and do it again. This is a simple set with only 4 items so they also are great for independent work.
There is another similar set of print pages that are coloring by categories. There are 5 different ones with 3 to 4 categories per picture for the students to complete. Students find multiple items in each category (e.g., color all the animals blue).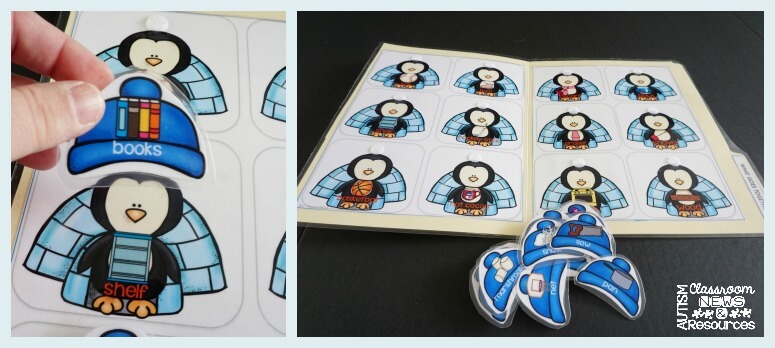 Oh. My. Gosh! Aren't these penguins and hats adorable?? Apparently I have a thing for penguins and hats–you'll see them again later in another product. Thank you Educlips for this adorable clipart! This is a file folder where students match associated items. Great for independent work to practice things that go together.
Below are two more of the print-and-go sheets that focus on different parts of language. The one on the left, with the girl on the sled colored in is 5 sheets in which there is a key of how to find the right items to color each color. It is designed with a card the teacher can have to give directions to tell the student what to color (e.g., color the one that barks yellow). It mixes up different elements of finding an item (sometimes by category, sometimes by a sound the thing makes, sometimes by a characteristic like color or feature, and sometimes by its function). I designed them for students to practice their ability to find items based on descriptions so they could generalize the skills beyond a discrete trial format. I color coded the direction card to make it easier for the teacher to know what color to use in the direction –there is enough to focus on when doing instruction with more than one student.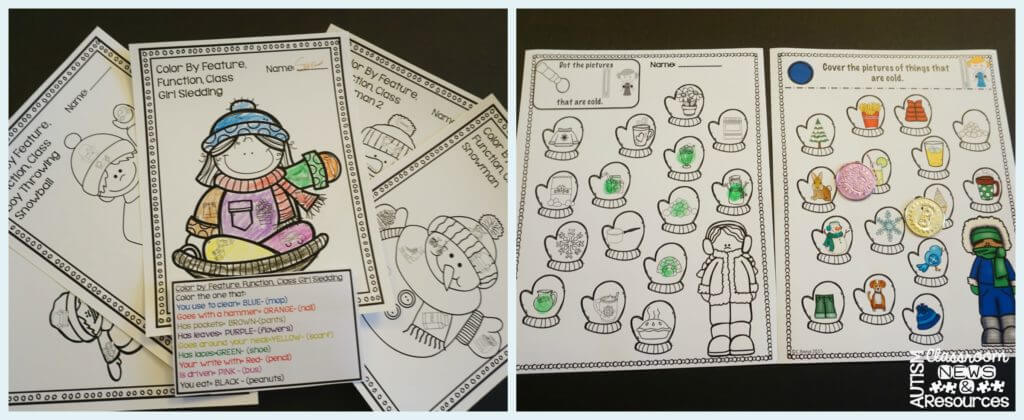 On the right are examples of the 10 sheets that can be printed in black and white and used with bingo daubers for the student to find all the items that fit in that category. I included picture cues in the direction so that students can do them independently or you could use it for explicit instruction as well. I also made color versions (same categories, but different collections of items) so you can laminate them and use Velcro with counters or something similar to avoid having to always print them out.
You can check out the Receptive Feature, Function, and Class Activities in my store here.
In addition to the more complex segments of language in the packet above, I also have a winter version of Color Activities. These are designed for students to generalize their ability to identify colors from discrete trials to other activities. There is a combination of interactive books, mini-coloring books and file folders. You can check them out in the video below that will show you all the different components.
So, I'll be back soon with more IEP goals for interactive books.
Until next time,