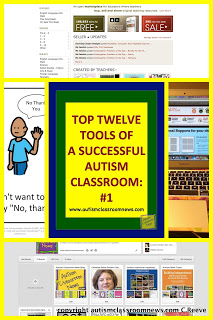 So, the first in our list of twelve is….a computer. Doesn't matter what kind it is, as long as it runs and you can use it. One computer can double as your computer and one for the students, although most classrooms these days do supply computers for students as a standard.
If you aren't given a teacher computer or don't have one you can use, beg, borrow or steal one. Here are some of the things you need the computer for, besides reporting attendance to the office.
1. Making visuals. Between schedules, behavioral supports, visual cues, and social stories, just making the visual supports for an autism classroom can be a full time job. Whether you use Boardmaker by Mayer-Johnson, Symbol Stix by n2y, or other resources like those listed here, you will need to be able to use a computer to make them most efficiently.
2. IEPs. Many districts (and states) have moved to electronic IEPs. All the more reason why the district should supply you with a computer.
3. Communicating with parents and professionals. Email is becoming an increasingly frequent method for communicating with parents and with others within the district or your building. It has the added advantage over phone calls in that it provides you with documentation of what you sent as well. Just be careful and remember that all emails can be read by many different people in the future.
4. Graphing Data. You can graph data by hand, and some prefer to, but putting it into a spreadsheet allows you to manipulate it to look for patterns more efficiently. You can draw a trend line to see if the behavior is increasing or decreasing, you can look at large or small amounts of data at a time, and you can graph behaviors on the same graph to make comparisons much more easily on the computer than you can with paper and pencil.
5. Researching Strategies and Materials: Whether it's Pinterest you go to for ideas, or Teachers Pay Teachers and blogs to download free materials and purchase others, being able to go out on the internet to find ideas for teaching is becoming increasingly important.
So there are clearly a myriad of reasons why a computer is needed in the classroom, but clearly it is an essential element to getting things done. What are other ways you use your computer in the classroom to improve instruction?