To see the first 3 tools, click here.
So, our fourth top tool is…..Notebooks! Yeah, I know they aren't incredibly exciting, but they are truly essential to the organization of a classroom. There are of course a variety of uses for notebooks. Some can be replaced with file folders; however, notebooks have a variety of other uses in addition to storing paper.
1. To me the most important is the use of them to create student program or data books. I find it easiest to set up the classroom so that there is a notebook for each student that holds all the ongoing important information. I develop a student information form with emergency information (like this one on A Special Sparkle), contact information, and other basic information. Also included are the student's IEP or IEP at a glance, a reinforcer assessment for the student, data collection forms both completed and not completed, and any teaching programs. It's also a great place to store work samples. This then becomes a notebook you can take with you to every IEP meeting or parent conference so you have the information you need readily available to talk about the child's progress.
2. You can use a notebook as a slant board for students who need writing support. Just put the closed notebook flat on the table with the rings away from the student, and the paper can be put on top. If you need to stabilize the paper in some way, you can velcro or glue a bulldog clip to the top of the notebook to hold it.
3. You can use a notebook to hold a schedule. Just put velcro on the front of the notebook and you can store the visuals inside the notebook on dividers. You can also use them to store visuals for schedules in baseball card holders and to use them to hold group schedules like these. Notebooks also make good first-then boards because they are sturdy and you can store visuals on the inside.
5. And of course notebooks also can be used for Picture Exchange Communication System (PECS) books like the one below. They can also be used for other communication boards.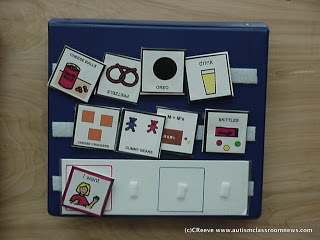 In general, I would recommend having at least two 3-ring binders per student, but having 1 is critical for making a program book for each student that becomes the go-to place to find information about the student and his or her progress. So to help with that and brighten it up, I have included a freebie of notebook covers for program books. There are 3 patterns. They are editable with 1 copy that has the title already written in and 1 copy that you can write in your own title. Download and enjoy. And if you are looking for more information about setting up classrooms or materials, check out our book through my affiliate link below. Click on the picture below for the freebie!