I posted about incidental teaching in one of my last post in the Effective Interventions in ABA series. You can check out this post and video if you missed it or need a refresher. Today I thought I would give you some suggestions of how you can create opportunities for learning and then follow the student's lead to teach new skills. Outside of asking the child, one of the points of incidental teaching is to set up the environment with enticing activities but creating learning opportunities within them. You can always ask questions as you read, play, etc. but sometimes it takes more creativity to create opportunities for individuals to initiate the communication. So that is really what I'm focusing on here.
The trick to creating these opportunities is to hit a balance between pushing the student out of her comfort zone to create a little tension and reach but not so much that it causes either frustration or the student gets discouraged and shuts down or gives up.
[Tweet "The trick to incidental teaching is balancing challenge with frustration of the learner."]
This is not a definitive list so I would love to hear from you about how you set up incidental opportunities for teaching.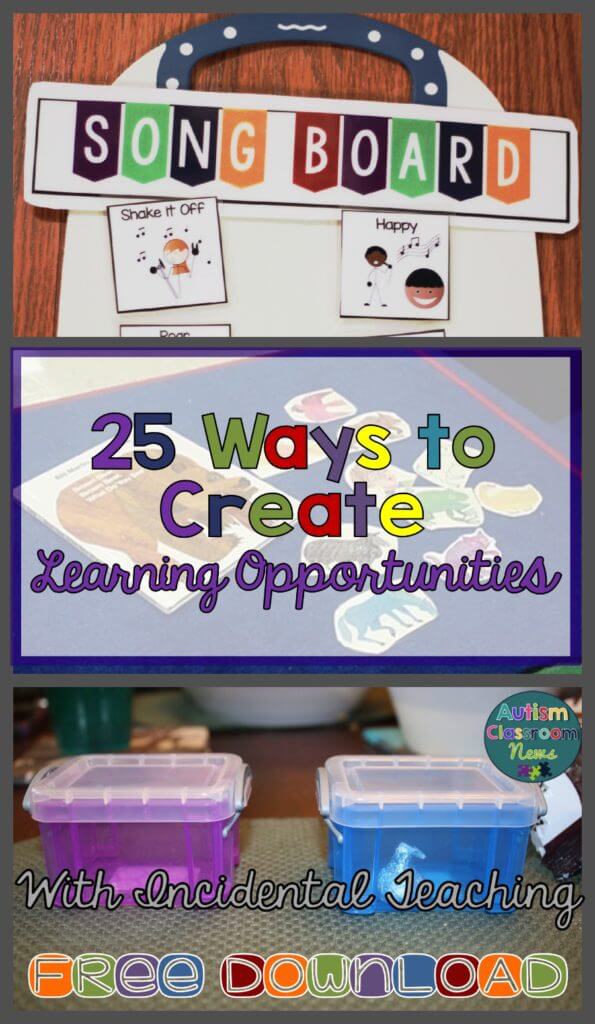 To elicit requests for desired items or activities
Put desired items:
Up on shelves where students can't reach them
In closed containers that students can't open
Tape containers (like food bags or containers) closed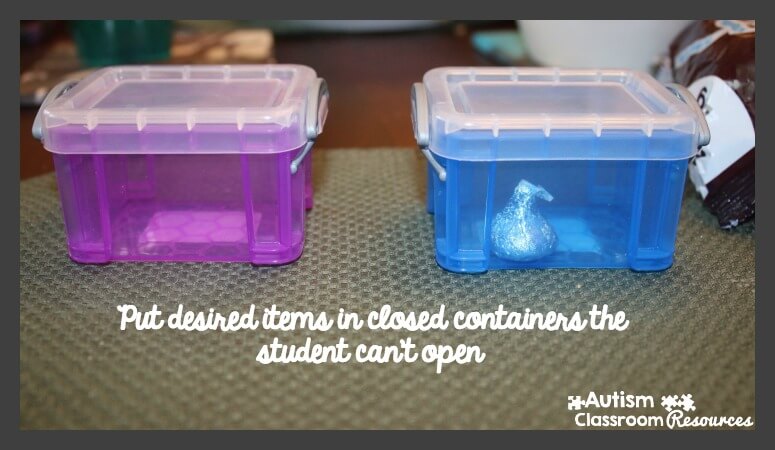 Stop an ongoing activity:
Stop a swing from swinging and hold until the student requests
Pause a CD or music player mid song
Stop a child bouncing on an exercise ball if you are holding on to him
To elicit requests for help or needed materials
Leave items out of the materials for completing a task, like a pencil to do a worksheet
Leave out a piece of a puzzle (if the student needs things completed)
Leave out a piece of file folder game
Tape the scissors shut for a cutting task
Provide a pencil with a broken tip
Provide a pen or marker that is out of ink
Take a piece out of a game or toy
Hide a piece of a game you are playing behind your back
Labeling Items / Actions
Hold back items in a series until the student names them. For instance naming animals together and stopping to see if the student will name the next one. This can be done for any types of items using pictures or objects.
If the student chooses a book, read a page and have them name the pictures.
If the student has figurines she likes, have her name items (could be the name of the item or just an element like a shoe) as she puts them away or puts them in a container
Label actions in a game of charades in which the adult acts out an action and the child names it
Follow the child to what he wants to play with and narrate what he is doing and block his access to the activity until he models your language
Commenting / Completing
Sing a song and leave out a word
Read a familiar story that the child wants and stop before a familiar refrain or leave out a word (e.g., Brown bear, brown bear, what do you ____?) and see if the child fills it in
Leave out choices of books with repetitive phrases like the Eric Carle books and stop before you get to that phrase to see if a student fills it in
Load your song board at morning meeting with familiar songs and stop singing for familiar choruses. Something like Itsy Bitsy Spider for younger students and All About That Bass for older kids.
Adjectives
When a child really wants specific items, have a variety on hand of different colors or sizes. Then have them request the items by specifying the color (e.g., I want yellow Starburst)
Put a desired item in colored containers, different shaped containers or different size containers and require the student to request them by the characteristic.
You can also fold academics into interactions based on the student's choice of activities. If there is more than one piece of materials, have him/her count them. Put words on common items like building blocks and have them read it to get the next block for their structure.
So how do you create learning opportunities with incidental teaching with your students? Please share!!
25 Ways to Create Learning Opportunities Handout
And for those of you who are looking for something to share with others, I've put these ideas in a pdf you can download above to use. Enjoy! And next up in the series, I will give you some ideas for different daily activities to create opportunities for learning.
Until next time,