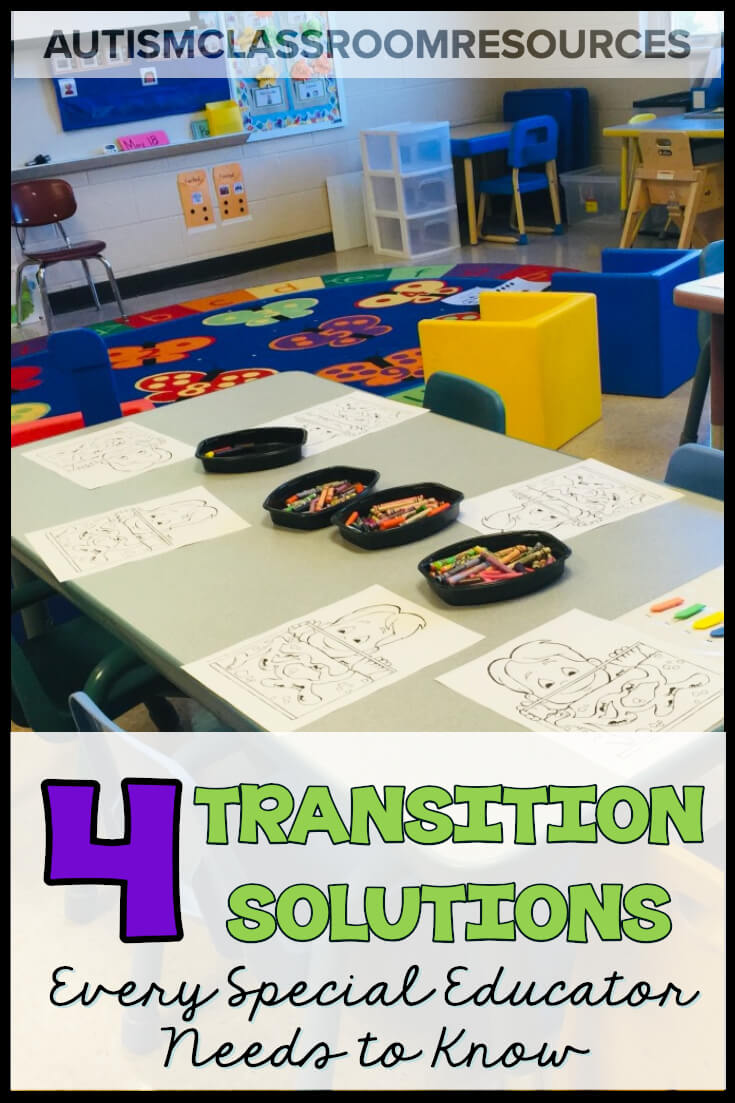 Do you struggle with transitions in the classroom? Have you ever been running the classroom and the activity is going really well? All the students are engaged, everyone is where they need to be doing what they are supposed to. And then you go to transition to the next activity and it falls apart?
I've been there. Maybe the students don't know how to use their schedules independently. Or there might be too much waiting time for all the students to get where they are needed. Or they just get off task when they change spaces?
Sometimes it happens so often, it's tempting to have the students stay in the same place and have adults rotate. And while I've done this sometimes, I try not to because it's good for the students to get up and move.
So what should you do about the transitions from hell? I've got some easy solutions to restructure them and keep students engaged, so it keeps your class on track.
PROBLEM: My Students Aren't Independent at the Schedule
I've had this one tons of times when the students are all over the place because they have no idea what to do. We send them to the schedule and they wander away. And no one knows where they are supposed to be.
SOLUTION: Teach Students Selectively
Target 2 students in the class who are likely to become independent most quickly. At group transitions choose 1 or 2 staff (depending on how many can continue to engage with the group). Have them transition those target students early to check their schedules. Have them use the prompt hierarchy to work on building independence with those two in checking their schedule.
Find more ideas on teaching visual schedule use in this post.
Then keep the other students' schedule pieces in the group area. When those two students are moving to the next activity, have the remaining staff transition the students in the group by giving them their schedule piece and going to the next area.
When the original 2 targeted students are checking independently, you can start the next two. Choose the ones who are most likely to become independent first, because it allows you to move more quickly through the group to getting more students independent.
PROBLEM: The Center Rotation Transition Nightmare
So, you have some students who can check their schedule and some students who aren't quite independent yet. So you can't send them all to their schedules on their own. In a center rotation that means that the more independent students are likely to get to their center and have nothing to do. And we know that when our students have nothing to do, most don't just sit and wait patiently for someone to come teach them.
SOLUTION: Designate a Transition Staff Member
We've all been there. We think centers are great but managing them is a whole different thing. An easy way to solve the issue is to have 1 designated staff member who is in charge of transitioning each group of students.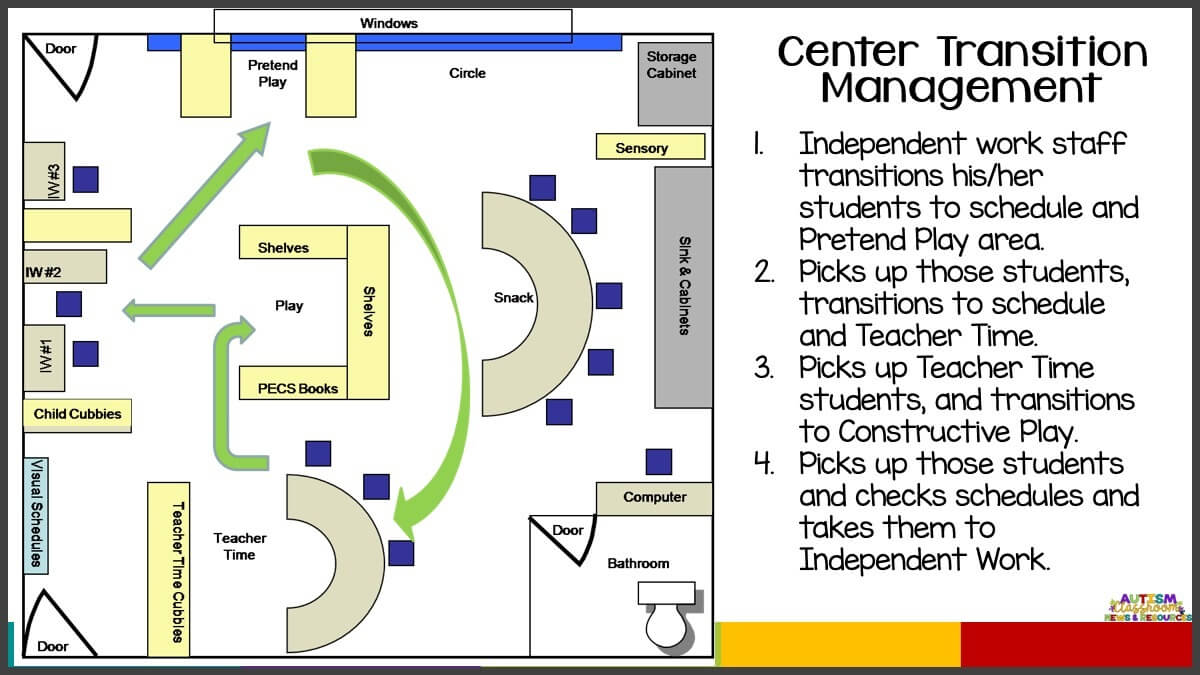 We usually choose the staff member who is working in the independent work center.
Typically those students are finished before the rotation time ends. They move on to their "what's next" activity and the staff resets the systems for the next group. This leaves them free to transition each group of students one center at a time.
That allows the staff at other centers to continue to work with students, keep them engaged (maybe with a reinforcer) and get set for the next group.
The last group the independent work supervisor picks up is his/her own. Independent work is already set up so the students can start right in to work with no delay.
The key is to put this in the zoning plan and make sure that all the staff knows how it will work. This helps to:
Keep all the students engaged.
Give everyone time to reset their centers for the next students.
Allow time to wait out the students who are learning their schedule out to get more independence. So it reduces prompt dependence.
PROBLEM: Chaos Bunching Up at the Schedules
When you dismiss students from the group, they bunch up at the schedules and that sparks problem behavior. They get all over each other and tear other students' schedules down because it's impossible to supervise them!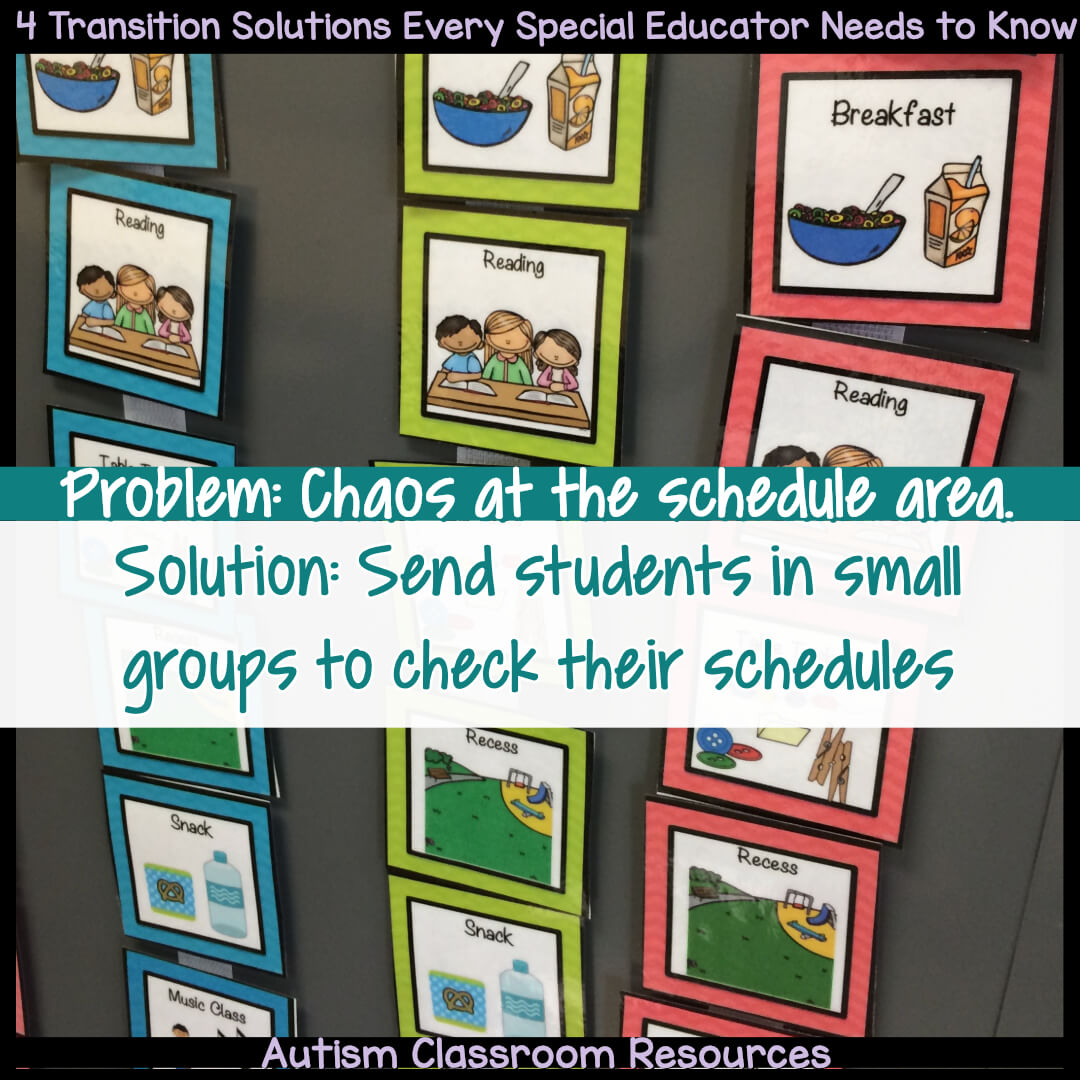 SOLUTION: Transition in Small Groups
Again, we've all been there. The center transition solution above might solve that problem.
Moving the schedule so they aren't all in the same place might solve the problem, but only if the students don't need much supervision to check their schedule. That keeps them from having to wait but doesn't assure staff to help them if needed. And let's face it, the students who need the most help are the ones who have difficulty waiting the most.
So, consider dismissing students from a group 1 or 2 at a time. Zone the classroom so that one (or 2) adults are at the schedule and 1 (or 2) adults stay with the group. And have 1 (or 2) adults at the area the first transitioning students go to. That way, they can immediately engage them. Adjust the recipe for the number of adults accordingly.
Build in fun choices for them to follow directions on their way to the schedule.
​For younger students:
Sammy, you can hop to your schedule
Kendra, fly to your schedule like an airplane
For older students:
Mark, take 3 deep breaths while walking to your schedule
Deandre, show me how straight you can stand when you walk to your schedule
Or work on conditional instructions to dismiss them.
For younger students:
If you have on pink socks, go check your schedule
If you have on a striped shirt, check your schedule
For older students:
If you like roller coasters, tell me why and check your schedule
If you fed your dog yesterday, check your schedule
PROBLEM: This Student Has a Come Apart at Transitions
Yep, this is where the transitions are fine for everyone else, but this student just runs amok. As soon as the transition starts, he wanders the room, he pulls things off shelves, he bothers other kids.
SOLUTION: Give Him a Job
One way to engage a lot of students who have difficulty waiting for someone to engage them is to give them something to do DURING the transition.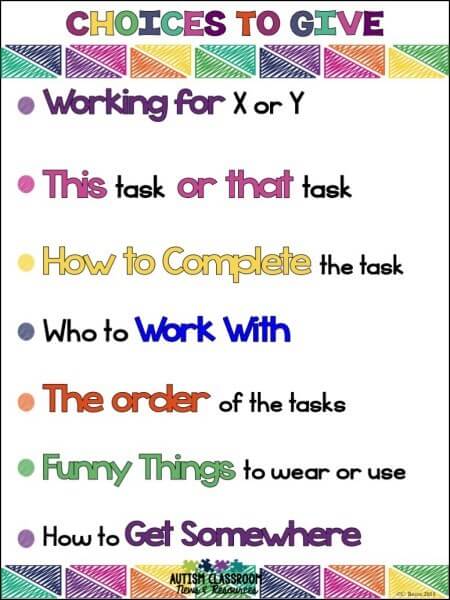 For students whose behaviors are attention seeking, this gives them attention for appropriate behavior by being the teacher's helper. For these students, choose a responsibility that allows you to praise them and might gain them some attention from their peers. Something like passing out materials, putting up tokens at the teacher's direction for appropriate behavior, or helping another student.
For students whose behavior is escape oriented, it keeps them engaged so they don't have time to disengage into escape behavior. For these students, consider giving them a choice of jobs. This makes it more likely they will engage with it. And by engaging with the job, they stay engaged in the class and have less off-task behavior.
Choices might include:
Do you want to pass out papers or run an errand to the office?
Sally, help me out. Do you want to set up the calendar or put these papers on my desk?
Download your free choices poster for reminders from this post.
All of these solutions don't require checking a schedule. You can use all the same strategies for lining up at the door, going to specials, or any other transition in your classroom. These are just are some of the most common problems I've had with transitions. If you have other issues, hop over and share them in our Free Facebook Group-Special Educators Connection. And I'll try to answer them there, or develop another post.
sign up for free tips each week in your inbox and the free resource libary!
Until next time,