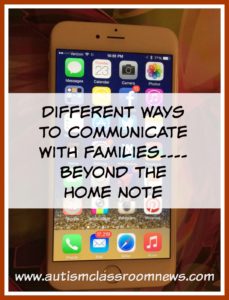 In
my last post
I talked about home notes to communicate with families. I promised at the end to talk about some different ways we can communicate with families (and families can communicate with schools) so I want to focus on that today along with some of the pros/cons about the different ways to get information between the two settings. I have talked about why this is important for individuals in special education, but there is also research that indicates that for all students, having parents involved in their schooling improves their performance. I would expect it to be no different for individuals in special education and the need is even greater for different types of communication. So, here we go.
1. Newsletters
One way to convey information about what your class is doing is to send home monthly or quarterly newsletters. Newsletters can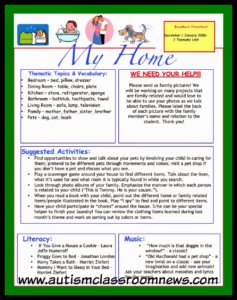 be printed and sent home in backpacks or emailed. They can include information about the theme that is being worked on in the classroom along with relevant vocabulary words that are being introduced. The example to the right is one that was developed and used in Nova Southeastern University's Baudhuin Preschool at the Mailman Segal Center for Human Development. I love the fact that it has suggested activities for families to engage with their child at home as well as the music and literacy targets for the theme. It also includes information about materials needed that can be shared efficiently with all the families (e.g., sending in pictures for the unit).
Newsletters can be time consuming to make, but you can communicate meaningful information that all the parents will need by putting it all in one place. In addition, once you take the time to set up the template, it's just a matter of filling in the information. You could then send a newsletter home every month, to coordinate with changing themes, or every quarter to keep parents informed. You can include volunteer opportunities for families, instructional targets, upcoming events and field trips, extension activities to what you are teaching, materials needed in the classroom, etc. If you are looking for some templates to use to create a newsletter, I have some pinned on my Autism is About Family Pinterest board that are free to download and use.
Follow Christine Reeve-Autism Classroom News's board Autism is about families on Pinterest.
2. Email
Emails can be a quick and easy way to communicate information to families. You can easily copy and paste common information across messages. You can communicate information efficiently with email and send files that you want to make sure make it home as well. However, there are a couple of considerations you need to think about before using email with families.
Be careful about who you are sending the email to. Most of us have had a not-so-fun experience when accidentally sending an email to one person that was meant for another.
Remember that the information you are communicating to families is confidential, so make sure that you are aware of any district protocols for communicating via email. For instance, some districts require confidentiality statements at the bottom of emails and some are not comfortable with using email. The security of email systems is important when sharing information.
If you use email to communicate with multiple families, such as to send out an announcement about a trip, use the Bcc line (Blind Carbon Copy) instead of cc: for all the addresses and you as the primary recipient. This conceals with families' addresses so that they aren't revealed to the whole group. This keeps emails from being used for other reasons than they were provided to you for. However, when you do this, include a note in the subject line that tells the receiver that you are emailing multiple people so they don't respond to the group with private information.
Think about whether a phone call would be more appropriate. Do you have something that might be difficult to understand or something that is sensitive in nature? Talking on the phone, while not as efficient, is probably the way to go to communicate that the child got bit or you had to restrain a student. On the other hand, emails can be a great way to share positive news about how many words a student read or what a great day he had.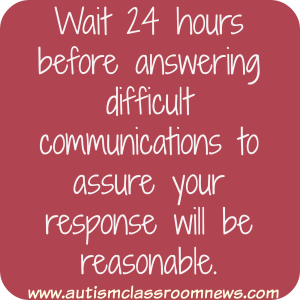 Remember that emails do not allow your sense of humor to come through and things you write might be misinterpreted. They also will be kept and read later when the context isn't as clear. Read through your email to make sure that it's intent is clear and that it is appropriate. If you wouldn't want your mother to read it or to hear about what was written from your own child's teacher, don't write it. If you are responding to an email (from anyone) that is emotionally charged in any way, try the 24 hour rule. Let it sit for 24 hours and then answer it. This allows the emotions to calm down and makes it more likely that your tone will calm and reasonable.
Finally, remember that emails last forever. You can't take them back and you can't erase them once they are sent. They also serve as documentation even when you are communicating between team members that don't include the family. Do not forward emails to people who do not have a need to know about the situation.
3. Phone Calls
Phone calls are the most private, most personal form of communication with families and can be used to communicate positive and negative information. Consider whether you are willing to give families your mobile or home number. Some teachers decide it's just easier and others want to protect their privacy. Both decisions are personally fine. Teachers, you are not required to provide your home phone number to families (I don't know of any district that would require it but correct me if I'm wrong). Parents, teachers that choose not to share that are not trying to dodge your calls or are not indicating they don't want to talk to you. They are simply protecting their separation of home life and work life. Everyone deserves this opportunity. Teachers, you can use Google Voice (more about that here) to get a unique number that you can forward to your cell phone. I think there are other apps out there that allow you to make calls while keeping your number private but for the life of me at the moment I cannot find the pin for it. So, if you know about them, please share in the comments.
4. Texting
Texts can be a quick and easy way to share information but again, it involves sharing your phone number. Unless you use Remind, an app that you can send and schedule texts to families. Texts work best for short messages and reminders. All the precautions with emails will apply to texts as well.
5. Video
There is an increasing opportunity to share videos between home and school to share students' accomplishments. Videos can be a really powerful way to share how something was done or taught in one setting to the other. For instance for a student who can write his name at home and not at school, it is so helpful to have the parents make a video of the student at home so the teacher can see how it is presented. I would suggest using videos as communication for this type of situation or to demonstrate positive accomplishments rather than videos of problematic behavior. However, both parents and teachers need to recognize that there are difficulties with using video as a tool for communication from the classroom. The primary concern is the privacy of the other students. Even when you are only videotaping one student, you can hear other students and teachers talking to other students. Similarly when videoing group activities you need to have video consent from everyone in the group (this should include the adults too) and the consent needs to indicate how the video will be shared. Even if parents are requesting videos and you can manage to only video their child I would still get a video release in case there is confusion later. Similar precautions should be taken with pictures of students as well.
6. Classroom Blogs
Some teachers choose to keep classroom blogs that provide information similar to a newsletter and share information about what the class has been doing. Blogs can be set up to only be available to a select set of people, but if you aren't sure how to do this, get help to assure it is set up that way. If your blog is open to the public outside your class, make sure you have permission from parents to post students' pictures on the blog. Again, a picture release specifying exactly how the pictures will be used is important to make sure everyone is clear and avoid problems down the line.
7. Data
One way to share information regularly with families that is clearly related to the student's progress is to share the data. For some situations it might be helpful to share data summaries more frequently than a progress report. However, keep in mind that if you are sending data home, send home your summary rather than the raw data, unless that is specifically asked for. If the family has an outside professional, like a BCBA, working with them or if one of them is skilled in data interpretation, the raw data may make sense. Otherwise it just looks like tally marks and has to be interpreted by them to be meaningful. Graphs and brief summaries are more easily understood and provide better communication. For ideas about ways to easily summarize your data regularly, check out this post.
8. Meetings
Yes, I know that meetings are probably all of our (parents and teachers) least favorite method of communication. However, meetings set up regularly can enhance efficient communication across the year. Often the only time we actually sit down and meet with families is when there is a problem or during an annual IEP. If you have a student who is complex, it might pay to have quarterly or monthly meetings. I know it sounds time consuming, but if your IEP meeting takes all day, it might be more productive and less contentious to meet for an hour each month. I've done this with many schools and families as a way to work together effectively as a team to help the student. It also helps to build trust between schools and families, particularly when it's been damaged. To assure that meetings run efficiently, have an agenda ahead of time and be clear on the time limit for everyone involved. There are many strategies for increasing efficiency of meetings. If you would like a blog post about that, definitely let me know in the comments.
So, those are just some of the ways you can effectively communicate between home and school. Remember that communication is a two-way street so always provide a method for families to share information easily with you in addition to sending information home. And please remember to share positive things regularly.
Are you looking for some new ways to communicate with families that are not too overwhelming? Check out my Home-School Communication Notes for Preschool, Elementary or Secondary classes.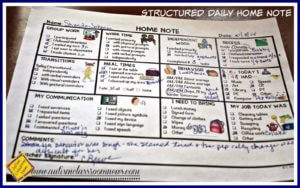 Until next time,