Imagine that you could change 5 simple things in your room design and have behavior problems disappear. Believe it or not, if you do it right, it can happen. Classroom design can have a very significant impact on whether students behave appropriately and are engaged in work (e.g., Nordquist, Twardiosz, & McEvoy, 1991). But how do you know what needs to change to change problem behavior? And how do you know when problem behavior might be related to the design of the classroom? Here are some tips.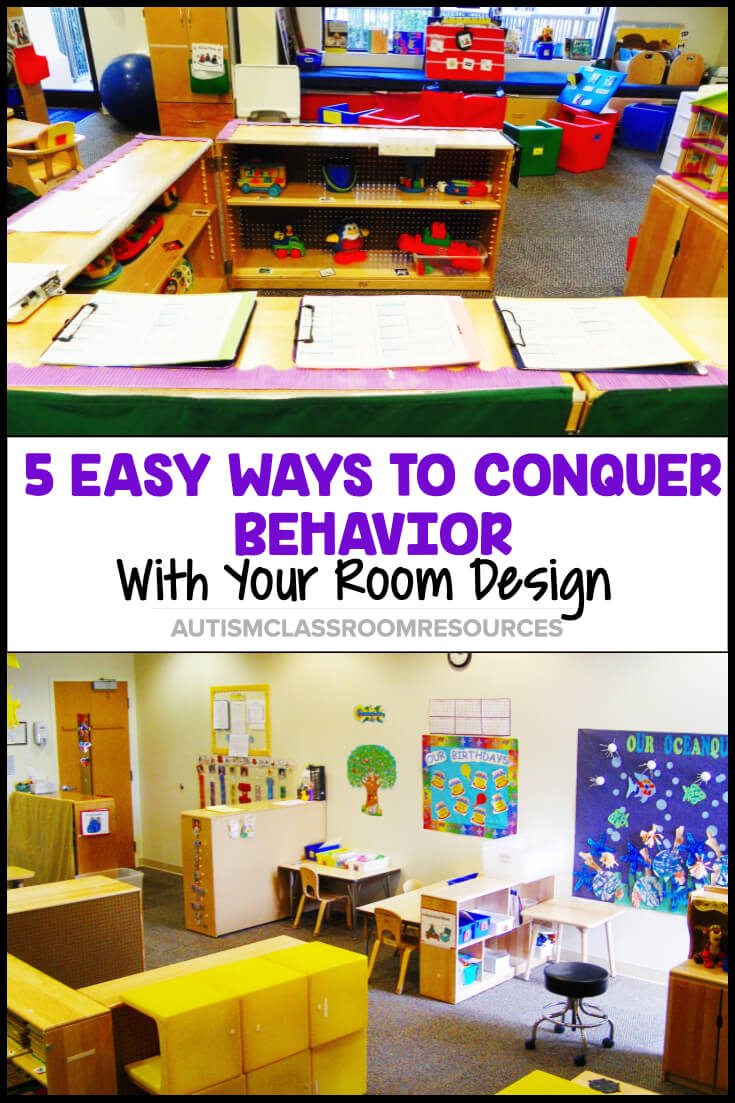 How Do I Know if Room Design is the Problem?
You can't always know for sure that problem behaviors are related to room design, but there are some indicators that might suggest it. The biggest suggestion that room design is the culprit is if the behaviors are occurring for more than a few students or even most of the class.
As an example, I once was asked to write a behavior plan for a student in a classroom. When I met with the teacher and asked her which student, she listed 6 of the 7 students in her classroom. If the majority of your students are having challenging behavior, room design is a good place to start.
In this case, we reorganized the whole classroom which then allowed us to see that part of what was happening is that one student was an expert at attention-seeking behaviors of climbing on the furniture. He would gain the attention of at least 2 staff members–one to try to get him off the shelf on one side and the other to make sure he didn't fall off on the other side of the shelf. That then left the rest of the students unengaged which caused them to engage in behaviors to be chased around the room. Rearranging the room allowed us to keep the rest of the students under control and do a functional behavior assessment on the 1 student whose behavior was pretty severe.
WARNING SIGNS & ROOM SOLUTIONS
Each of the 5 ways I'm going to discuss below, as well, are really warning signs that something is a problem with the room design. So each of them will tell you if the problems might be able to be fixed with changing something in the room.
Also, recognize that changing the room doesn't substitute for eventually teaching the student appropriate behavior. But it does give you TIME to be able to do it without constantly having to respond to the problem behavior to assure safety.
Problem #1: Running in the Classroom
Running in the classroom typically means there is too much open space. If you have a classroom with students with wheelchairs or other adapted equipment, you might have more open space than usual. However, you can still avoid having large open spaces in the room.
Room Design Solution:
Use shelves and furniture to break up the space. If you have students with wheelchairs, use the furniture to create pathways through the room that perhaps aren't completely straight. This will make running through the pathways more difficult. It also works to direct traffic to the parts of the classroom you want the students to go.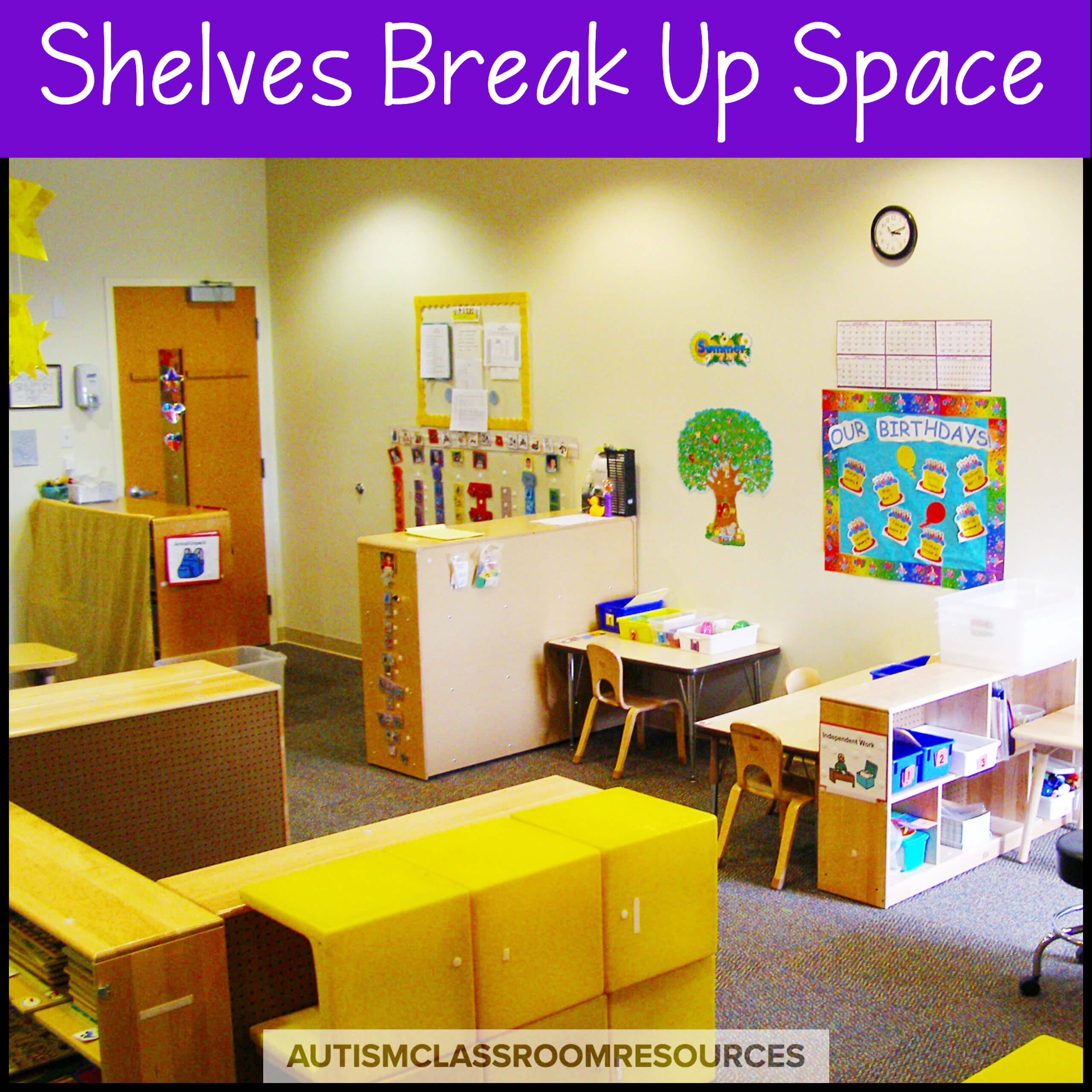 Generally use low shelves and dividers to break up the space. You want to be able to see the students over them when they are in those areas, so you want to make sure you have line of sight.
Problem #2: Climbing on Furniture
Clearly this is a behavior that you can't ignore and let continue, so it often tends to be one that is reinforced by attention. The student learns that the surest thing to get adults to attend to him is to climb on the furniture. And to assure his safety, you have to intervene.
ROOM DESIGN Solution:
An easy way to prevent this is to move the furniture closer to the walls so there aren't as many entry points onto it. However, if you are trying to use that furniture to break up the space to deal with problem #1, then perhaps spacing the furniture a bit farther apart. If the student is jumping between the furniture or using one piece of furniture to climb on another, then move the pieces of furniture farther from each other.
You can also think about swapping out some of the shelves you use to divide space in the room for dividers. This would reduce the pieces of furniture that are actually climbable. If you can just make your room less conducive to climbing and slow the student down, then you can redirect before the climbing begins. And then you will have enough time to work on teaching more appropriate behaviors.
Problem #3: Moving their chair to back up from the table or bother other students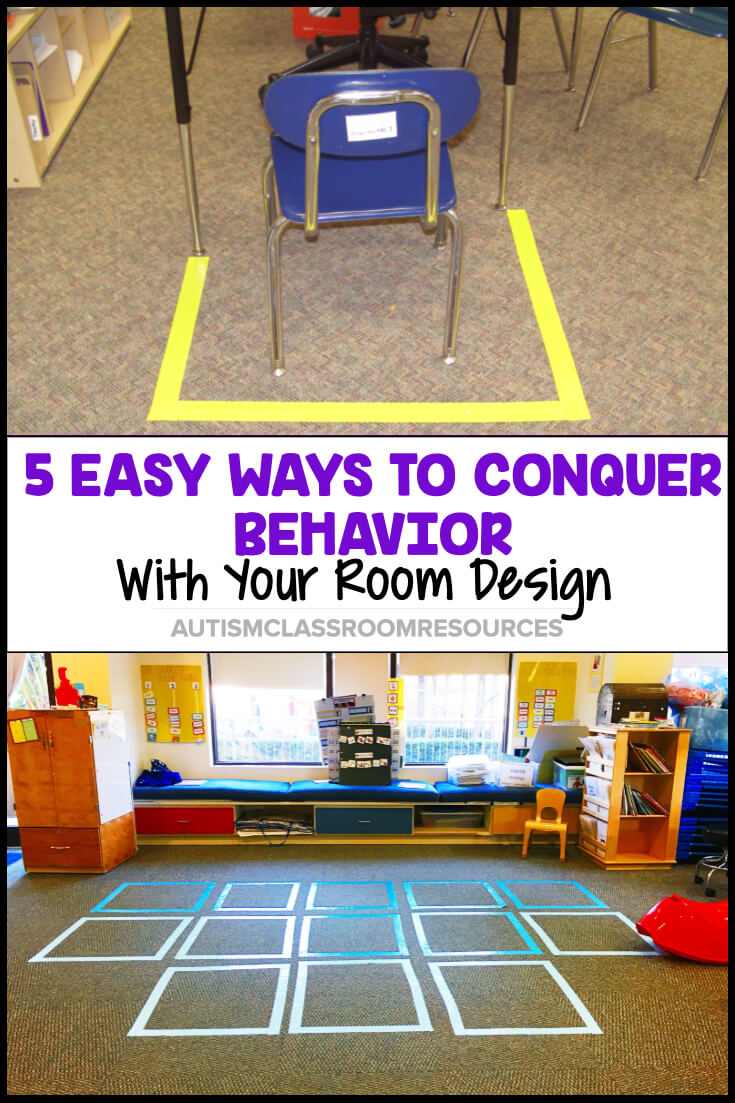 I had one student who used to continually scoot his chair back from the table. This then caused his teacher to have to get up constantly to bring him back. We finally assessed that it was to escape working because when she was redirecting, there were not demands.
Another student kept scooting his chair at morning meeting toward the teacher. This would keep happening until he was almost on top of her and someone would have to come up and pull him back.
ROOM DESIGN Solution:
Put tape around the spot where the student needs to keep his chair. This always seems like such a ridiculous solution to me, but it's worked every time I've done it. I put tape on the floor and the student behaves. I swear it feels like magic. But really it's just the power of visual supports. Over time, we were able to fade out the tape by just taking pieces of it up so we had a dotted line and then just little pieces and then none.
If you have this problem when students are seated on the floor, use carpet squares or even tape on the floor to show them where their spot is. Or, depending on the students, if you have one who is lying down or encroaching on others' space that way, think about having him sit in a chair. Not everyone needs to sit the same way in class to be successful.
Problem #4: Dumping Materials Off Shelves or Getting Items That Aren't Allowed
Often this one happens with those shelves you used in #1 to block off the space. You use them to store things in them and then the students start pulling things off them whenever they want. So you feel like you are in a constant state of redirection to get them to focus.
ROOM DESIGN Solution:
Put curtains up over the shelves to block their sight of the items. Yes, students who are dead set on getting that stuff might go behind the curtain. But it will still slow him down until you can redirect. And often times, out of sight is indeed out of mind. Again, it's the power of visual cues. Covered shelves are not as enticing as opened ones.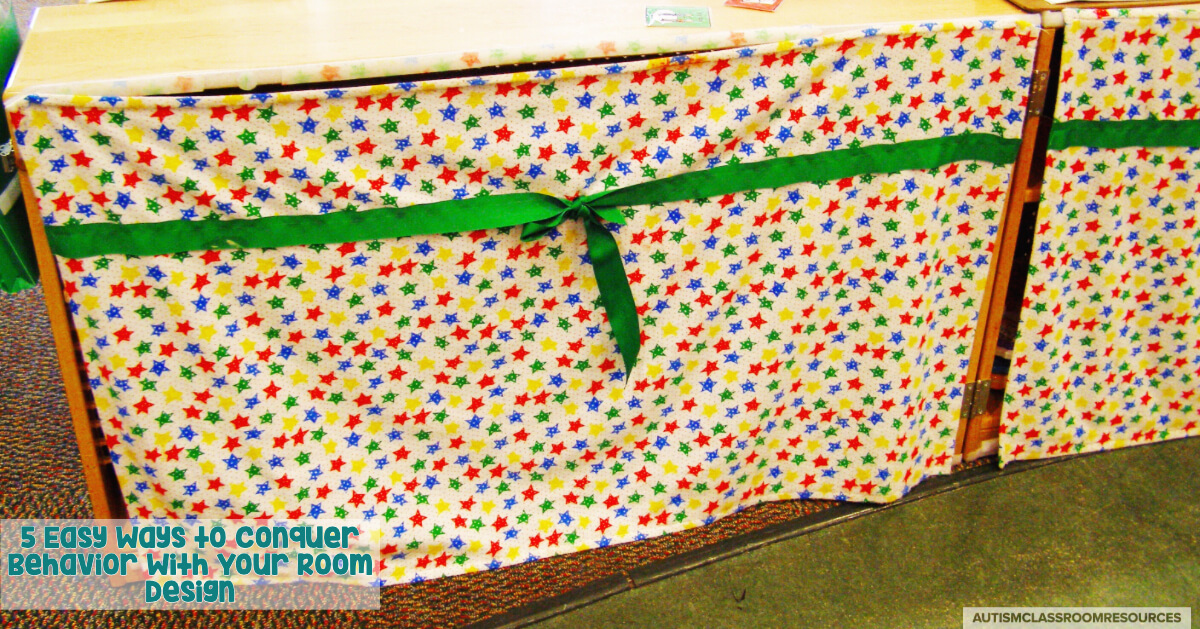 You can make pretty curtains if you love to sew. Otherwise, do what I do (since much to my mother's dismay I never took up sewing). Use Velcro and shower curtains or sheets. Cut them to size and velcro them to the top of the shelf. If you need to slow the student down more, add a fastener to them. For instance, close them with a binding clip or even a few clothespins.
Problem #5: Leaving the Work Area in the Middle of the Activity
We once ran a classroom where we had two students in the same center who did not yet know how to sit in their seats and engage in work. So when we started we kept having to chase them down–and when we came back the other one would be gone.
ROOM DESIGN Solution:
This one has 2 possible solutions that you can use together or separately. First, if you have students who haven't learned to stay in the area, turn your table or desk around so that the student is between the desk and the wall. That blocks him in a bit more and gives a clear visual of where he needs to stay.
In addition, consider using an Educube with a tray like the one pictured below (if it's a young student) or a student desk with the desk attached to the chair. Both of these will make it more difficult to get up to leave the area, but won't restrain him/her.
With the Educube if the student stands up, the tray falls down. It rests on the chair but isn't attached to it. With the desk, he just has to slide sideways to get out instead of just standing up. Both give structure to the student and a workspace that is close to his body.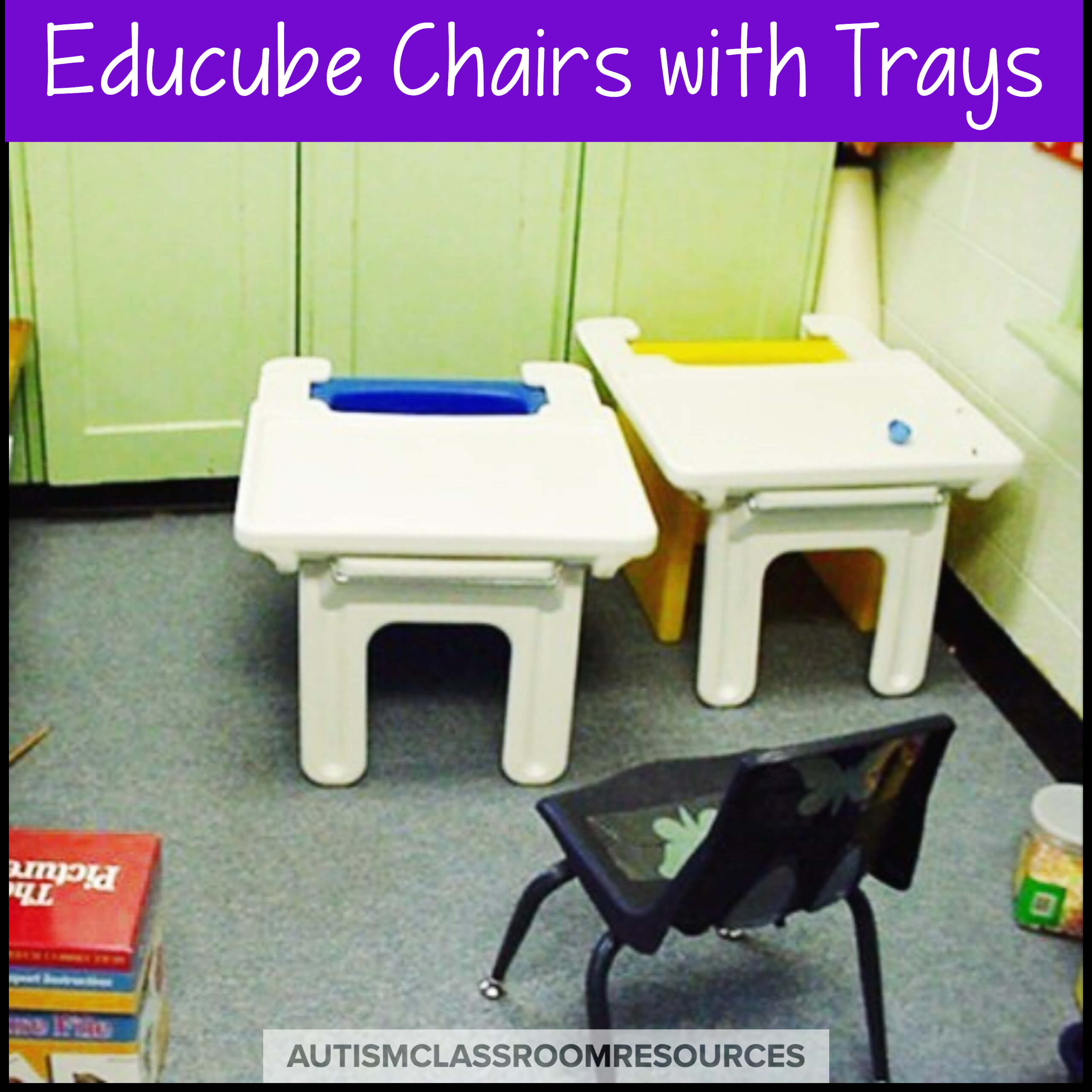 These solutions obviously won't fix every problem. For instance, you might have a student who you turn the table so his back is to the wall and he might get distracted because now he is looking out into the classroom. In that case, you might have use a divider behind the teacher's chair to prevent the distraction.
However, these strategies can help students to understand the expectations of the classroom environment more clearly and can reduce problem behavior so that it is more manageable to address it.
Looking for more ideas for preventing challenging behavior and being proactive? Check out the FREE Preventing Behavior webinar.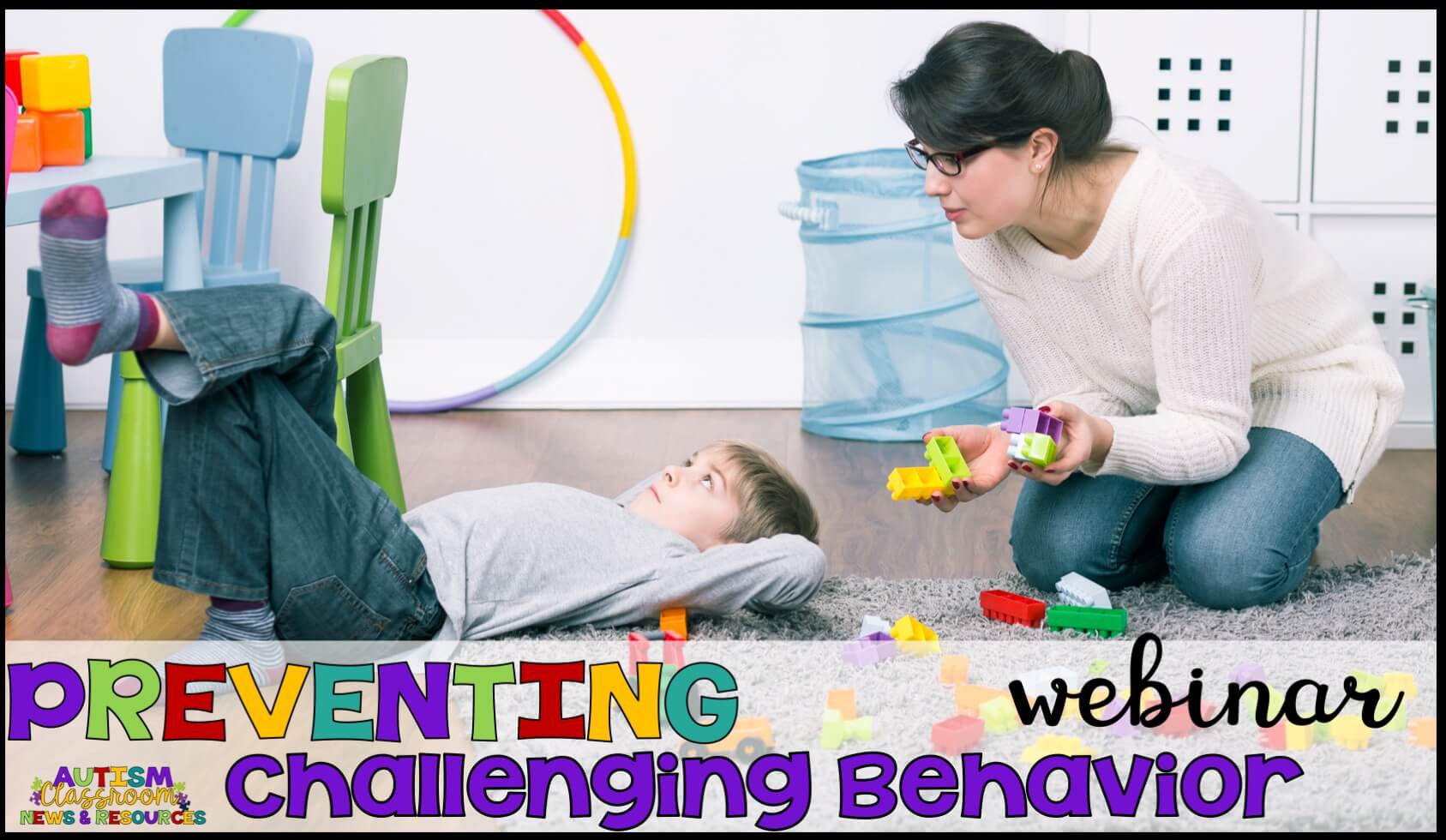 Until next time,