Note: TPT is having a storewide sale of 10% everything on the site to celebrate having reached 100,000 Facebook fans! To help celebrate, everything in my store is an additional 10% off, giving you close to 20% of all my products. This is a great time to stock up. Check it out and use FB100K as a promo code when checking out. The sale is for October 13, 2013 ONLY so hurry in.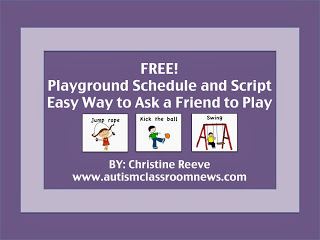 thanks to The Library Fox for the clipart in this project
One of the struggles I often see (have) with students with autism is how to get them and keep them engaged on the playground at recess. We all know that this time is a prime opportunity to work on social skills, but sometimes it's easy to forget that this means teaching during this time of day that is often planning time for the teacher. It also is an awkward time to teach because adding an adult to the situation of social interaction changes the interaction itself. So, recess is a difficult time for structure to encourage social interaction and play because:
Many students with autism are not motivated to interact and play with the other kids.
Many students with autism aren't interested in the playground equipment or they don't know how to use it, so they aren't motivated to play on the equipment.
Recess is typically disorganized and there is limited support from the teachers and monitors and others don't always realize it's a teaching time for our kids.
Teaching students play with other kids is difficult when you need an adult to prompt the interactions and help the student maintain the interaction.
Having a student with 1 peer can be exhausting for the peer if they are the only playmate.
So, I thought I would share a tool I recently developed for an elementary student (and have used in various forms before) to help encourage socialization on the playground. It doesn't substitute for teaching skills on the playground, but it does use visual supports to help a student be more independent in interactions with peers and to initiate interactions. It can also be easily faded over time as the student is more independent.
This is a playground schedule / script. The student chooses from a selection of pictures (or written names) of their peers to "pick a friend." Then, he or she picks an activity like jump rope, swinging, etc. And then the student can choose what he or she wants to do when his "work" of playing with peers is done as a reinforcer. Then the student takes the chart and can go to the first peer (Chelsea) and say, "Chelsea, let's go jump rope" to invite Chelsea to play. When he is done playing with Chelsea, he says "Colin, let's go swing." When swinging is done, he asks Celia "let's go slide." When he done playing with 3 peers, he gets to go kick the ball (or another favorite activities). For instance, I used to work with a student whose reinforcer was to go and blow on the dandelions on the hill which she loved. We used to keep her schedule with an adult and she would go back to that adult in between to see the schedule. She didn't need to take it with her to read it to a peer, because she could remember what to say. However, some students will need to take it up to the peer and read it. The pictures make a bit easier for students who are nonreaders but your students may need some extra visual cues for the "let's go" that you can add if needed.
You can use a timer for the length of time each interaction should last or count how many times he / she has to do the activity (e.g., 5 times down the slide). You can use a social story to introduce the parameters if that would be helpful to your student. You should start with short time periods and as the student is successful you can increase the times. You also want to make sure that you have prepped and trained the peers so they know how to support the student at different activities. And finally this isn't a magic bullet– you will have to provide some support, especially at first, to help the student be successful. However, it does give a tool to structure one of the less structured times of the day and to help your student with ASD become a bit more independent on the playground.
So, you can download the freebie in my TPT store. It includes the playground chart itself as well as some basic playground equipment pictures. I would suggest using photos of the peers and possibly photos of the playground equipment if you need different ones, but I wanted you to have a start.
How do you encourage engagement on the playground? Please share in the comments! Until next time,