How Can Special Educators Advocate For Their Needs? 3 Tips to be Effective (Ep 52)
Leadership & Collaboration | September 27, 2020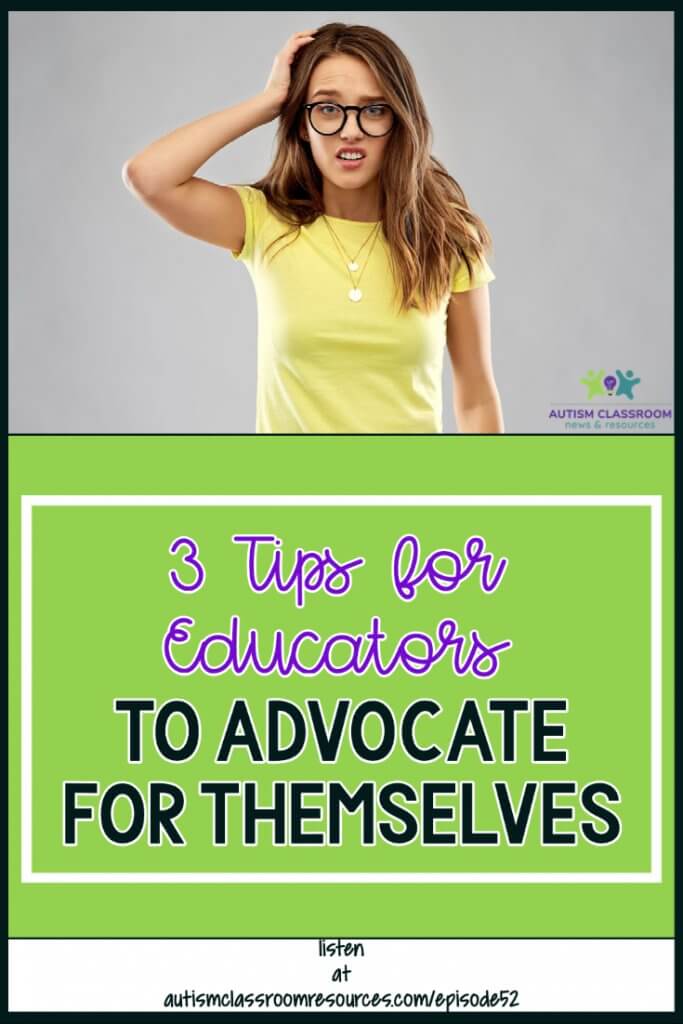 One of the questions I'm hearing a lot right now is how can special educators advocate for their needs (and thereby the needs of their classroom as well. It's hardly surprising given that we are in the middle of the most difficult year of teaching I can remember in my 30 year career. But what's interesting is there are lots of articles out there about how to teach students to ask for help, how to teach parents to advocate, how teachers can advocate for their students (I'll have more on this in a future episode). But there are few tips I can find out there about how teachers should ask for help for themselves.
Teaching is hard. You know it's true…I believe (especially right now) it's one of the hardest jobs there is. And to do it well, it is essential that special educators advocate for themselves. Educators never cease to amaze me with their ingenuity and grit. But truly, no one can do this job alone. Our special education system is actually built to keep it from being a one-man show. And yet many times our classrooms feel like an island with no where to turn for help.
Why Teachers Don't Self-Advocate
Asking For Help Signals Weakness
I know that special educators have lots of concerns about asking for help. There is the classic fear that asking for help makes you look weak–and in teacher language, that means looking like you aren't a good teacher. And that's just cray cray. In fact, asking for help reflects that you are strong enough to recognize you need help and confident enough to ask for it. But that doesn't make it easy to do.
"Don't be afraid to ask questions. Don't be afraid to ask for help when you need it. I do that every day. Asking for help isn't a sign of weakness, it's a sign of strength. It shows you have the courage to admit when you don't know something, and to learn something new."

Barack Obama
Administrators are Unreceptive
Another reason is that teachers fear that their administrators will not be receptive to their request for help. I remember one time when I was a grad student reaching out to a supervisor in our clinic, telling her I didn't feel like I could adequately meet a client's needs. Her response was to tell me that I was probably doing better than community practitioners because I was concerned about it. That wasn't the help I needed and it didn't make me feel any better. Consequently I didn't go back to her when I needed help (not the quality you want to engender as a supervisor by the way).
Educators Don't Know Specifically What They Need or How to Ask
Sometimes educators don't know how to frame the request in a way that gets them the support they need. It might be they don't know what they need. They know that something is wrong (or have been told something is wrong) but don't know specifically how to fix it. Or they might not know how to phrase it in a way that makes the request powerful to the administrator.
Quality of Supervisors
Needless to say, all of the supervisors in the above reasons are not doing a great job. And the quality of the supervisor or administrator is a huge component in job satisfaction. It's also critical to gaining the support you need in the classroom when you ask. Just as a supportive high-quality teacher makes a difference in the life of a student, the support and leadership skills of the principal and special educators make or break whether teachers succeed and remain in the school.
Job Security
And finally, many teachers don't ask for help because they are scared of losing their job. There is a feeling that they point out something wrong in the system that they will be penalized for it. Or if they reveal the fact that they don't know how to handle something, they will graded down in evaluations.
Episode 52 Highlights
Educators can't do this job alone. It's not designed to be done on an island. Education is, by nature, a collaborative process. But I know that sometimes special educators, in particular, feel like they are working on a island. Having established some of the reasons educators don't advocate for themselves, in this episode, I'm talking specifically about how you, as a special educator, can ask for help for you and for your classroom. As usual, I don't begin to pretend I have all the answers. But I do have 3 strategies that I think can help you frame requests for help and support in your everyday work life that make getting that support more likely.
The strategies I'm talking about will not work for everyone and every situation. Sometimes the issues are bigger than just needing help. If you are struggling with burnout in general or in a job you aren't sure about, you might want to try these tips for preventing burnout and these for reducing stress. The issue of the quality of leadership of administrators is a big one. And while I can't fix that one, these suggestions can perhaps reduce its impact on your everyday life.
Listen above or on your favorite platform or click the + by Rather Read? at the top of this page for the full post.
Like what you've heard or read? I'd love for you to hop over to iTunes and leave a review to help others find the podcast too!
Come join our community for training and ideas you can use and connection with other special educators who get it.