5 Secrets to Help Special Educators Have a Positive IEP Meeting
Families and Coping | May 24, 2020
As special educators, we all want our relationships with families to result in positive IEP meetings.  This episode focuses on 5 things special educators can do during IEPs to build positive relationships with families and result in positive IEP meetings. I've talked about the mechanics of virtual IEPs in Episode 34. But with the advent of more virtual IEPs, I think the 5 tips from today's episode are increasingly important to assure that we can build strong collaborative relationships with families, which ultimately will lead to more positive IEPs.
From the SEA
Todays episode comes from the Morning Meeting Reflections Podcast from the Special Educator Academy. This bi-weekly podcast (1 of 2) focuses on stress relief, self care, and managing interpersonal issues like working effectively with families and building collaborative teams with educators. If you are looking for a community and ideas to make your job easier as an educator, come check out the 7-day free trial.
I recorded this episode more than a year ago, but I think it's even more important now than it was then. At this time, we've seen into more families' lives–literally through Zoom and video conferences and figuratively as well. I also think that families have seen more about what we do in the classroom and how much is involved in working with their children.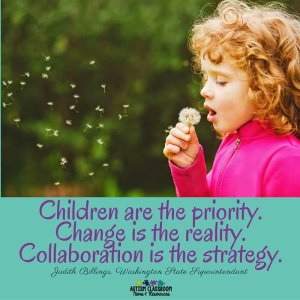 Building strong and meaningful relationships with families is the only way to assure that positive IEP meetings. The nature of IEPs are such that they can easily be contentious. And the process encourages disagreement for the sake of a better outcome. In order to participate meaningfully, we have to take responsibility to foster that collaboration.
Highlights
Ways to assure that the student's needs stay at the center of discussion of the IEP meeting
Methods of bringing IEP meetings back into focus
How to avoid judgments that may interfere with building parent relationships
Strategies for presenting yourself in the best light for collaboration
In this podcast episode, I'm sharing 5 secrets that can help every special educator build relationships with families to lead to more positive IEP meetings. Listen in.
Come join our community for training and ideas you can use and connection with other special educators who get it.