5 Questions You Need to Reflect on Remote Learning (EP 40)
Curriculum and Instructional Activities | May 31, 2020
We are coming to a "rest" in our remote learning journey. And that gives us an opportunity to stop and reflect on what we learned. I am a big proponent of reflecting on classroom practice regularly.  Without taking the time to reflect on it, we don't have the opportunity to refine it and improve it over time.
When I set up a classroom, one of the things we do every day after students leave is to sit down and talk about what worked and what didn't work.  I suggest doing this for at least a week or two at the beginning of the year. This is a procedure that I use in part because I'm consulting and introducing new things.  And it's always interesting to hear that things worked—especially if staff didn't expect it to. And knowing what didn't work allows us to brainstorm how we should solve it.
With the Corona virus situation, distance learning efforts have been somewhat throwing spaghetti at the wall. We have the opportunity to reflect on what stuck and what else we need to do to meet the needs of our students.
How to Reflect on Remote Learning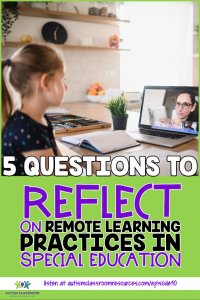 So, what can you do to effectively reflect on your practice with remote learning?
How do you figure out what things to keep or what to change?
I've been thinking about this a lot in interaction with members of the Special Educator Academy.  In the Academy we are working to plan for the coming year by reflecting on what has been done while looking forward for how to solve new problems that get thrown at us in the new year.  Consequently over the next few months, we are doing an IEP goal writing bootcamp to look at how to write IEP goals that work for our students, for us with data collection and measurement…but also for families if they end up needing to report on students' progress.
I'm adding workshops on reflecting on remote learning as well as on preparing students and classrooms for returning to schools.  We'll be doing a study group over the summer using our Setting Up Classrooms course tailored to guidelines from the CDC.  And this is all in addition to the 5 courses and more than 100 tools, workshops and quick tips we have already in the SEA.
Today's Episode
So, for today's episode I've pulled 5 questions from our workshop on reflecting on distance learning that I think can be helpful in guiding the next steps in the process of transitioning our students back to school and/or continuing with some level of blended or remote learning.  And I've got a free worksheet you can use to get you started.
Grab your free worksheets and distance learning products I talked about in the podcast below.
Come join our community for training and ideas you can use and connection with other special educators who get it.