Hi I'm Chris, and I used to set up special education classrooms for a living. Did you know you could pretty much make a living in special education classroom design. Between setting up classrooms, training staff in them, and just helping teachers get started in the year, it felt like a full time job. In fact, it felt like Extreme Makeover: Special Ed Classroom Edition every fall and, well, really all year.
And it's hard to believe, but I miss it. Well I don't miss flying and being gone all the time. But I do miss the problem solving of designing each special education classroom (or sometimes general education classroom) to meet the needs of just those students.
Special Education Classroom Design with Demonstration Classrooms
We could do this multiple times a year. So we got a really good crash course in designing classrooms of all different types in all different places. We worked in tiny classrooms that used to be closets. And we also designed giant classrooms — I couldn't believe how big they were.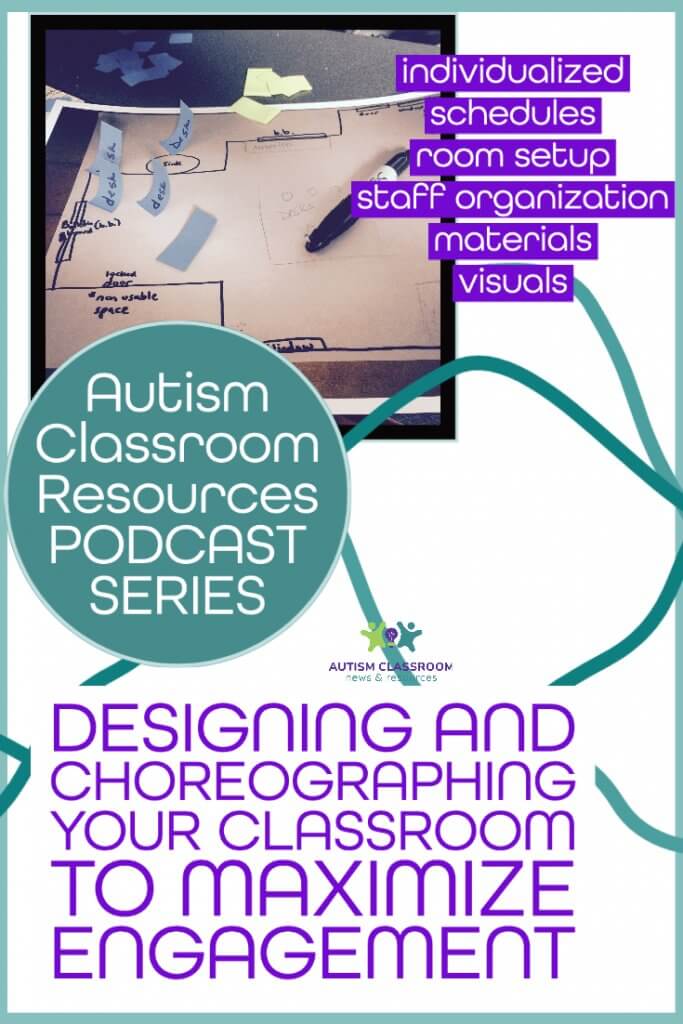 We had a model when I used to work at Nova Southeastern University for the Autism Consortium. My colleagues and I went into classrooms and we would actually, within a week, makeover the classroom. We would restructure the physical environment, restructure the schedule, restructure the staffing schedule, put it together, and put the visuals in place.
And then on the fourth day, we would run the classroom and let the staff stand back and watch us. On the fifth day, we would then support them as they were running it. And then we would do follow up over time.
Every classroom we set up was different. Because every group of students was different. But what was the same was that we developed systems to get us started quickly and efficiently. And in this series, I want to share those systems with you.
The classrooms weren't typically autism-specific. We also worked in private schools, public schools; in preschool elementary, middle school, high school. We've even designed some adult programs.
In addition,I also spent most of the beginning of school for 20 years in the classroom, setting up classrooms with teachers, for the districts that I worked with to get them off to a good start.
I Love a Good System
In this series, I'm going to focus on systems and strategies that help you in 4 critical areas of special education classroom design.
Get to know your students,
Design your schedule,
Design your classroom space with your visuals and material organization
Set up your staff schedule to create a good working team.
And this will work for any special education classroom. General education classrooms can use the same strategies and principles. And they will work for all ages.
Now a lot of this will be visual. So I'll share some of that here on the blog.
It Pays to Put the Work In Up Front
Can I share a secret? I kind of miss setting up classrooms. No, I don't miss starting school repeatedly. I started school eight times one year. I was there on the first day of school in eight different school districts in their classrooms having set them up. So that part I don't miss. I don't miss the airplanes, but I do miss the excitement of we've got this blank slate.
[socialpug_tweet tweet="Designing special education classrooms at the beginning of the year is hard work. But the benefits of putting the time in up front will see you through the rest of the year! #classroomsetup #autismclassroom #specialedclassroom" display_tweet="Designing special education classrooms at the beginning of the year is hard work. But the benefits of putting the time in up front will see you through the rest of the year!" style="2″]
I am a very strong believer that if we should put in the time upfront to really structure our classrooms well. And by that, I mean it's about more than just where we put our furniture. We need to design on our schedule and tailor our classroom to the needs of the students is going to serve.
Putting the time up front, got us off to a strong start. And we had a lot less stress from fixing things on the fly. That made life much easier in the long run because we already had our systems in place.
What's In Today's Podcast
In this episode, I'm going to go over the model and the focus. And then the steps that you're going to hear in the rest of the series. And I will be adding in some tidbits as we go that will help us.
In the time that I'm recording this, which is getting ready for going back to school in the midst of the coronavirus pandemic. So I will be adding some tips about social distancing and there will be some strategies that will help with distance or blended learning as well. Don't feel like I have forgotten what we're in the midst stuff. I am super pumped for this series. As I said, this is one of my favorite things to talk about. Grab the episode above. Subscribe and follow along.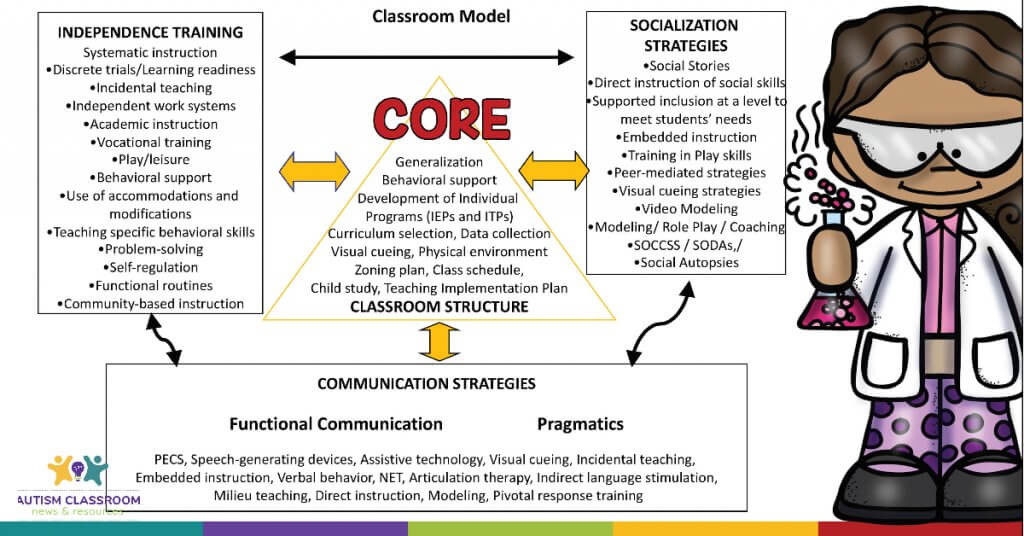 Highlights of Episode 41 Special Education Classroom Design Series Kickoff
I describe the model (shown above) we use to make sure our core is strong enough to support our strategies. Yep, just like in exercise. Gotta strengthen that core.
I'll walk you through the steps we take to in special education classroom design…because it's about a lot more than where to put the furniture.
Find out why everything revolves around supporting high levels of engagement for students (with a little research from CEC thrown in).
And I'll share the next steps we will cover in this podcast to help you get your classroom started off on the right foot.
If you are looking to get a jump start on setting up your classroom, come check out the Special Educator Academy with a 7-day free trial. We have a whole course on Setting Up Classroom