I developed the Teaching Implementation Plan (TIP), which I've sometimes named the Teaching Plan or the Teaching Intervention Plan, when doing regular child study meetings with staff in a program I was running. The staff I was meeting with were struggling with being able to talk about how they were teaching the students' goals. They were newer teachers with limited experience. They were great with the students. But no one had taught them how to talk about what they did or how to plan it out was. So I needed a tool to help them plan and organize what they were teaching and how they were teaching it.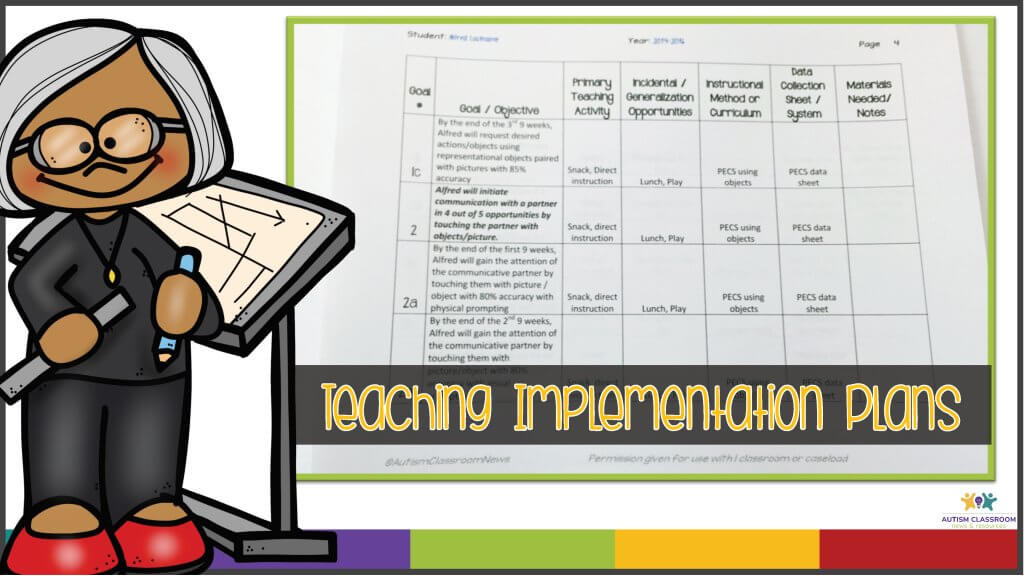 How Can The TIP Help You?
Imagine knowing, as you start the classroom setup process, what every student's needs are and how you plan to implement them in the classroom and / or at home.
What if you had a document you could hand to paraprofessionals that would not only make sure they know the IEP goals, but that they would know where and how to teach them and take data?
And what if you had a document that helped you plan out distance learning as well as classroom learning and communicate it to the family?
Well the Teaching Implementation Plan can help you with all of those and help get your classroom foundation off to a strong and solid start.
The Teaching Implementation Plan can help you learn who your students are, what their needs are, and how to program for them.
Highlights of Episode 42
What is a Teaching Implementation Plan?
Reasons why I always start classroom setup with the TIP.
The elements that make up the TIP.
And 6 ways that the TIP can help you (especially in the Fall of 2020 and with distance learning)