You know what gets a bad rap with special ed teachers? Lesson planning! Whenever I ask around, I always discover there's a mixture of opinions, and some teachers incorporate lesson plans while others don't. So why should you set up systems for lesson planning in special education?
In the last episode, when I discussed some common routines for setting up classroom systems, I touched on lesson planning for a bit. You might think it's unnecessary. But if you truly want your classroom to run on autopilot so you can focus on teaching students instead of managing the room, you'll need lesson plans as a tool to help you do it.
It doesn't have to take up a ton of time, either. So today I want to talk about why lesson planning is important and how to make it work for you.
3:43​ – Making the case for why lesson plans are critical
4:37 – Two examples of the form that lesson plans can take
5:21 – How lesson plans help your administration, families, the state, and beyond
6:22 – The relationship between IEPs and teaching plans
7:02 – The biggest piece you need to turn your lesson plan into a routine
10:05 – Another important component to add to your lesson planning
10:34 – Two final things to do for your students and staff
Join us inside the Special Educators Academy for your 7 day free trial.
sign up for free tips each week in your inbox and Grab free sample lesson plans plus free lesson plan templates from the resource library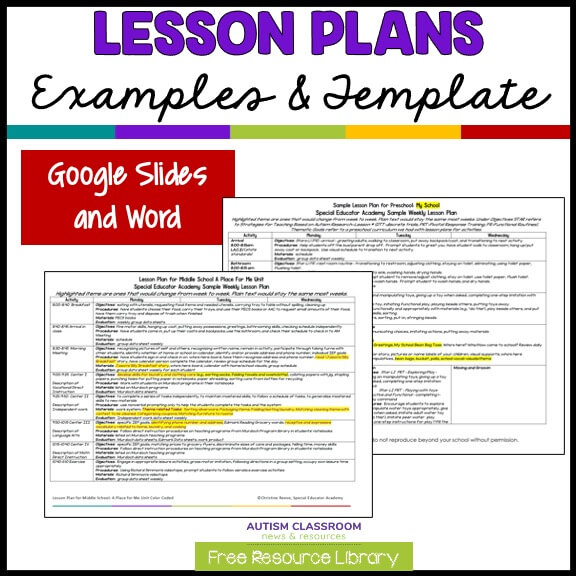 Included in this set are a preschool lesson plan example, a middle school special education classroom example, and a template that could be used for any age,
The preschool could easily be adapted for elementary, and the middle school can easily be used for high school.