Just a quick post with my newest set of social stories and visual supports for social skills. I got a call from a friend of mine asking me to develop a social narrative for her typical child who played basketball really well but would get upset if his team started to lose or he missed a basket. So, I created a social narrative for that situation. Then she called the next week and asked if I could modify it to include basketball, lacrosse, baseball, and football. So I did that and added in soccer. She also asked for a story to address the tendency of a student to direct other players on his team. Apparently when his teammates didn't make basket, he started telling them what they should be doing and how to play. Needless to say, this didn't go over so well with the teammates. So, this product was developed to address all these issues.
What's Included:
To address all those needs, there are 7 social narratives. Each social narrative describes the situation, talks about the unexpected behaviors (e.g., When I miss a basket, I sometimes want to yell or cry), provides coping strategies (e.g., I could take a break; I could take some deep breaths to calm down), and provides perspective statements (e.g., When I yell and scream my teammates won't want to play with me). There are stories specifically designed for basketball, lacrosse, soccer, baseball, and football. There is also a general games social narrative that can be used for sports as well as playing board games or other games. This stories also address being proud even though they lost and continuing to play their best even if they are going to lose.
And finally, there is a story that specifically addresses directing your teammates when they are not playing well, something that many of my kiddos on the spectrum want to do. That story focuses on coping strategies as well as how that makes their teammates feel. All of the coping strategies focus on activities that would make sense on the court and you can choose which pages to include in the stories for your students. You can see the pages of the stories in the previews below.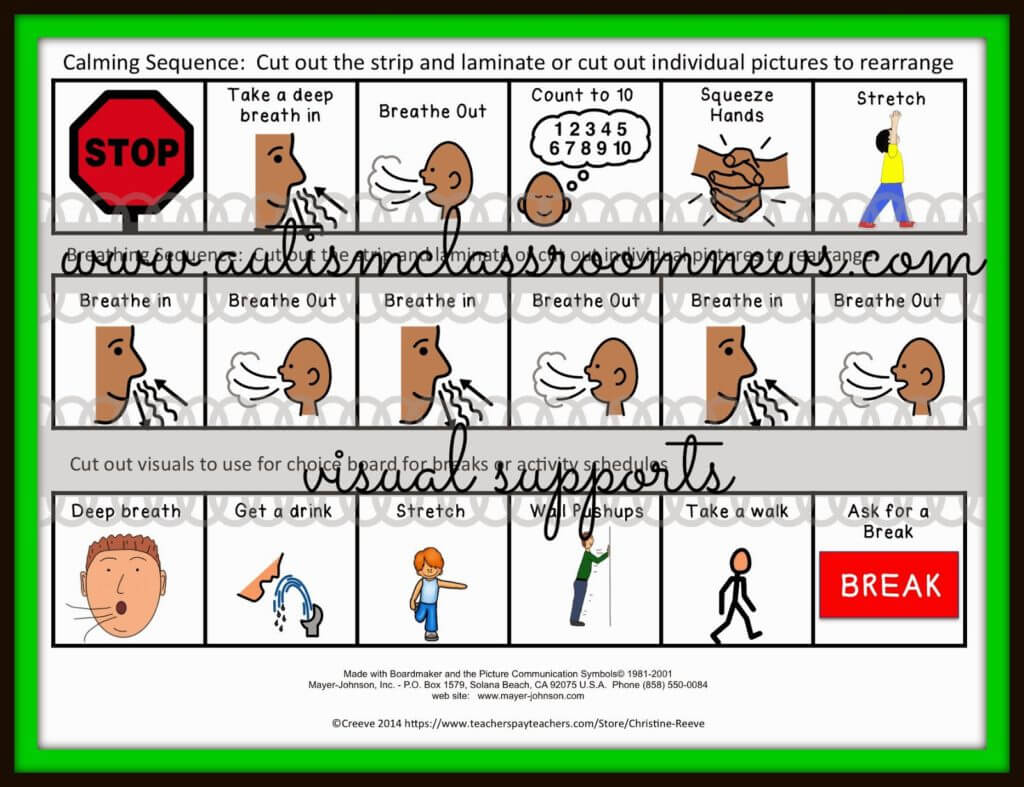 In addition to the stories, there is a set of visual supports for a calm-down sequence, a deep breathing sequence, and a set of choices with a break card if asking for a break from the game is an option. These can be presented as strips or could be cut apart to make your own sequences or choice boards.
I also made a set of "option" cards that are designed to serve as quick reminders to the individual about how to cope with the frustration when they get upset. The cards can be cut apart and kept in their pocket as a reminder of what they can do when they are upset.
How to Use Them:
You can individualize the social narratives by choosing which pages apply to your child. For instance, some coping strategies (like taking a break) may not be appropriate so you can leave that page out of the story. The stories can be printed full-size and put in page protectors in a notebook. They also can be printed multiple pages to a page to make smaller books depending on your needs. You could also laminate them instead of page protectors. The option cards and visual supports can be cut apart and laminated.
Review the social narrative with the student before the game as a proactive strategy to remind them of the coping strategies. The visual supports can be used to cue them during the game to use the strategies. Social narratives are an evidence-based strategy for students with autism, but I've used them with a wide variety of students with and without disabilities. In fact, the second grader the basketball story was designed for originally stated to his mom that he really loved the story because it reminded him of everything he needed to try to do.
So, do you have a child who gets upset when he is losing or misses a goal? These stories and supports might be useful. You can get a sense of the types of pages included in the narratives in the previews below. You can also click on HERE to purchase it on TPT.
In my next post I will be back to talking about the evidence-based practices added to the new report. Until next time,