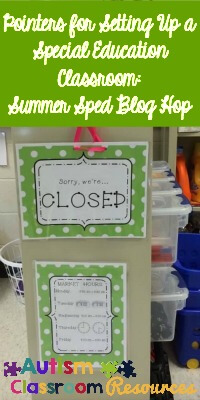 Did you know that you can use the arrangement of the furniture and materials in your special education classroom can prevent common classroom management problems? Once again I'm excited to be participating with this group of special education bloggers to give you ideas for setting up the physical space in your classroom. I am going to share some past posts that I wrote on this topic two years ago and a few other classrooms I've shared over time to give you some ideas. Then, I want to share 5 common problems that you can solve with the way the room is arranged. Then you'll be ready to hop on through to the next blogger and gather more ideas.
So let's start with where you can find some classroom layouts and organizations that might give you some ideas. Focusing on decisions to make with a floor plan and some pictures, check out these posts.
3 Ways to Adjust the Physical Space to Prevent Challenging Behavior
Designing the Physical Space Part 1 with pictures of a preschool classroom
Designing Physical Space Part 2-Before & After Floorplan
Mrs. Gaines' Functional Elementary Classroom
Setting Up a Life Skills Class for High School that has a floor plan and pictures of the class
So, with all of that, how else can your physical environment be designed to maximize engagement in your classroom?
Students constantly want to do something that's unavailable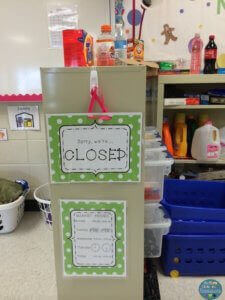 We see this one a lot, especially when students get stuck on favorite activities like the interactive whiteboard or the computer. It is amazing what you can do with a visual cue saying something is off limits or covering it up. One solution is to use a closed sign. This one is used by the teacher to routinely close off centers when they were finished for the day.
Another great way to make something off-limits is to cover it with a box or a cloth, which works great for computers. Also, you have smaller furniture that might be on wheels, you can also close areas off by closing up the shelving. Lindy from Considerate Classroom has a great post about doing that!
2. Students keep leaving an area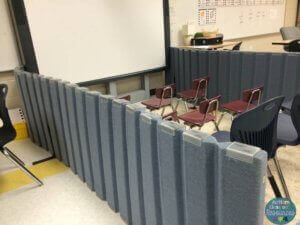 I've talked about one of the primary ways of keeping students in their areas by using furniture to provide boundaries to the area that are clear. The picture with the flexible dividers and the chairs facing the whiteboard are a great way to convey the behavioral expectations to the students. Clearly they are sitting facing the screen and staying within the area. I love these dividers because they are moveable and flexible. You can actually make curves out of them if you need to and visuals stick to them well. You can read more about them here.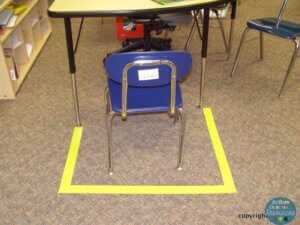 Another way to address a student who leaves the area is to use visual cues like tape on the floor. This is one of my favorite pictures. In this picture the student tended to move his chair farther and farther from the table. The teacher found herself constantly telling him to move back to the table. She put tape on the floor outlining the chair. Over time she faded the tape out by picking up pieces of it to become a dotted line and then just removing more and more of it until the student was able to sit by himself. It is amazing what this type of visual cue can do and I have used it frequently for whole group activities like morning meeting where the space is more fluid because there is no table that the chairs pull up to.
3. The adults don't do what you need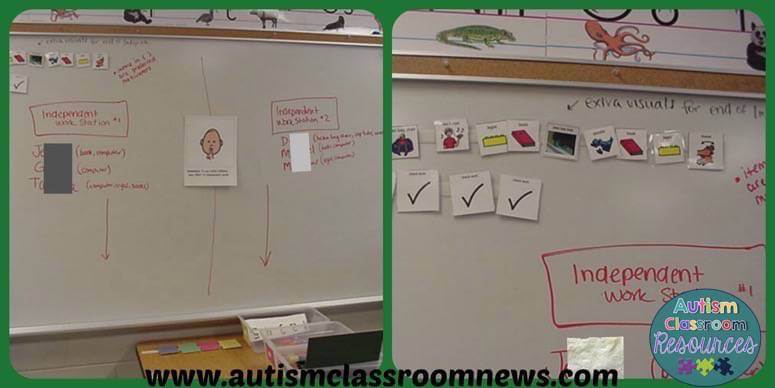 This issue in classrooms is common because although teachers know exactly what needs to be done, sometimes the other folks (paraprofessionals, related service providers) don't know what those expectations are. We use visuals to tell the students what needs to be done, but sometimes we forget that visuals are helpful for everyone, including the adults. Providing systems for them to allow them to easily accomplish what the teacher expects can make everyone happy. These visuals are reminders for all the staff (teacher included) To be quiet in the independent work area –so not to provide verbal prompts–making it easier to fade the prompts. The visuals with the arrows also tell the adults which students sit–at which system that is set up for each student. It also reminds them of what the "what's next" reinforcers are for the system and which students do which baskets.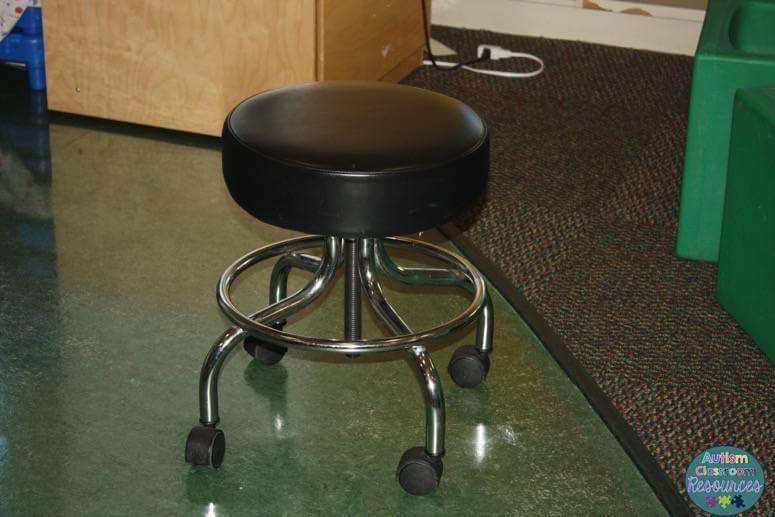 Finally, one of the most significant difficulties I see for our student, particularly when they leave the room for other environments with support staff, is avoiding having the support staff sitting next to the student and training them how to fade themselves out. We tell support staff that they need to prompt the student but we often don't show them how to do that. Giving a staff member a rolling stool won't replace training. However, it does make it easy for the staff member to roll in to provide support and roll back out. This works particularly well if the staff member can't stand for long periods of time. And I've found it to be really helpful to avoid having the staff sit beside the student.
I hope that these suggestions have sparked some ideas for you. If you are looking for even more ideas and examples of classroom arrangement, check out my book on Setting Up Classroom Spaces by clicking on my Amazon affiliate link HERE
or on the picture below. Then make sure to click on the beach ball to bounce over to the next blog in the blog hop to get even more ideas!!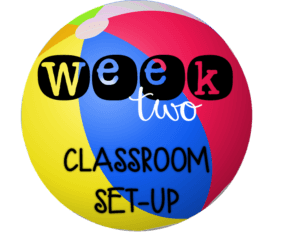 I'll be back on Wednesday with Workbasket Wednesday (that was delayed) and later this week with a few other goodies. And check back next week for the next week in the Special Ed. Blog Hop.
Until next time,