I am so excited about this blog post….partly because it's mostly pictures. And let's face it, on a Thursday and Friday, who has time to read! I was lucky enough to do some consulting this week and to visit a school where a teacher told me she had bought stuff from my TPT store. So I went by her room to take a look and was excited to not only get to see some of my products in action, but to see this great classroom set up of functional centers she has set up in her room. I asked her if I could take some pictures and share them with you because I really love her ideas! So thank you Mrs. Gaines of East Ridge Elementary School for letting me share!! So now, less words, more pictures!

She has created a number of functional centers that the students have specific activities for. The ones I'm going to show you aren't all of them because she has a variety of school jobs around the school as well. The picture above is the animal clinic. She has a place where the visitors sign in and register their pets and needs for the visit, different breeds and types of pets, and this cool informational sign that includes the hours of the center.
A laundry sorting center where the students sort whites from colors (the note book was just hanging out in that bin at the end of the day).
A sandwich shop where the students can find the prices from the menu and add up how much different meals would be.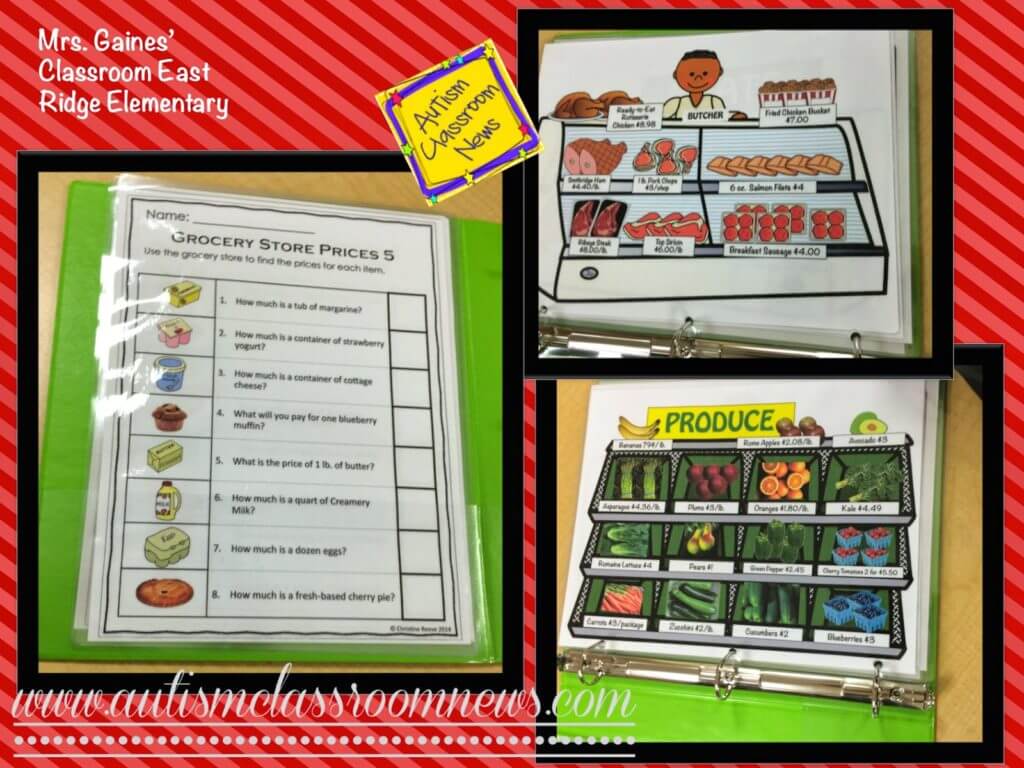 This is one of my favorites. This is a grocery store she has set up with prices, a table to set for a cafe (that goes with the sandwich shop that is behind it on a door) and you can see the sign saying the grocery store is closed and the hours on different days. She is using my Special Education Grocery Store for Life Skills set for students to find the prices in the flyers and add them up, answer questions, and use shopping centers. With the store set up above she can also have them find the items on the list to work on functional reading. I love it when kids get to use their academics in a meaningful way!
The post office and the office are next to each other and I love the post office with the price of stamps as well as the table (on the left) for sorting mail and collating!
This one kind of speaks for itself. You can see the classroom rules from my Chevron Classroom Visuals bundle.
These are the individual (above) and group schedule (left) to the left. She added clocks to the group schedule to work on telling time with the students, which I thought was cool! These are from the Autism PreK-Elementary Chevron Classroom Visuals Bundle. She has more students than the schedules shown but she has a photo schedule for a student so I cropped that out and the white cards at the top of the individual schedules are blurred out to remove the students' names. It's always cool to see something I've created in use with students!
And I just love the closed signs to show the students when the center is not available. She has lots more going on in her room that I haven't even shown here, but thought you might enjoy these ideas as much as I have. Thanks again Mrs. Gaines! And thanks to I Teach What's Your Superpower for the paper I used as the background for the pictures.
Are you using one of my TPT products in your classroom? I would love to see (and share) your pictures! You can email them to me or send them through messages on Facebook.
Until next time,