If you are a long time reader, you know I hate downtime. Students who are not engaged are more likely to have challenging behaviors and get off task. And once that happens it's really hard to get back on track.
So, I try to do everything I can to keep students engaged throughout every minute of the day. Our students are active learners–meaning they don't often engage themselves in learning opportunities. But there are times of the day when we have things to do that aren't conducive to structured learning. For instance there are times when you need to pull students to use the bathroom. Or during arrival, do all your students show up at the same time? Probably not, so that's when table tasks becomes a useful activity.
What Are Table Tasks?
Table tasks are a time during the day when the students work at the table on easier visual-motor activities that might eventually be used in independent work systems. Typically they are tasks that students can do with less supervision and they are likely to engage with. For more complex students, they might be put-in tasks. For some students they might be file folders, assembly tasks or vocational tasks.
Why Use Table Tasks?
Students remain engaged with less adult supervision. You can have students sit at a table with one or two adults while other adults are bringing students in from the busy or taking students to the bathroom.
Students practice skills they are learning in direct instruction (that don't require interaction)
Students generalize skills they have learned with materials that a may be different than those for instruction (and in a place of the room different from nowhere they learned them).
You can assess which tasks the students can complete independently so you can put them in their independent work system.
Typically they are tasks the task the students can do so they enjoy them and gain confidence in skills.
The students can come into the group and leave the group whenever without interrupting the flow of instruction. This makes it perfect for those times when you need to have students moving to different places, like the bathroom. It also works well for times like the end of snack and lunch when students finish early.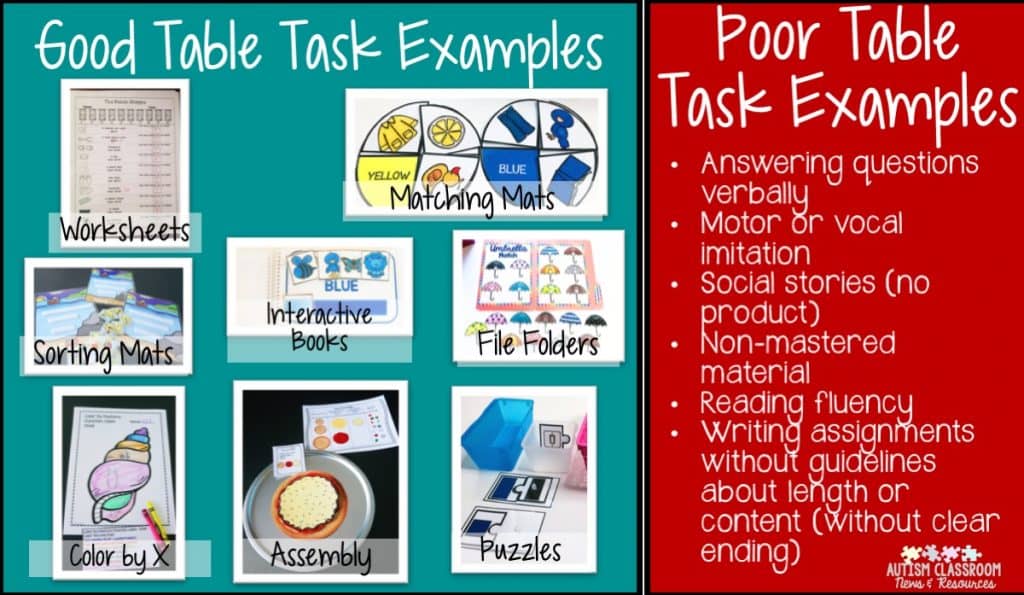 When Are Good Times for Table Tasks?
I typically schedule table tasks into the schedule for the times on the left and pull the tasks out during the times on the right. The times on the right are the times that we have downtime because of something unexpected.
Bathroom Time
Arrival
Dismissal
End of lunch/snack for early finishers
Times needing reorganization (e.g., cancelled art class)
Crises that pull staff away
What Table Tasks are NOT
Busy work. Table tasks are not busy work. There are specific goals we have for the students to work on whether it be generalization, maintenance, or assessment for independent work. We can also fold other learning skills into table tasks, like asking for materials or sharing with a peer.
Unsupervised. Unless you students are already independent, they will still need supervision during table tasks. However, they should be able to manage with less supervision than something that requires direct instruction.
Independent Work. Although the tasks we may use in table tasks are the same or similar to independent work, table tasks don't use the same structured teaching, in most cases that independent work systems do.

Want to Learn More Tips and Tricks for Scheduling?
Then you might like my Teaching Plans and Classroom Schedule Manual. It has all the forms and strategies I use for creating classroom schedules that work in special education classrooms.