Science in the special education classroom can be one of the most interesting subjects to teach and engage students. You can do a lot of fun things with teaching science in special education, from nature walks to in-class experiments. It can also be one of the toughest areas to teach effectively for students with severe disabilities for a variety of reasons. When I asked for ideas from Facebook about new products you needed, science was one of the most frequent answers. I think this is because finding enough material at the right level to support the wide range of special education students that we teach can be really tough.
So many of you may have seen that I have started developing science units to try to provide some of the types of instructional materials that you need to create learning experiences in your special education program to help students master alternate curriculum goals as well as basic science skills. I've started with life cycles and will be moving on to habitats and other concepts. So in this blog post I wanted to share some elements of successful lesson plans that are important in teaching science concepts to our students, considerations in having evidence of mastery, as well as some other resources for them to learn and practice skills. These elements are vital for student success whether the student receives science instruction in the resource room or the general education classroom throughout the school year.
Meeting the Standards for Science in the Special Education Classroom
One of the areas that many of the special education teachers I work with have struggled with is introducing science concepts, typically drawn from the state curriculum or alternate / extended standards, to students with significant special needs. Most states now require that K-12 students have goals in their IEPs that address the state standards through either modifying grade level standards or applying alternative or extended standards specifically designed for special education.
Science is one of the areas that are particularly addressed in some states and there are specific skills that have to be mastered to pass the alternate assessment. Science teachers must assure that we clearly know the standard and what is required–because it's not always completely evident what specifically an individual student has to demonstrate to show mastery.
Repetition
One of the things that I think is a really difficult issue I find in special education with all subjects, but particularly with science, is getting enough repetition for the students to truly master the concept. Typical students can learn from science experiments or activities that relate to the skill and they don't need tons of practice to learn, for example, the butterfly life cycle. Students with special needs need high quality activities with a good bit of repetition to practice the skills they need to master as well as to truly understand the topic. In order to meet special education students' needs, we must provide them with multiple opportunities to practice the science vocabulary and skills in the standards.
Variety of Presentation
Addressing the needs of students receiving special education services requires a variety of learning activities using different strategies. Because our students need so much repetition, special educators must present the material in a variety of ways to ensure student learning and keep them engaged. Think about how boring it would be if we just did one worksheet over and over of the life cycle of a butterfly (or any animal). Having a variety of materials that present the same material is a way to keep students engaged while presenting it to them multiple times to facilitate learning. For instance, in my butterfly unit I included: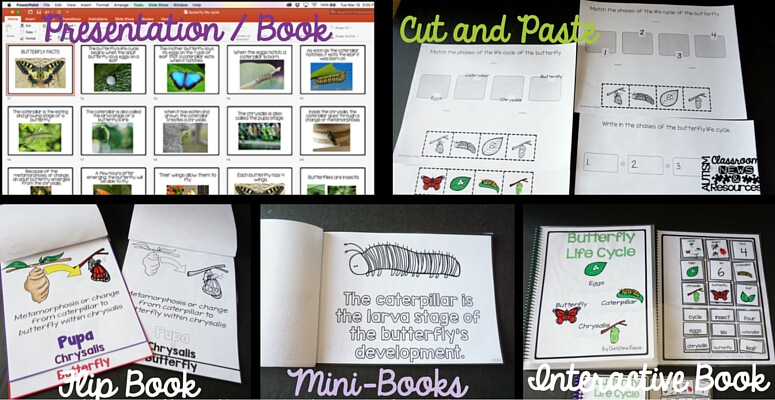 A PowerPoint of facts about butterflies, it can be printed as a pdf book or read on a tablet as well.
Mini-books that students can color or take home to practice the stages of the life cycle as well as brief facts about them.
Adapted books (or interactive books) that the students manipulate pictures and/or words to read about butterflies.
Flip books that the students can refer to with information about each stage of the life cycle.
Multiple ways to practice putting the life cycle together
In addition, you might want to include some crafts practicing the life cycle, like this one from OurScienceNature. You can also find videos and experiments to supplement a variety of science activities on my Science in the Special Ed Class Pinterest Board.
Follow Christine Reeve's board Science in the Special Ed Class on Pinterest.
Easy Ways to Demonstrate Mastery
Finally, particularly because we are often teaching the science standards as part of the IEP and/or alternate assessment, we need an easy way to demonstrate mastery. We don't want to add something on that creates more work through data collection, so permanent product is a good way to go. For instance, in the butterfly unit I included a number of different ways students can demonstrate mastery depending on their skill level. There are worksheets for cutting and pasting the stages using pictures, using words and pictures, and using writing with picture cues.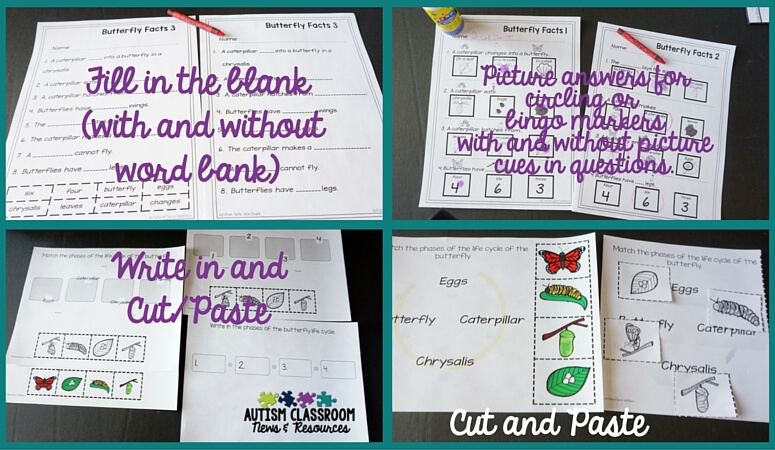 So, interested in checking out the butterfly unit? Check out the video below and click the picture to check it out in my Teachers Pay Teachers store. I will be creating more so if you have topics that you are interested in materials for, let me know and I'll see if I can help!
Video of the Science in Special Education Butterfly Unit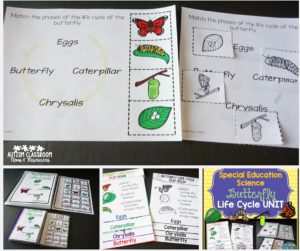 Click the picture to the left to hop over to my TpT store to check out the Butterfly Life Cycle. Looking for something with the Plant Life Cycle? Check out this unit.