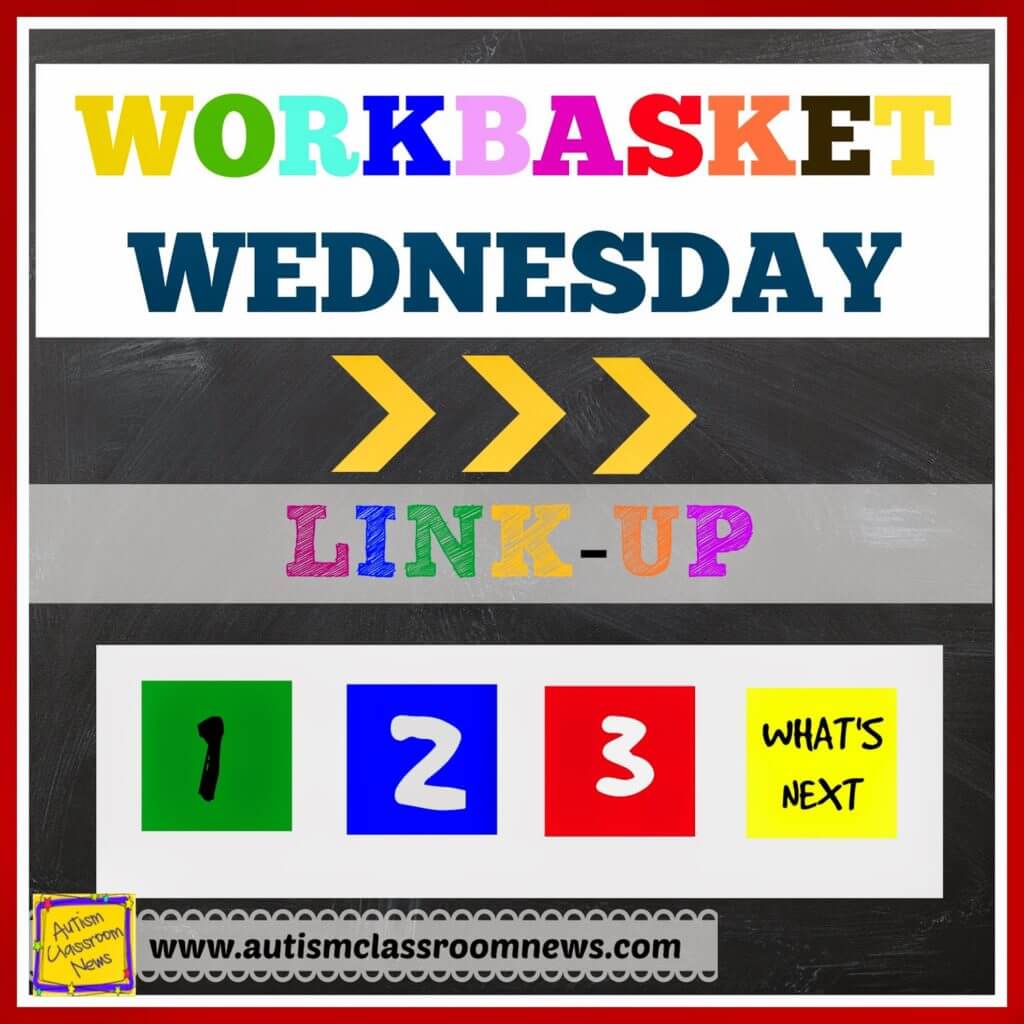 We interrupt the regularly schedule broadcast of the behavioral support series to talk about one of my favorite topics–workbaskets! Don't know what workbaskets are? They are part of structured work systems and you can learn more about them at the Structured Work System tab above. It is very clear from my Facebook page and responses on the blog that workbaskets are a popular topic. I love them and I love to share them (mine and others'). So I thought I would start a monthly linky for us all to share our workbasket ideas with everyone. So, if you blog (or just have some pictures to share), check out the guidelines at the end of this post, grab the button and link up a post with your workboxes!
So, I wanted to share a variety of workbaskets that demonstrate some elements of work systems that I think are really important. Please feel free to pin and I'll share my Pinterest boards for work tasks below as well.
I really love file folders for work tasks. They have a clear beginning and end and it's easy to find some simple matching tasks or more complex skills for students who are able to use them. As you can see in the picture, all of my file folders have Velcro on them. This is important so they don't fall apart when the student puts them in the finished basket. If the file folder falls apart, many of my students will keep redoing the same task because it isn't finished if the pieces don't stay put.
I also make sure to separate the pieces in a ziplock bag or container so the file is undone and ready to be completed when the student picks it up.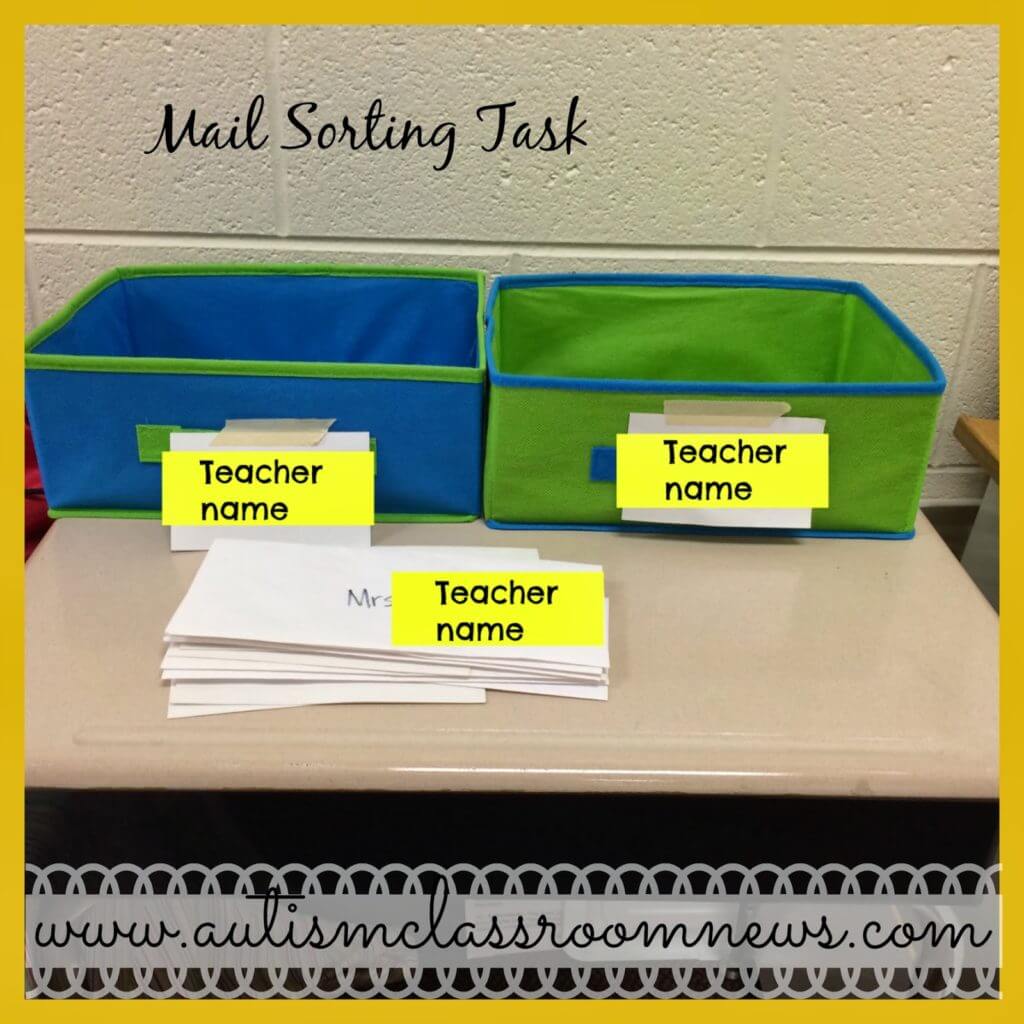 I really love this task that one of the students I work with was using. He is sorting mail by the addressee's name. What I love about it is that he can't handle a whole mail box system at this point, so they are working on just sorting by 2 teachers. They also are using envelopes that only have the name (no address) on them to start. Over time they can add addresses. This allows the task to be something he can do independently, which is the only kind of task for an independent work system.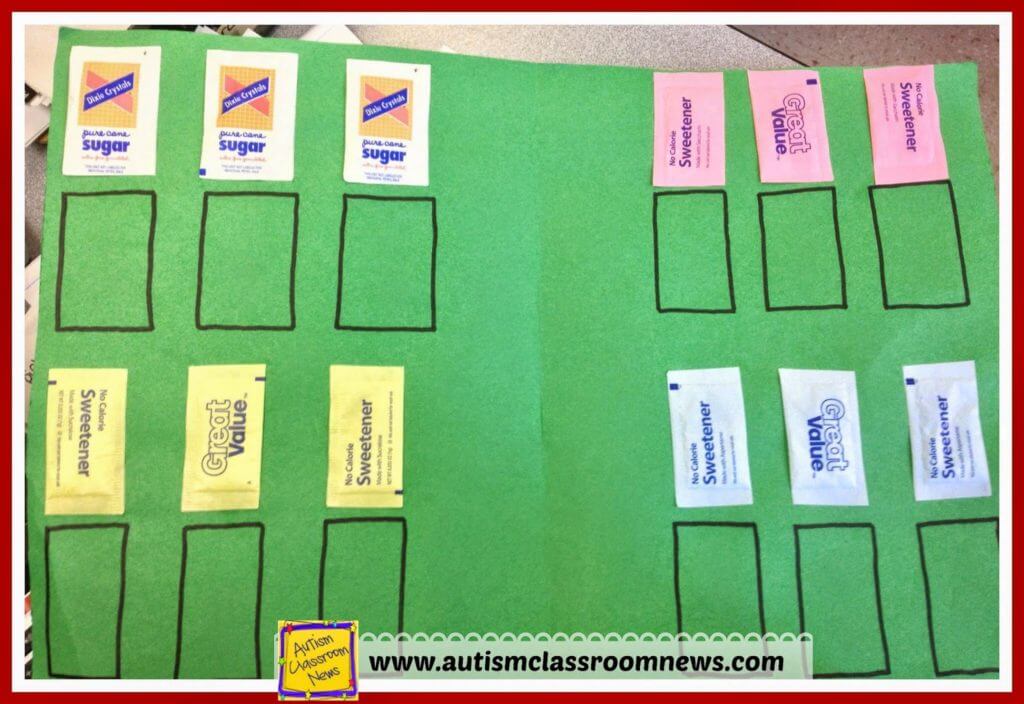 Finally, this is one I just love as a functional task, particularly for older students. I'm a stickler for making sure that the tasks we develop are age-appropriate. This is a template for a packaging task. The student takes 3 of each of the different types of sugar packets and then puts them all in a container (no Velcro because the materials get packaged in another container). He is starting small with 3 each. He doesn't need to be able to count–just match it to the template. I loved the way the teacher put the empty boxes to indicate where they should go. He fills one container and then uses the template for the next one.
Looking for more ideas for workbaskets? Check out the links below as well as my Pinterest page on them.





So, do you have workbaskets to share? Just write a blog post with the guidelines below and link up below.
1. Write a blog post with pictures of workbaskets (no store links)
2. Grab the button above and put it in your post to link back to this post
3. Add your post to the linky below.
4. Check out the other posts linked up and leave comments if you like them.
If you aren't a blogger, share your pictures by emailing them to me, pinning them to Pinterest and including the link in the comments below, or sharing them on my Facebook page.
Until next time,