I am focusing on assembly work tasks for the the first Workbasket Wednesday of the new year! I thought I would share some assembly tasks for different ages this month. Regardless of age and skill, once students can do some basic put in and matching, they can start to do some simple disassembly tasks (taking materials apart). When they are able to do that, they can begin to assemble things. Let's start with the younger student tasks.
Disclaimer, this post includes affiliate links. This means that if you make a purchase, the price for you is the same but I earn a small commission. Please see my disclosures for more information.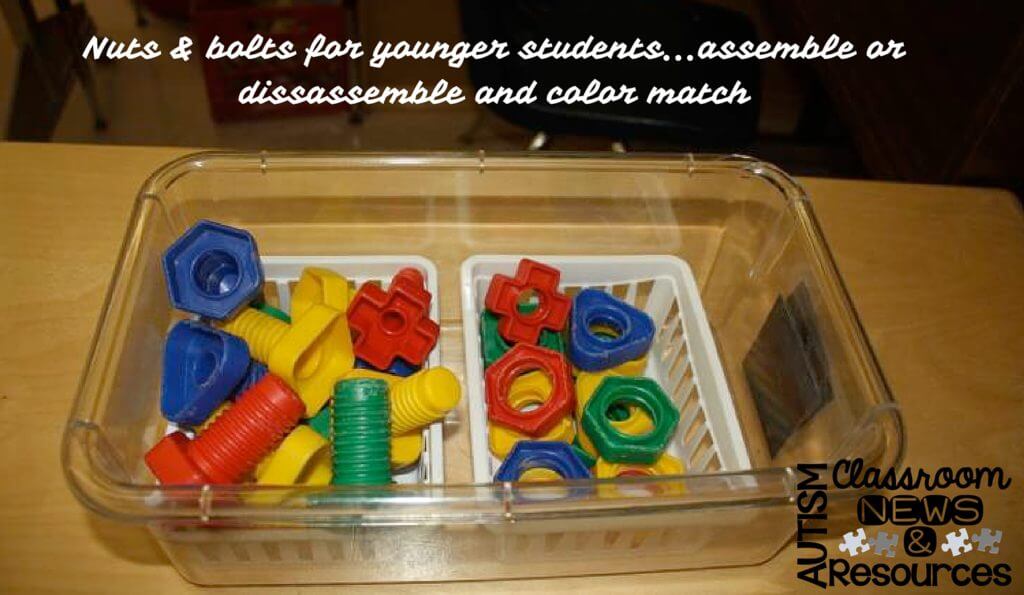 Nuts and bolts make a great assembly and disassembly task. For older students you can use real ones. For younger, these are a great larger version. I love the opportunity to match the colors, but that can be part of the task depending on the student's skill. I'm not sure why completed ones are in the bin on the left, but without those it's a good example of organizing the materials for the students to find what they need.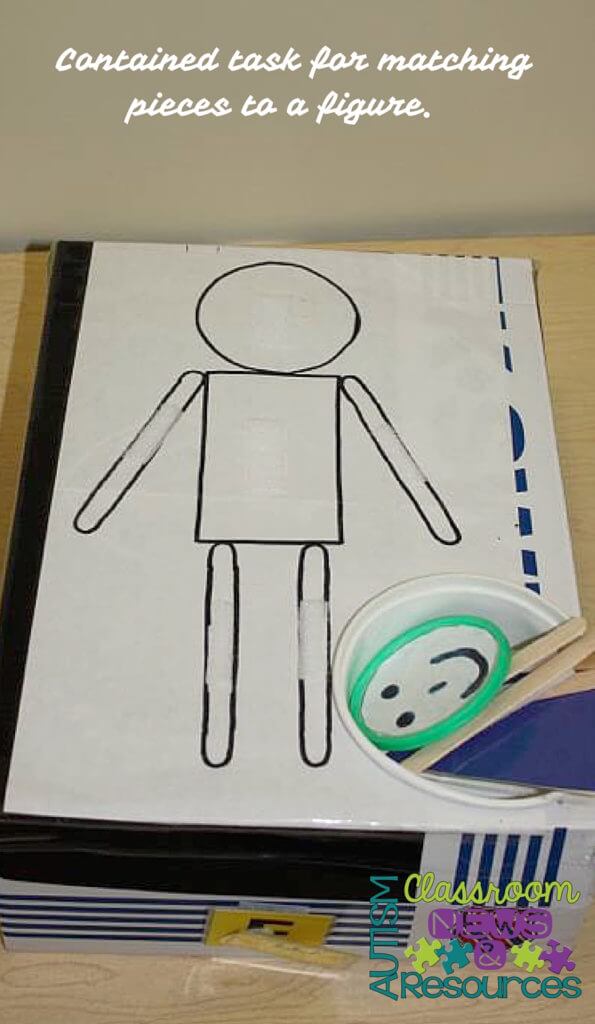 An independent work task that has students matching and assembling pieces to make a figure. It's great to use for Handwriting Without Tears Mat Man too.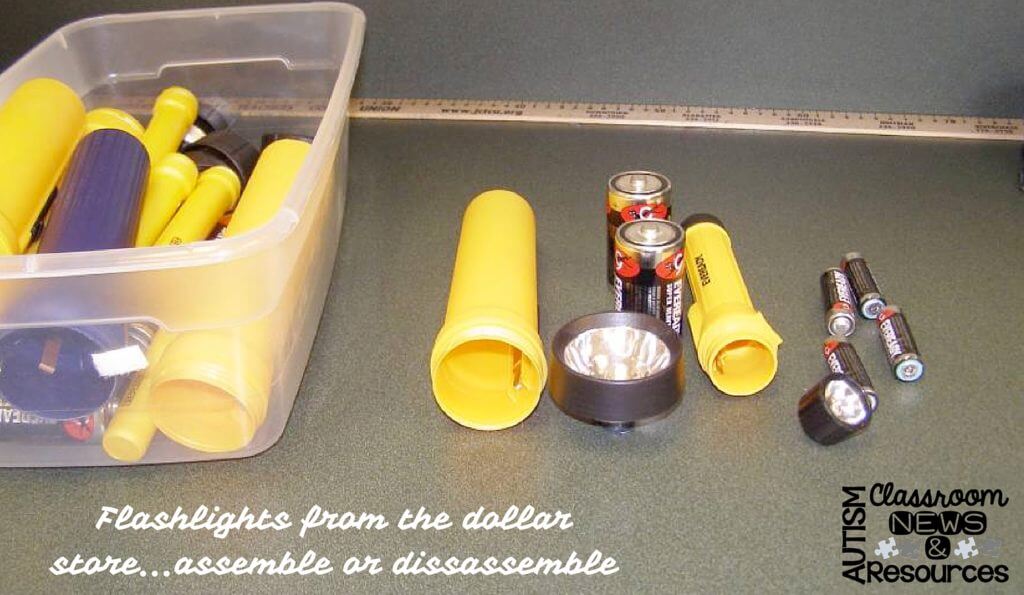 I love these flashlights from the dollar store for later elementary and older students. Each flashlight (sometimes 2) are $1. However, once you have them, you can use them as a task right out of the box. Students can assemble or disassemble. It could just be the batteries or the light mechanism as well.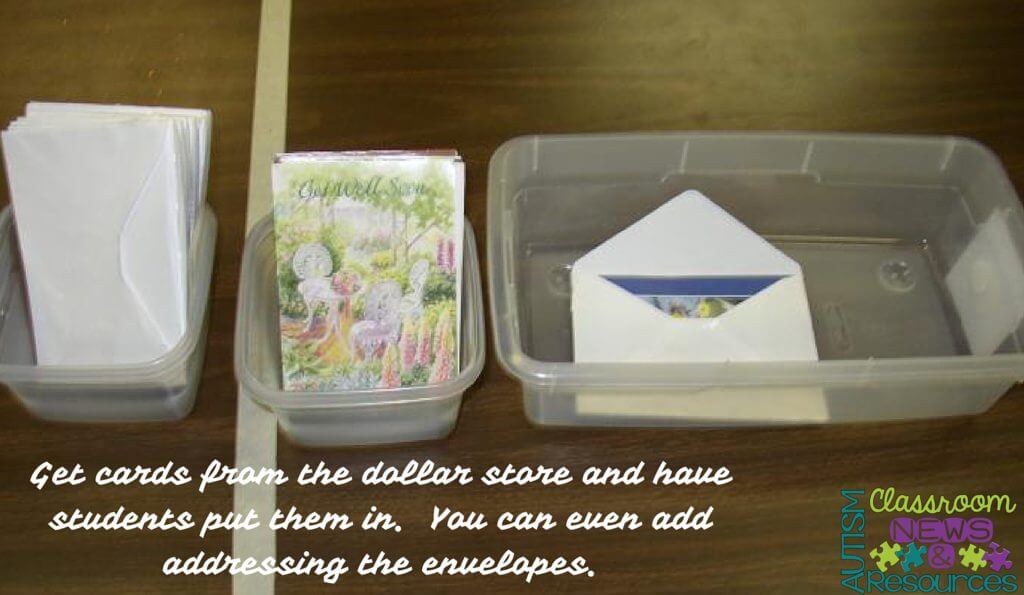 This is such an easy task. Buy some cards from the dollar store. You can laminate them to preserve them if you want. Then have students stuff envelopes with the cards. These are great for older students from upper elementary but could be used with some younger students. The cards are nice to use instead of paper because they are stiff and easier for the students to manage when they are first learning to do this task. To make the task more advanced, have them copy addresses onto the envelope. You can cover over the address with shipping labels to reuse the envelopes. I like this picture too because it shows the organization of the materials from left to right and separating the envelopes from the cards. I think the masking tape on the table was from a different activity and not related.
Link Up for Workbasket Wednesday

So, those are some assembly tasks that are quick and easy to make. Have some workbasket tasks you want to share (they don't have to be assembly tasks)? Link up below or share them on social media with #workbasketwednesday and copy me (@reeveautism on Twitter and @autismclassroomnews on Instagram).
Looking for more ideas on work systems and how they can be used? Check out the links below for more posts. And, I wrote about a book about them! Click on the book to the left for an Amazon Affiliate link (see my disclosure policy for more information about affiliate links).
Looking to set up work systems in your classroom but not sure where to start? Check out my Structured Work Starter Kits and Bundles in my store.
Until next time,