I thought I would take a moment to highlight what I consider to be an excellent resource for professionals and families about autism. I've shared resources from the site before, but over the years it has really improved. The Autism Internet Modules are a set of online training modules centered around autism in the home, in the classroom, on the job and in the community. It is hosted by the Ohio Center for Autism and Low Incidence Disabilities (OCALI) who also put on an amazing conference in November every year. When the AIM modules were first developed they contained primarily static content with little interactive strategies and limited video. As they have developed they include much more video and are more interactive. There is still a good bit of static content, but there are lots of pictures highlighting strategies you can use in a variety of settings (including many pictures from our books).
Each module is linked to the CEC Professional Standards for Autism and Development Disabilities and each module has an assessment and a printable certificate of completion. Forty-two modules are available for professional development CEUs that can be purchased as well, meaning you learn and get credit for it! Currently CEUs are offered at $10 per credit. There is also a pre-test and post-test for each module that can be used if you are asking staff to participate in the modules as part of a training experience. There are also step-by-step directions, implementation checklists, discussion questions and activities to expand upon the content for each module. AIM is free to anyone and just requires that you set up a login/password to use it. I've highlighted some of the classroom modules in the picture below. Remember that there are other sections of modules for home, workplace, etc.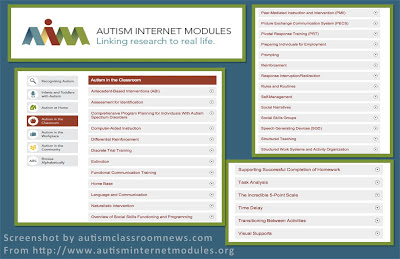 I have used the modules for providing information to educational teams about recommendations I've made in reports, for sharing information about strategies I'm suggesting or using with families, and as part of ongoing professional development to expand on training I have done. Have you used the modules? Please share your thoughts in the comments!