As we make the shift from the classroom to home instruction, finding and settling on distance learning resources can be really tough. So I thought I would take a moment this week and share ideas and resources that can help.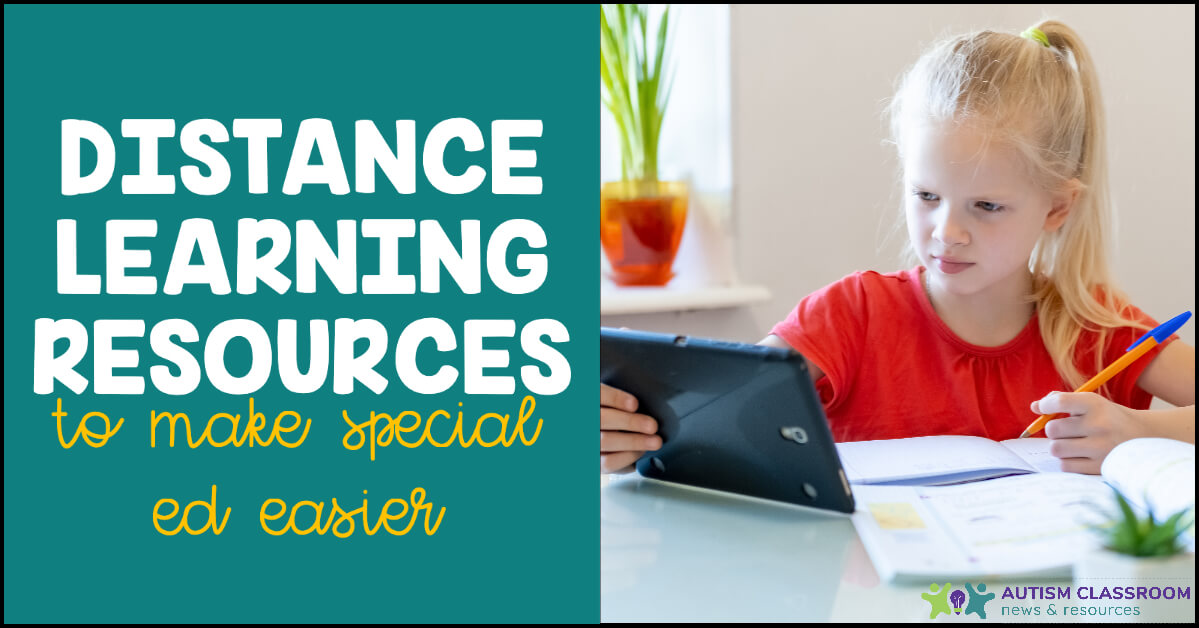 First, I want to remind everyone that there is no "right" way to do what we are doing during COVID-19 school closures. The struggle is real and it isn't just us. This would be hard in the best of circumstances, and this is not the best of circumstances. If you are struggling or feeling lost, check out this podcast episode for coping strategies for teachers and for families.
Settling into Distance Education
Next, most of you are settling in to your distance learning routines. For some that's sending home paper and making phone calls. Others are using Zoom and teaching online. And still others are recording tons of videos of lessons to send home. Or some combination of all of the above.
One thing is clear from all of you…if you are having to facilitate home learning from a distance, it's HARD. It's a lot of work to get started, especially trying to get started so quickly. It was clear from a check-in from our Facebook group that educators are feeling stressed. Working from home is unusual and sometimes difficult. And most of us are on edge anyway. So, if that describes you–you are not alone! Episode 32 of the podcast might be worth a listen as well.
Distance Learning Ideas for Educators
I did a podcast with ideas for distance education. Check out Episode 31, Distance Learning Making it Work in Special Education for ideas. In addition, over the past 3 weeks, I did some Facebook Lives that took the place of my Quick Tip Tuesday videos.
In the first week, we talked about resources and plans. I talked about some of the stumbling blocks for districts in regards to this type of instruction and special education. And I gave some ideas for how to help implement home learning from a distance.
And the next week we had a great discussion with lots of ideas from the community about what they would be doing.
Distance Learning Resources in the Special Educator Academy
In addition to the resources in my store, Resource Library and YouTube channel, I've added 3 workshops on distance learning including an introduction, planning distance instruction, and evaluating progress from a distance in the Special Educator Academy. I've added data sheets for sending sheets home with simplified ratings. And there are three cooking units (one of which has made it to my stores…see below) that can be downloaded as well. We also have a resource thread within the community with some great discussions.
Not a member? Come try us out.
Distance Learning Resources for Educators
One thing that makes distance learning is that everyone is using a different platform. From Google Classrooms to Microsoft Teams to no online classroom at all, it's all different. Many of you have found that you can easily assign PDF files to families to do. There are a number of tutorials out there for saving just one page of a pack of worksheets by using Preview on a Mac or selecting PDF as the printer in Windows.
In addition it's pretty easy to import existing PowerPoint slides into Google Slides to share or assign via Google Classroom or just with Google Apps. Worksheets like my Economics of Shopping bundle (or any of the individual sets) would work well for this purpose if your students are working on functional literacy and advanced money skills. The Grocery Store materials are also a great choice.
Google Slides
To this end, I took my Next Dollar Worksheets, brightened them up a bit with new fonts, and created a Google Slide version so it's easy to just assign 1 worksheet at a time. If you already own them, or one of the bundles they are contained in, you can download the update for free.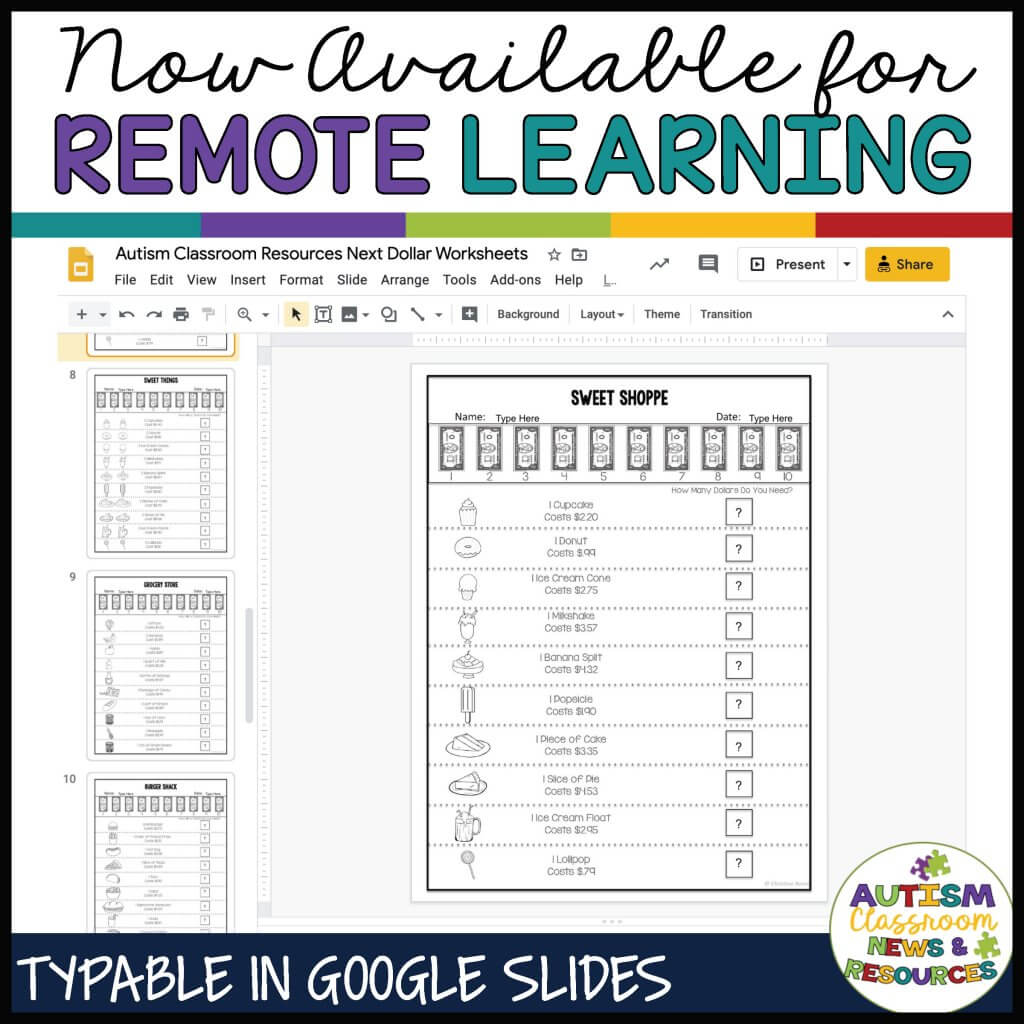 I'll be updating more resources as I can to work with Google, so stay tuned. If they require just a small bit of adaptation, they usually will be included with the original resource. If you have one you would like adapted, just let me know.
Cooking Unit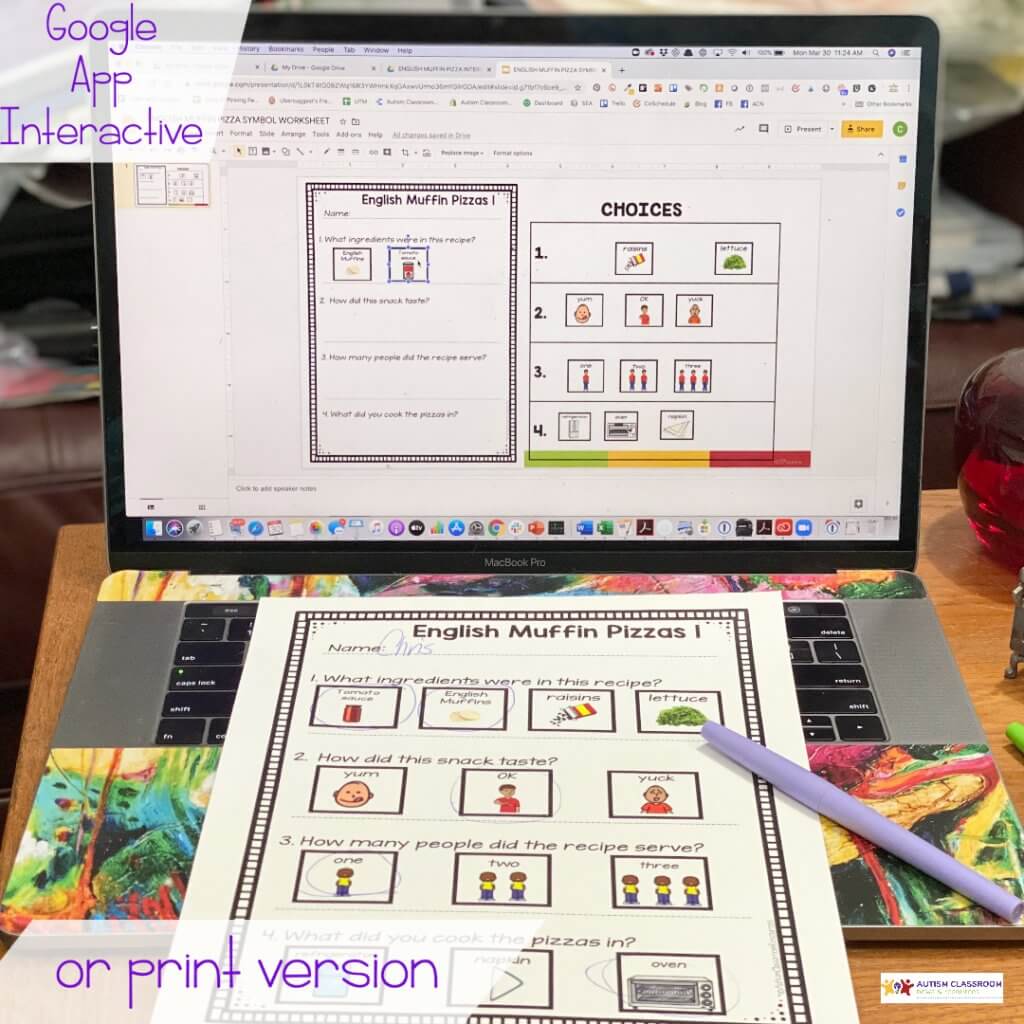 I added a new cooking unit that I developed for the Academy. It focuses on cooking English Muffin Pizzas and includes visual recipes, comprehension sheets, sequencing tasks, a communication board, and a slideshow with fill in the blank opportunities for communication. AND I adapted all the materials to Google Slides. The sequencing and comprehension sheets are even interactive so you can grade them. Plus it's already differentiated with symbols or words.
BOOM™️ Cards
And finally I am starting to make BOOM™️ Cards from task cards. If you are not familiar with them, they can be played on an internet-connected computer or in an app on a tablet or phone. Some of the things that have drawn me to them is they are self-correcting. If students get an answer wrong, they get visual and auditory feedback and they have to make another choice. The other great thing is that with a paid membership (or the 90-day free tutorial), you can get data on your students' performance. This makes it great for interactive learning and data collection.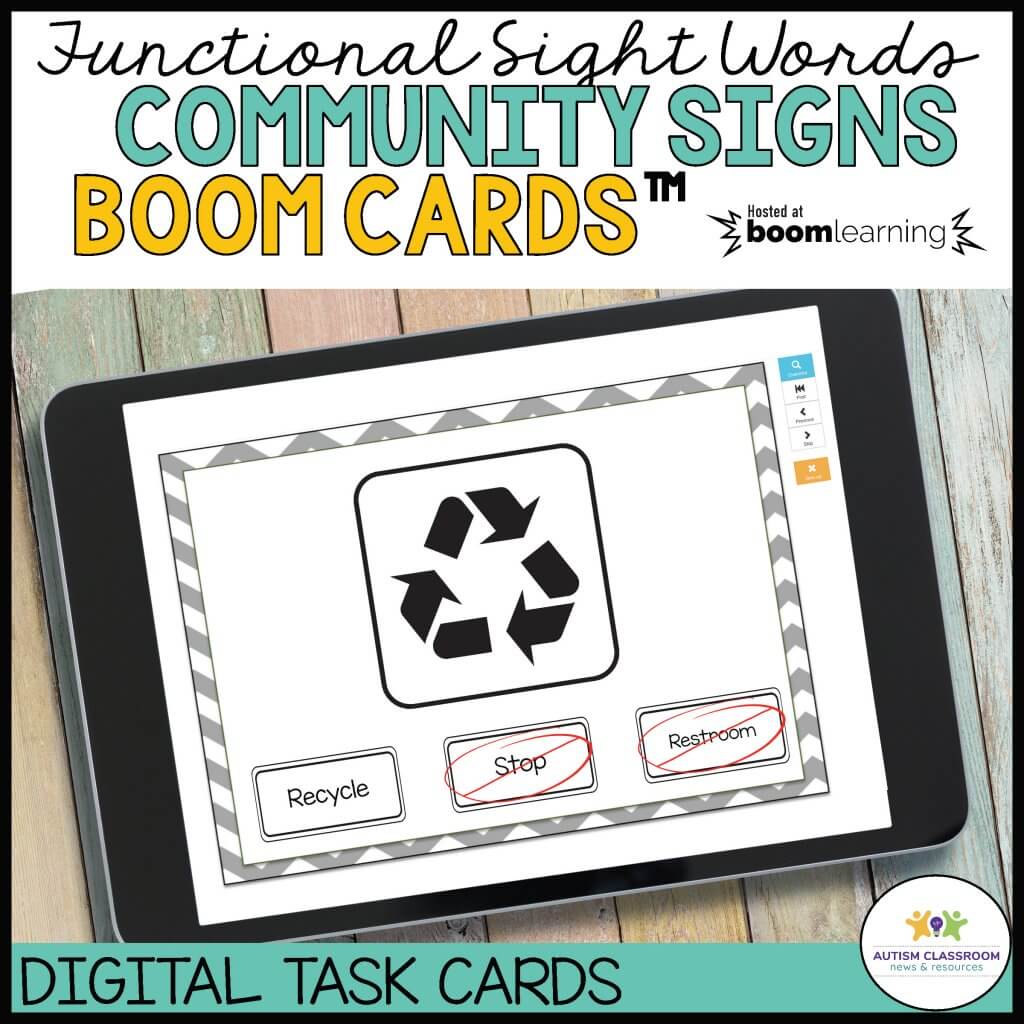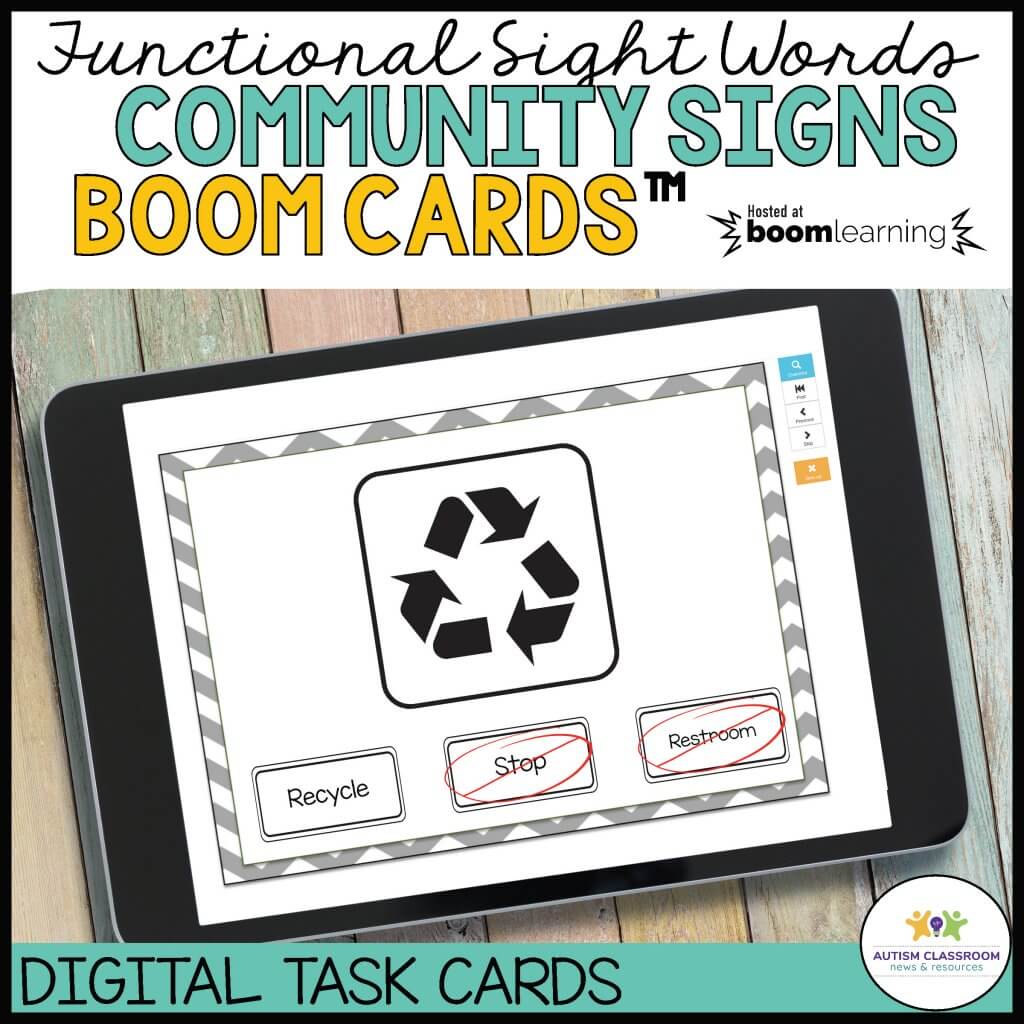 I converted one of my popular sets of task cards, Functional Literacy Community Signs. There are 88 cards in this set that are interactive. They are designed for students to select the words that go with the picture of the signs. They are great for practice and testing/data of progress.
Free Distance Learning Resources
As we began this journey I made a set of scavenger hunts for families to use at home and practice language concepts. There were also some outlined games to encourage communication and language skills when played. And I included a Google docs calendar to use for planning (editable) to send home with assignments. This works well if you are sending home enrichment activities rather than needing to get data…although there are ways to get data from it through video or families recording answers.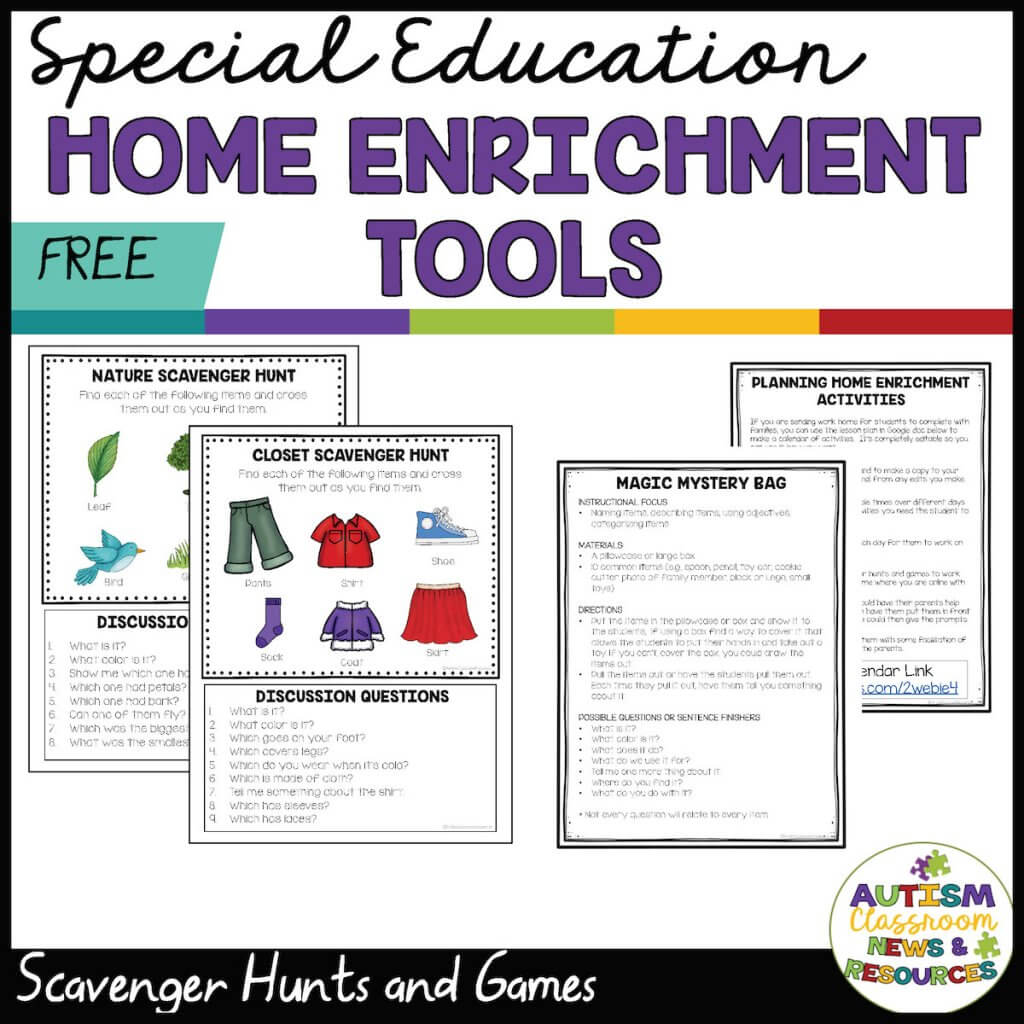 Also, you'll find a number of free resources in the Resource Library. I outlined some ways to use a variety of those resources in this post as well, if you need ideas.
Distance Learning Resources for Families
First, this set of resources aren't JUST for families. But they were intended for families and can easily be shared with them to use.
I had the opportunity to participate in a Facebook Live panel for the Autism Society of America. We covered advice for families and teachers working with at-home learning as well as helping college students on the spectrum with online learning. You can find some great resources from their COVID-19 toolkit. And the video of our meeting is on this page.
And finally, last week I made a quick video to walk families through how to structure working with their child at home. I demonstrated different types of schedules, including those they could use at home from just paper even for nonreaders. And I also showed them working-for boards that could be made at home with no printing. You can watch it below. Please feel free to share it with families.
So I hope that this gives you some distance learning resources that can help both you, your students and their families. I'll be developing more over time and they have a great place for students to use in the classroom as well.