Teaching is hard. A Special Educator Academy membership can help.
There is no way around it. And teaching special education can be even more challenging. Especially at this time of year (May) I know many of you are dealing with increased behavior from students, finishing up testing and IEPs and just general fatigue from a long year.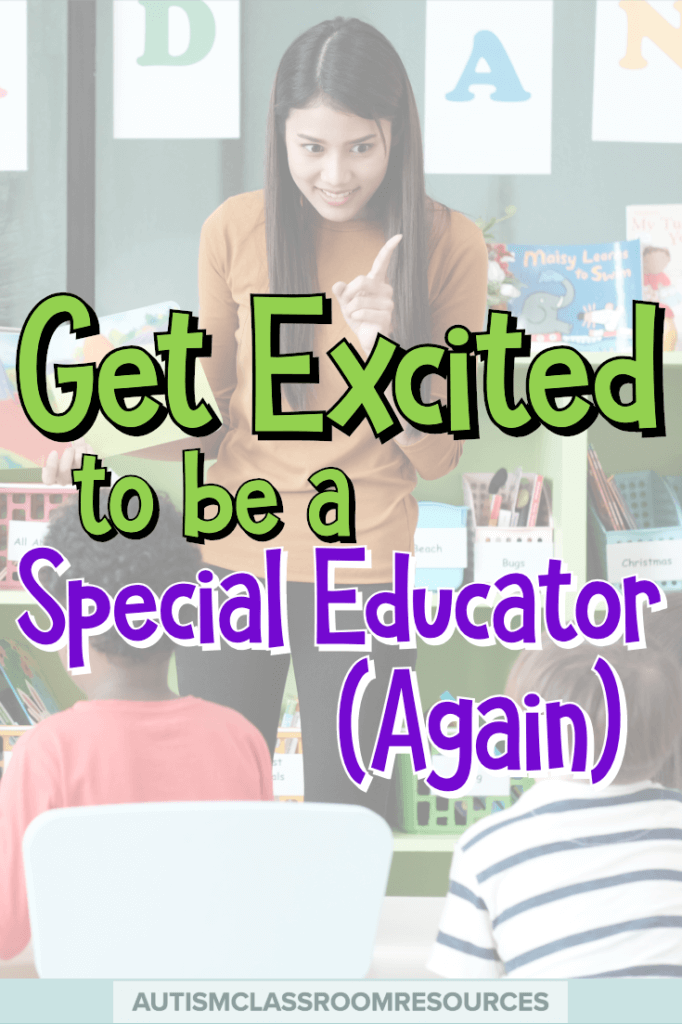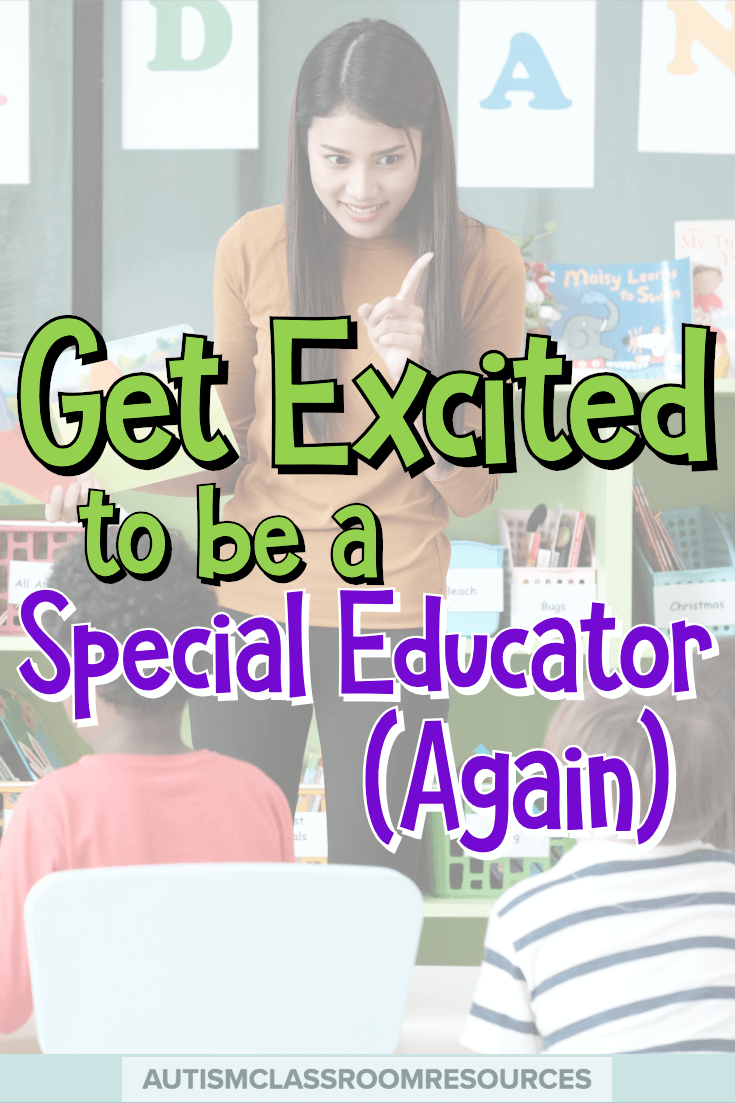 I hope you have also had the opportunity to enjoy the gains your students have made, reflect on the impact your year has had for your students and families, and reflect on how much you have likely grown this year as a professional.
My mission throughout my career has always had a focus on supporting the educators who make special education possible. I love the opportunity to help you grow and also to provide some support along the way of what is sometimes a rocky and lonely journey.
This focus is what led to the development of the Special Educator Academy membership site. It opened almost 5 years ago and it has grown so much in that time, I thought I would share some of the opportunities that are available and grow from it. Most of the growth and additions to the resources have been based on feedback from the current members.
What is the Special Educator Academy?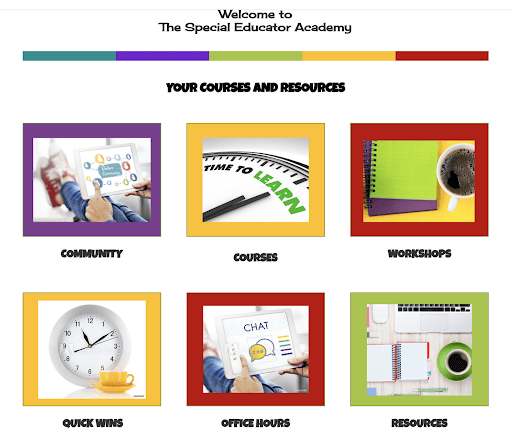 The Special Educator Academy is a monthly or annual membership with a growing library of research-based, practical tools and training for special educators to address your day-to-day challenges. When you join you get instant access to research-based, practical tools and training you can implement in your classroom tomorrow, with a community to provide the support you need (and deserve!).
In the Beginning….
When we began the ​Academy Membership, we started with 1 full-length course on Setting Up Classrooms in Special Education. We had 4 or 5 workshops (3 of which are provided now for FREE through the resource library here). We had 3 or 4 Quick Wins (5 to 15-minute videos on strategies you can implement the next day) with resources to do it. And the community for discussions.
What Your Academy Membership Includes Now
Watch This Overview Video
A Members-Only Weekly Podcast
Yep, your Special Educator Academy membership comes with a podcast that is private just for members. The SEA Show focuses on how to handle certain problems or issues or information about strategies like how to manage perseveration or why extinction isn't always the best choice. And it also focuses on strategies to save time, how to stay in a positive frame of mind, cultivating positive interactions with staff, etc. I have a friend who calls it "cheerleading for teachers." And I realized, special educators really need a cheerleader, so yea.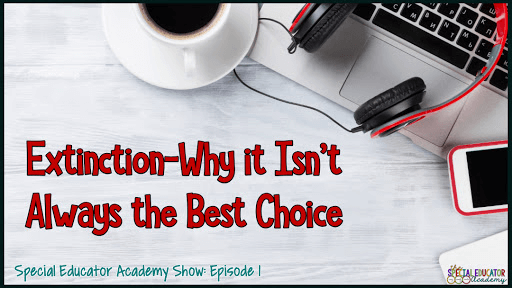 An IEP Goal Bank
We have a growing IEP goal bank with IEP goals that I've written throughout the years. It grows as we have requests in the community for them.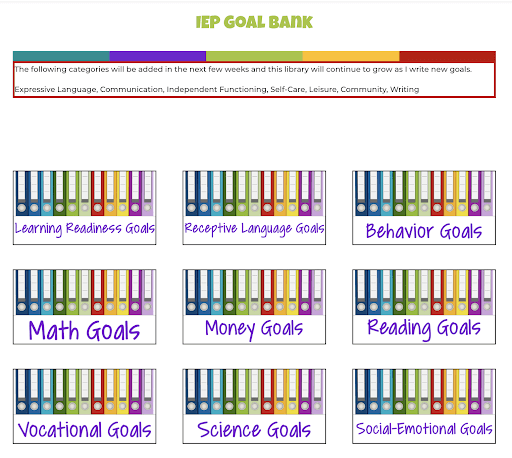 A Social Narrative Bank
This bank also grows. They are the text to social stories I've written over the years. And again, it grows as we have requests for stories about specific situations.
Weekly Live Office-Hours
Every Sunday night, we have a weekly online video/audio/text chat (depending on your preference). I do a short 10-20 minute presentation on a topic. Then it's a chance for members to ask questions, get feedback, me to share ideas, and more. It's been a great support hour for the members. And if you can't make it, it's always recorded so you can grab it later in video (or in audio to listen on your way to work).
You Don't Need Much Time to Benefit from the Special Educator Academy Membership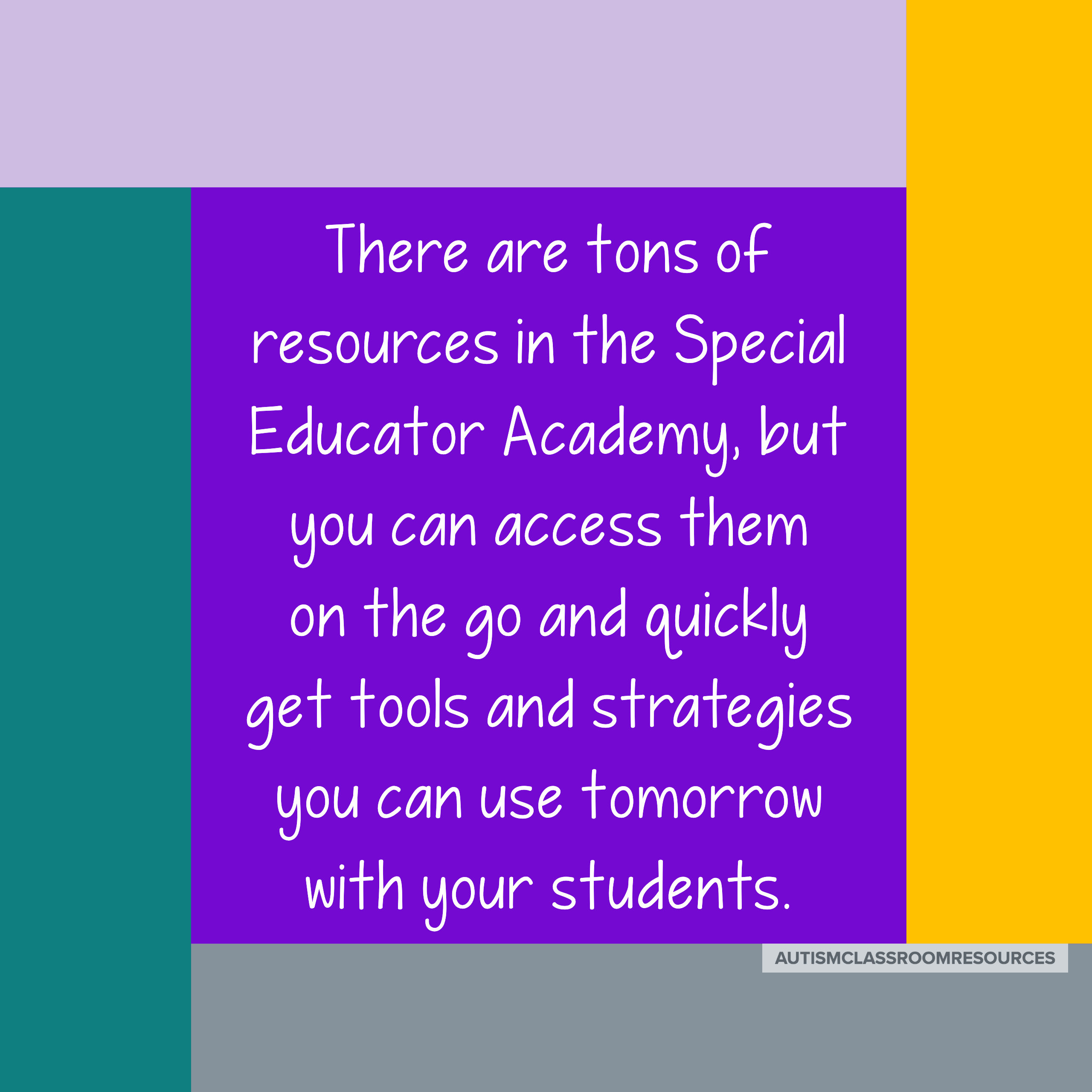 All of these additions came about as a way to help members consume the content on their time. You don't need a lot of time to make good use of a Special Educator Academy membership.
Subscribe to the podcasts and listen on your way to work
Watch a 10-minute quick win on how to increase initiation of communication
Grab a data form and use the Quick Win how-to video to show your staff how to use it
Jump to the Office Hours video that talks about a specific topic
Find an IEP goal if you are hitting a brick wall thinking of it.
Pose a question in the community and come back and check for ideas and responses later in the day.
[socialpug_tweet tweet="We have lots of content in the Special Educator Academy, because every single educator is facing different challenges in your classrooms, just like our students. So every single educator needs different tools. #specialeducatoracademy " display_tweet="We have lots of content in the Special Educator Academy, because every single educator is facing different challenges in your classrooms, just like our students. So every single educator needs different tools. " style="2″]
We have this many resources because, just like our special education classrooms, every single special educator is different. And each one of you face different challenges in your jobs and in your lives. So we need different resources to help you. The content in the Academy isn't made to be completely consumed by one person. It's made to create options to assure you can find what you need, and other educators can find what they need.
Original Features Grown Up
Courses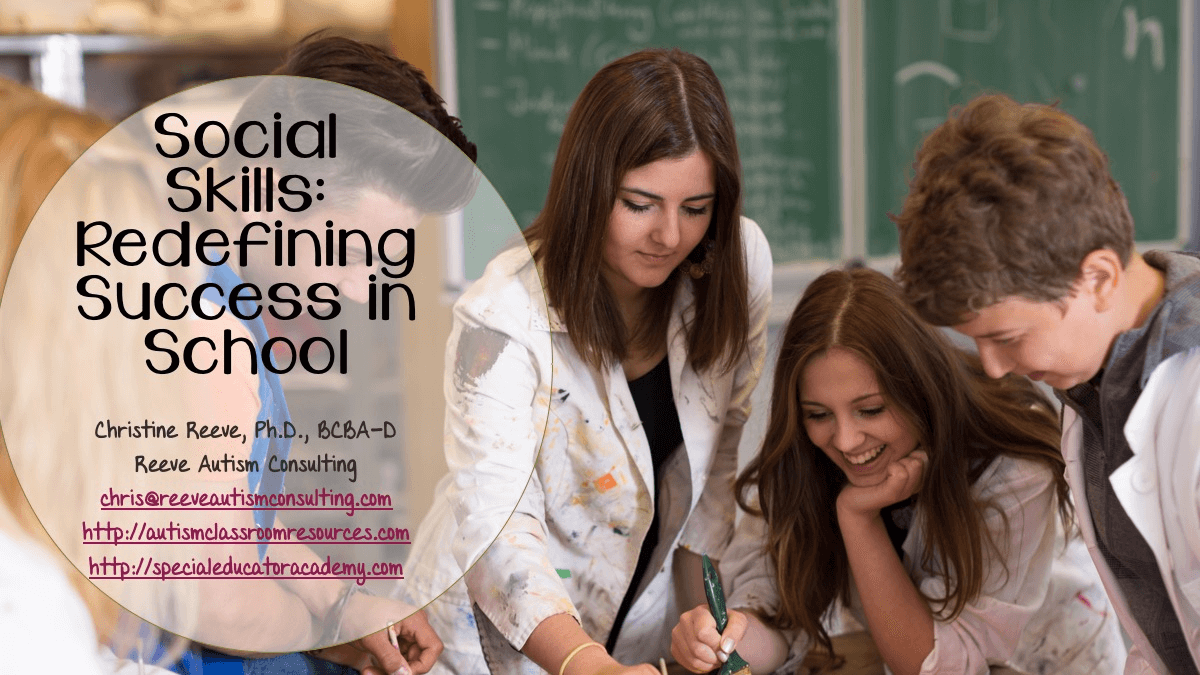 The ​Special Educator Academy Membership now has 6 full-length courses including:
Setting Up Classrooms
Behavioral Problem Solving
Taming the Data Monster
Social Skills
Building Communication Skills
IEP Bootcamp
But the greatest thing about these courses is that they are divided up into 20 to 30 minute (or less) videos that you can watch at a time. Or just watch the topics within the courses that you feel you need info on.
Workshops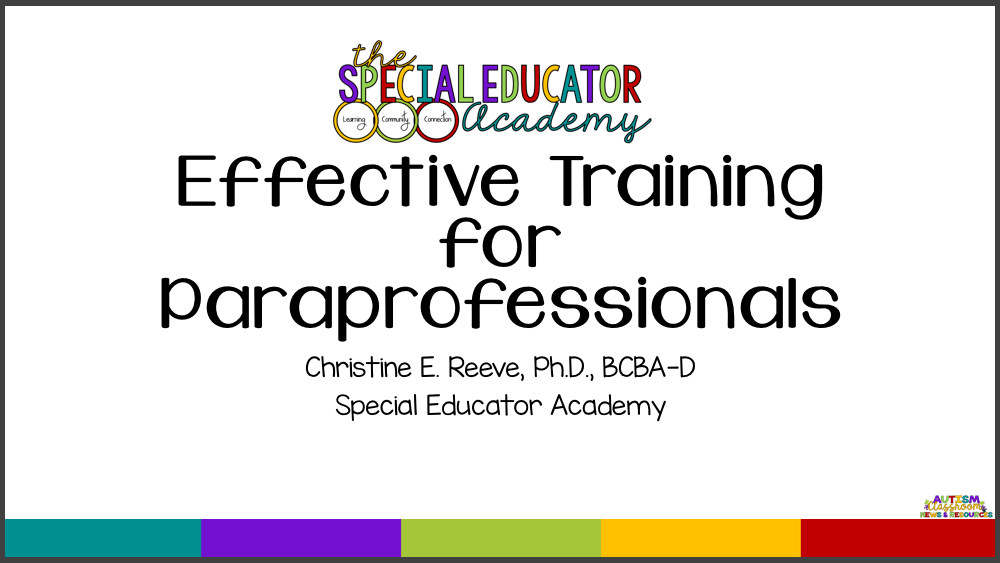 At the time of this writing, we have 58 1 to 2-hour workshops on the site. Many of them also have resources developed just for that topic like
Resources for writing standards-based goals
Templates for tools for teaching students executive functioning skills
Tools for writing present levels from assessments
A Community-Based Instruction Skills Planner and Checklists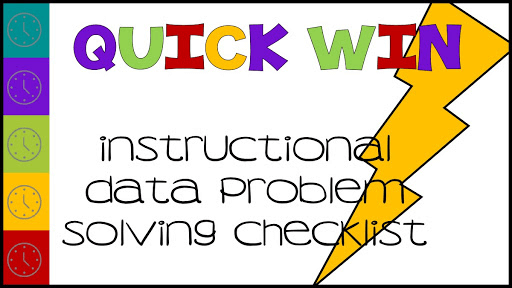 We now have 72 Quick Win Videos about specific strategies. Many of the 15 minutes (or less) videos also have printable tools to allow you to implement them immediately. You'll find resources like:
5-Point Scale templates
Crisis plan templates
Templates for making rubrics for data collection
An Instructional Problem-Solving Checklist for analyzing classroom data
Lightning Training & Loyalty Program
We have 20 5-minute training videos designed to give you a quick run down on a strategy or ideas to solve a specific problem. They cover topics from how to use specific data sheets to 5 ways to respond to escape-related behavior when you can't give the student a break. And, you can download them with our new Loyalty Program of SEA Points.
You earn points each time you renew your membership. You can then exchange those points to download and keep Lightning Training and other short videos on the site. That allows you to use them for training now and in the future. You can also download small printables that are available in my TpT store in the SEA Treasure Chest.
Discount to Autism Classroom Resources Store
After you have been a member into your second month, you get a 20% discount on everything in the ACR store that is available within the Academy. It has all the materials available in my TpT store.
There are some TpT materials included in the SEA membership, but it's not intended to be a materials-based membership. So they are primarily tools to implement trainings offered with the membership.
So, the 20% discount (which increases during TpT sales) is a way to make those more affordable as an extra perk of your SEA membership.
Community
We now have 2 choices for community. We have an onsite community for organization, study groups, and if you aren't into Facebook. And we've added a private Facebook group as well. Both are amazing and growing communities for sharing ideas, problems, and just providing support for each other.
Is Special Educator Academy Membership Right for Me?
Over the course of the last 4 years, we have developed a variety of resources that I am putting into paths for professionals at different parts of your journey. I want to make it easier to access and material you can actually use to make your job easier, less time consuming, effective, and most importantly, more satisfying.
So, if you are a new teacher in a self-contained classroom, we have a path that starts with elements of the Setting Up Classrooms course and leads through some of the systems to put in place your first years. And we've prioritized it for whether you need a quick jumpstart in the middle of the year or have time to dive deeper.
Are you an experienced teacher? Find a path on starting a data collection system that is sustainable in you classroom. Check out a path on working with students with basic needs if you just took on a new challenging classroom. Or find more resources on starting independent work systems in your classroom.
Working with Students with EBD? We have a path that will help you navigate the resources to help your students with behavior, classroom management, social skills and executive functioning skills.
And we have many more paths…because we have many more types of educators out there.
Can I Afford a Special Educator Academy Membership?
You can join monthly or buy an annual academy membership at a discount. And, the price is no more than you would pay to go to a 1 or 2-day Professional Development training. Typically those would cost you $100 to $200. For $250, you get the professional development with online support for implementation throughout the year focused on the knowledge and skills that YOU need.
Some members are also funded by their school districts. And we have several districts that have teams on the site to provide their staff with professional development. If this is something you are interested in, contact me and I'm happy to send you the information you need to share with administration.
Still not sure it's right for you? I'm happy to answer any questions you have about whether it's right for you. Either hop over to the sales page and use the chat button to ask me, or hop into the Facebook Group and share your thoughts.
What Do Members Say?
"The Special Educator Academy makes going to school every day so much better and so much easier because first of all, you learn how to streamline all the zillion things you have to do today and do it in fewer steps, and second of all, you just learn so much. Every day gets a little better, and every day gets a little easier."
"My paras asked me "Do you ever stop working?" because I bring in new supports as needed. The funny thing is, yes, I do stop working. I don't have to work so hard because Chris offers proven methods of procedures and strategies already laid out for us. I just put them to use for my students and support staff…"
SEA is a place of support from special educators who have a passion for their work and want to continue to improve….has given me the confidence I need to push on during the rough times of the day. SEA gives me a goal for the future of my teaching, and the hope that I can continue to offer my services to students with autism, because let's just face it, we have a difficult job and we have to watch for the little successes to keep our motivation going. Furthermore, we must have the skill to identify what those successes are, and SEA helps with that too! If you want to develop your professionalism in teaching students with autism, becoming a member of the Special Educator Academy is where you can get university-quality consultation and education that directly applies to your day-to-day work in your classroom.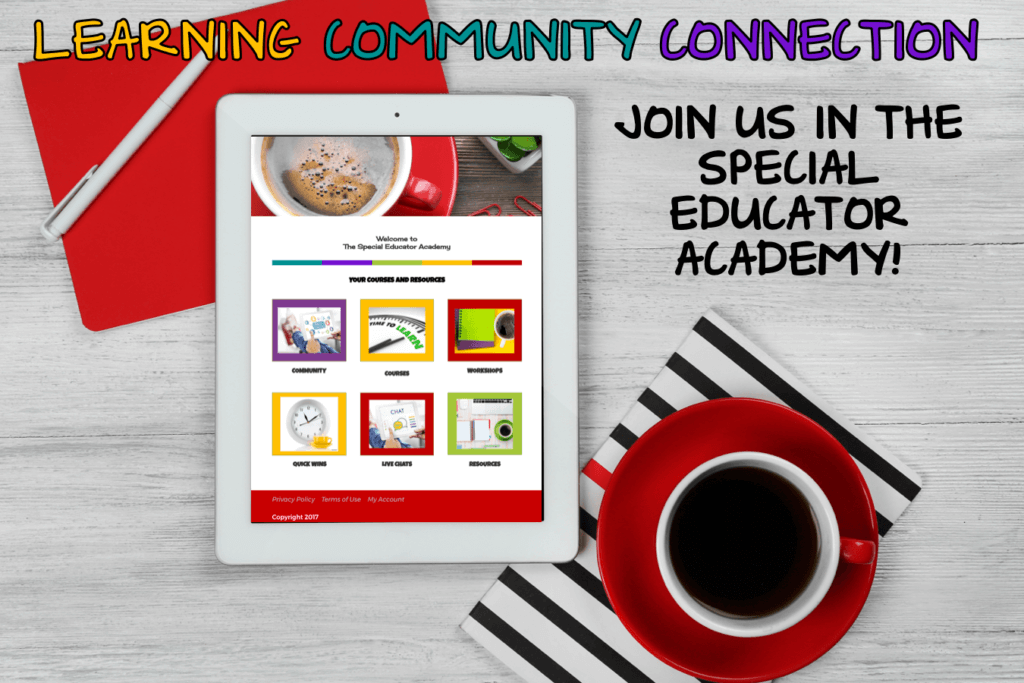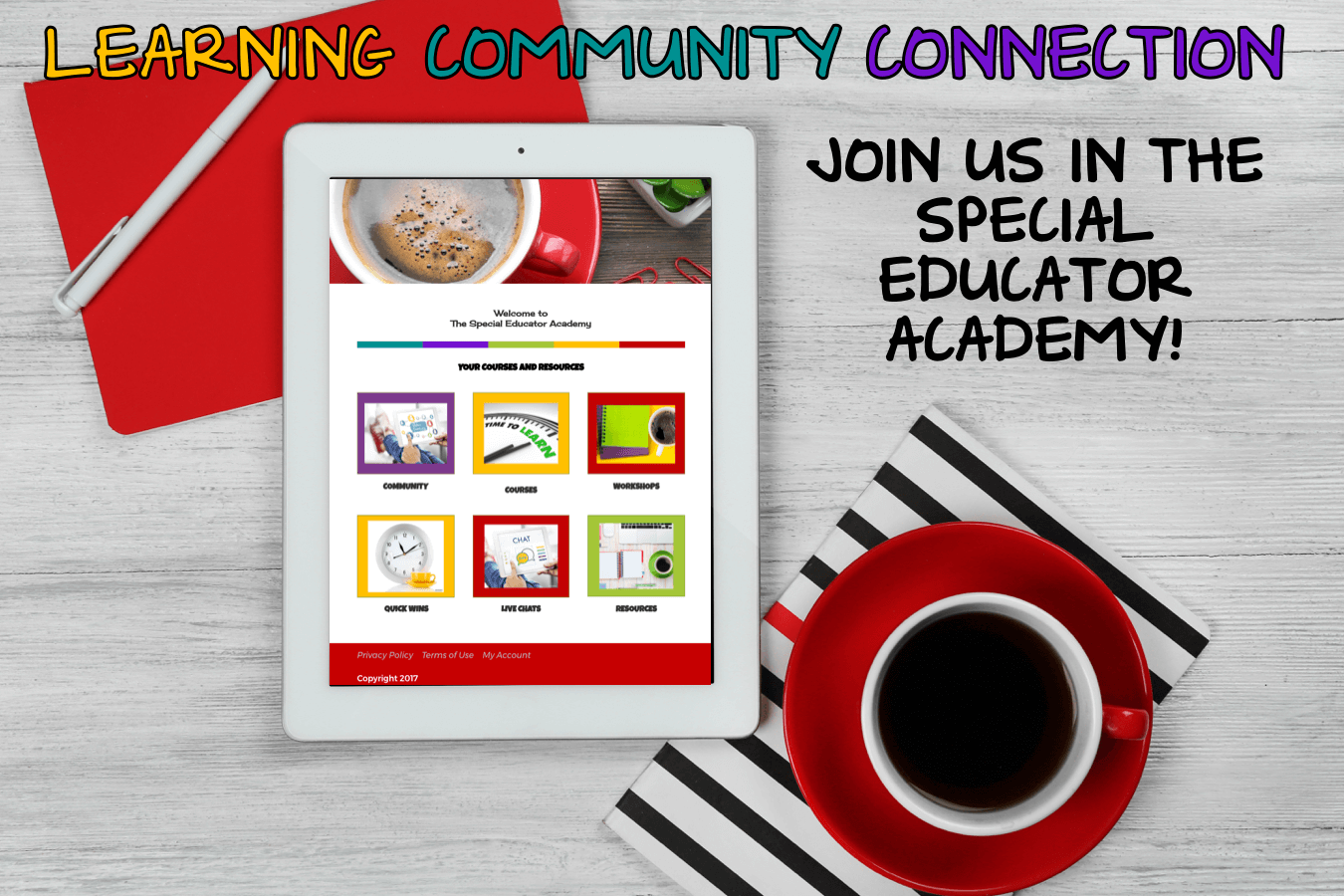 Join Us!
Come get a free trial in the Special Educator Academy where we have workshops and study groups on them.