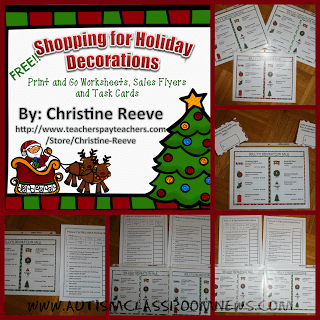 Need a quick, print and go set of holiday activities for those last few days of school? Those of you who tune in on Facebook know about this, but I wanted to share more details about the new freebie that is up in my TPT store. I wanted something that would work for some of your older life skills students while still have some functional skills that even your younger students can use. So, I decided that everyone shops and everyone needs to shop. So I decided shopping for holiday decorations made sense. Happy Holidays from me to you.
This is a part of what will become a much larger, non holiday-oriented set of activities. It started out as a holiday set and kind of got away from me. The Facebook Fan Freebie that is up until January 1, 2014 has part of the types of activities that will be included in the larger activity and this has the other type of activities. If you haven't downloaded the other shopping activity, hop over Facebook, like the page and download it. If you have problems finding it, here's a picture of where the tab is…Follow the yellow arrows.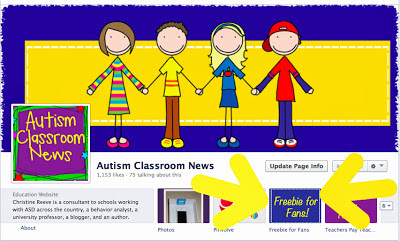 So, let me tell you a little about what is in the Shopping for Holiday Decorations free packet.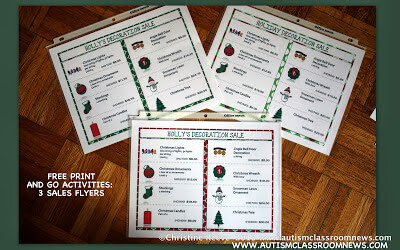 There are 3 flyers. They all have the same items on sale, but they have different pricing. So, if you have students who aren't using change, there is one flyer with whole number pricing only (e.g., $2.00). If they are just starting to work on change, there is one that uses only dollars and quarters (e.g., $2.25, $2.50). And if they are able to use more complex money, there is one with typical prices (e.g., $2.79). You can use these in instruction with the students to give you the right amount of money to purchase certain decorations. If you put them in page protectors, like the ones above, no lamination is needed and you can print and go (I love this term that seems to have replaced the word worksheets!). 🙂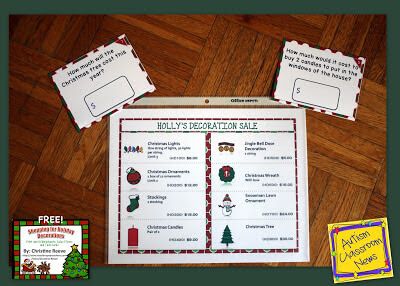 In addition to using them in direct instruction with money, students can use the 8 task cards included to write in the prices from the flyer. The task cards can be used with any of the flyers to differentiate among your learners. If you laminate them, or put them in a photo album, you can use them with dry erase markers. The questions are phrased as word problems but only ask about 1 item.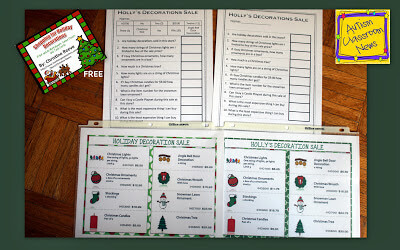 And finally, there are 2 worksheets. They are the same, but one has a word bank at the top and one does not. The one with the word bank will only work with the 2 easiest flyers because the prices changed on the more complex. The third flyer has a slightly different store name to help you identify that. The worksheets focus on answering common questions you need to know in looking at a sales flyer. I didn't include dates for the sale, because I didn't want to date the product. However, it does have items on it that indicate limits to what can be bought on sale (e.g., limit 3 strings of lights) and how many items are in a product (e.g., 12 ornaments in a box). The worksheets ask for that type of information as well as asking about prices (e.g., most expensive, least expensive). The worksheets are black and white so they can easily be printed for multiple students to use or you could put them in page protectors to make them reusable. You can have the students use the word bank as a true word bank or cut the words out and paste them (or Velcro) to answer the questions.
So, that's the freebie. The final product will have an answer key (I didn't include one in the freebie because of the limited quantities) as well as multiple stores with differentiated flyers for different types of stores (thank to the fans on Facebook for letting me know your preference on that!). It will also have check writing, more math with adding of products together, and probably a few other goodies I think of between now and then!
So, hop over to my Teachers Pay Teachers store to download the freebie and please leave feedback there as well if you do. If you want to share it with others, please ask them to download it from the store or get it through this blog post (which will take them to the store). I really appreciate all of your support and everything you do for our kiddos!
Happy Holidays and I'll be back on Thursday or Friday with a post about independent work systems and a smaller freebie to help with having staff implement them correctly.
Until next time,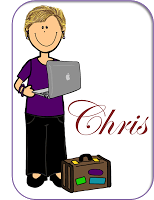 P.S. Forgot that I was planning to link this up to Busy Bee Speech's Holiday Freebie Linky…click on the picture below to hop over and check out all the goodies!