The internet is really a fascinating place. I write; I hope others read. But we really don't know that much about each other. In preparing this year for National Autism Awareness Month, and today, World Autism Awareness Day, I began to realize that there is a lot you probably don't know about me. Many of you don't know that my "day" job is to travel around the country and provide support and training to educators (and families) working with individuals with autism in schools. Many of you don't know that I also teach graduate courses in autism and in ABA. OK, so there's a host of things you probably don't know about me. However, only one is important today. You probably don't know how I got into this field in the first place. And that is the story that I want to share today.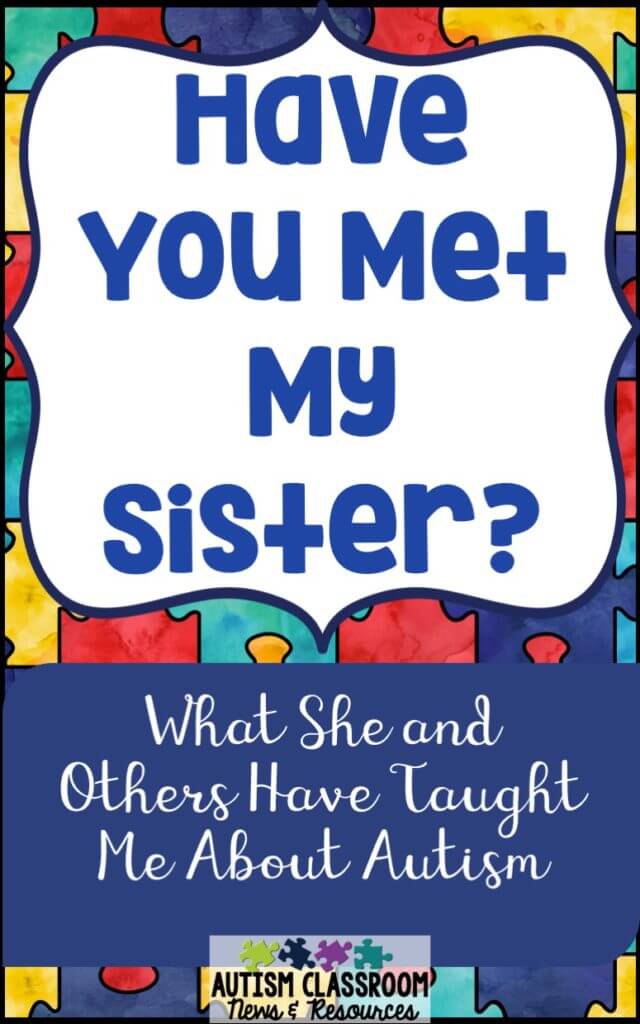 It took me many years to realize it, for some reason I don't understand, but I am doing what I do, in part, because I have a sister with a developmental disability. Thinking about her now, I would say that she has autism and we have thought about it that way for about 15 years now, even though it's not her official diagnosis. In my family, we called her issues, "that's Cathy." There was no one like her that we had ever met. She's my oldest sister, a good 13 years older than I am, so she was approaching adulthood by the time I really began to understand. In the 1950s and 60s, and even into the 70s, when she grew up, she didn't fit any type of mold. See, she's intellectually capable. In a world in which autism, at that time, meant you didn't speak or interact, Cathy talked, got a high school diploma and an associate's degree (all without support) and got married. This didn't sound like someone with autism in that time. Nonetheless, she needed help to adjust to any new situations, to manage uncertain situations, and to learn new skills. One of my earlier memories is driving around town following the city bus while Cathy was riding on it learning to navigate the system. My mom was a firm believer that Cathy could learn anything she put her mind to. And Cathy will tell you that Mom and Dad always told her that there was no such word as "can't." I don't talk a lot about Cathy because I respect her privacy and don't always feel like she needs the details of her life written on the internet. I sometimes also forget how inspiring her story can be because of all she has accomplished when the doctors said she would never pass first grade and suggested that my parents institutionalize her when she was 3 months old. But I can tell you that growing up with her taught me a lot and is probably even more responsible for my interest in working with individuals with autism and/or communication and behavioral issues than I realized. This type of job was always what I wanted to do since I can remember. I come from a family of teachers. But I have to tell you that above everything, most of what I have learned in my career began with Cathy and continues with the students I work with and their families.
Here are some of the things they have taught me.
1. There is no such word as "can't."
Yep, we all have limitations, though it's sometimes hard to admit them. But what Cathy has taught me is that if you want something badly enough, you can work hard to get it and find a way around the barriers that keep you from it. Cathy has been married for 34 years. She and her husband live independently in an apartment with help from the Medicaid Waiver and my family. Financially she supports herself for the most part. She had a job for 15 years in my family's business. She volunteered for many years after that for an agency that called her the Copy Queen because she would happily stand at the photocopy machine and copy huge files. She has the best work ethic of anyone I have ever met.
2. Life is not fair
I don't mean this in the sense that my family was affected by autism. I write it because it was one of the earliest lessons I learned involving Cathy. It was what my mother constantly had to repeat to all of us. In many families it was what parents say to siblings when the child with autism gets to do something they aren't allowed to do. In my family, that was one use, but the one I remember most is my mother telling Cathy that I got to do my homework in front of the TV because I did it better that way and she needed to work in her room when it was quiet because she worked better that way. When Cathy complained, Mom would respond, "Life is not fair." I have to tell you, that is one of the best lessons I have learned in my life.
3. There is no such thing as one-size-fits-all
Throughout my career I have been puzzled by practitioners who believe that their intervention model or their choices for how someone should live is the only one that is "the answer." Every individual on the spectrum is different and every family is different as well. Decisions about intervention needs to be based on the individual's data and be made in the context of the family (or the context in which the person lives or wants to live). The professionals don't always have all the answers and the impact on the family can be significant. Even within a family, the impact can be different. Siblings respond in different ways to having a brother or sister with autism. My middle sister is only 3 years younger than Cathy so her experience was very different than mine, who was 13 years younger. Don't assume you know or can predict how autism will affect a family–ASK them and respect them. Sometimes getting through the day is all we can do.
4. We desperately need to create more services for adults and for those with multiple challenges.
People with autism spend from preschool or kindergarten through age 21 in school. They spend 21 until they die in their communities without school services. For my sister, who is alive and thriving, that is 39 years and counting. She has been receiving services through the Medicaid Waiver for about 10 of those years. For the other years, she got support from my mother and now my sister and I. It's not that she didn't need services for the other years; they just didn't exist. Even with the services she has, her ability to not rely on her family for support is marginal, because the services keep getting cut. We need more support and more employers like Walgreens who not only want to employ individuals with disabilities but see that it can be a good business strategy for them–that individuals with disabilities can be good workers–better sometimes than those without disabilities.
We also need to assure that service providers can work together to coordinate services between mental health and developmental disabilities services, because right now individuals in need of services of both usually get shuffled back and forth. We need more skilled practitioners across the fields of education and mental health who can help adults on the spectrum and their families.
We need crisis services available in our communities for families. The police should not be the only option to call when your child or adult wanders from the house, is being aggressive, or hurting himself. And we need communities who understand that autism doesn't stop when a child ages out of school, but instead are part of our communities that need our support.
And finally,
5. Happiness should not be taken for granted
Cathy has always struggled with depression and for a while was on medication that calmed her down but flattened out her affect. When she got on new medicine, it was like we got our sister back. When Cathy really smiles, her whole face lights up and you can't do anything but smile. I love to see her smile.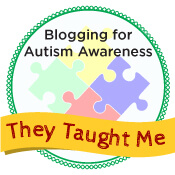 Brought to you by Teach.com
To see more stories of what they taught me, check out this linky
Until next time,