Money and Packaging Task: Independent Work Inspiration
Structured Work Systems | February 3, 2021
This week's Independent Work Inspiration task is a packaging task designed for helping students practice money skills. Students create money combinations to match prices. But they also have to put the amount in containers, opening and closing them.
Independent Work Inspiration: Material List
Small containers of any kind
Coins (I prefer real for the feel of them)
Masking tape, labels or post-its for prices
Money Packaging Task: Who is It For?
Generally, as a packaging task, I use this task for older elementary through high school students working on money and life skills. It's kind of a precursor to vocational packaging tasks as well. Students learn to open containers, assemble the contents, and close them up.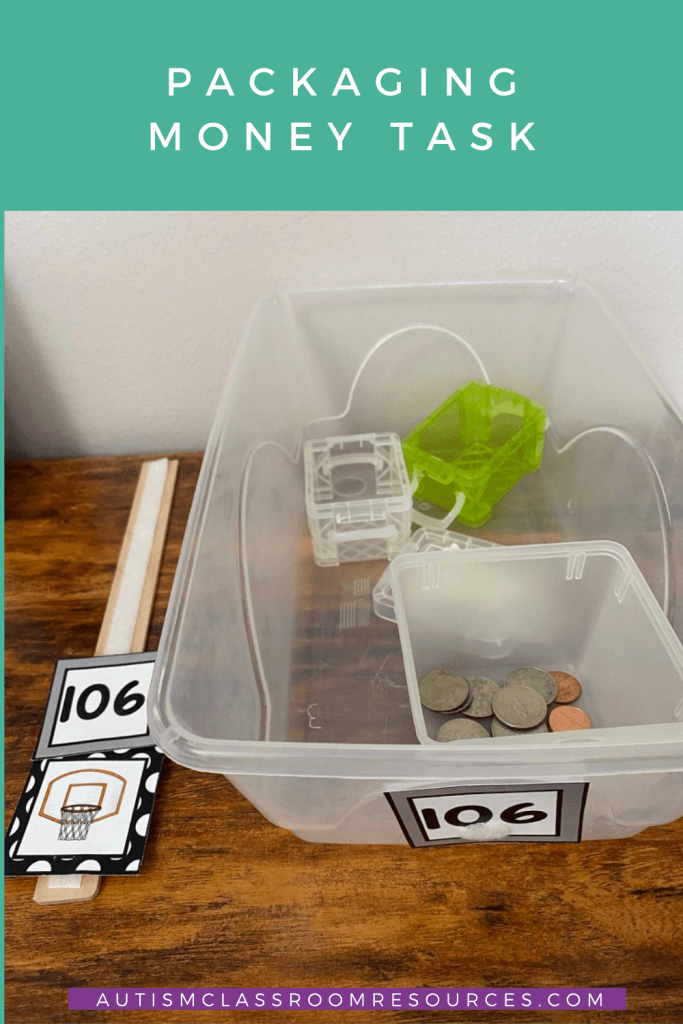 As a money task it is good for any age of student who is working on counting and combining coins accurately. You can modify the difficulty of the money part of the tasks by the number and denomination of the coins. For instance, it would be easier if there were all quarters. But it would be harder with pennies, nickels, dimes and quarters.
Independent Work Inspiration Money Packaging Task Video
Tips for the Money Packaging Task
There are a few elements to think about in creating this packaging task. First, you can use any type of container depending on what type you have. But also consider what type of containers the student is able to open and close without assistance. I used these little boxes I found in a dollar spot in an office store. However, you could also use zip lock bags or pencil bags. As long as it opens and closes it will work.
Second, consider the student's skill at organizing the coins and money. Keep in mind that there are multiple ways to combine the coins to make the same amount. So, just make sure that it doesn't over complicate the situation for the student.
Third, you can easily adjust ease or difficulty of the task with the number of price boxes and the variability of the coins. For instance, lots of different coins to divide among many boxes will be harder than just quarters across 3 boxes.
Need more ideas for independent work inspiration? Check out the resources below.
More Workbasket Resources
GET ALL THE VISUALS AND ORGANIZATIONAL TOOLS YOU NEED to start independent work in your classroom.
These kits include an e-book with directions on setting up independent work systems and using the materials included, data sheets for tracking progress, visuals for the bins and schedules, what's next visuals, and mastery sheets to keep track of which students have mastered which task.
Looking for more ideas for creating independent work systems in your classroom?
Check out the FREE webinar below...click the image to find out more and watch as soon as you register!