Ep 29: 3 Strategies to Boost Your Behavior Management
Behavior Support | March 8, 2020
Deciding on a class-wide behavior management strategy can be tough in general or special education.  Some classes can do group contingencies. Some need more individualized options.  Plus, you have to find a system that is do-able within the classroom.  And one that you can stick with.
So, in this episode, I'm reviewing three behavior management systems that you can use in most, if not all, classes. In our last podcast I talked about what makes a good behavior management system. And I touch on those again in this episode in regards to each of these 3 systems.
Highlights of Episode 29
Review of the Marble Jar method of group contingencies
Discussions of an old behavioral favorite, the Good Behavior Game
An overview of ways that I have used both token systems and token economies as classroom behavior management systems
Marble Jar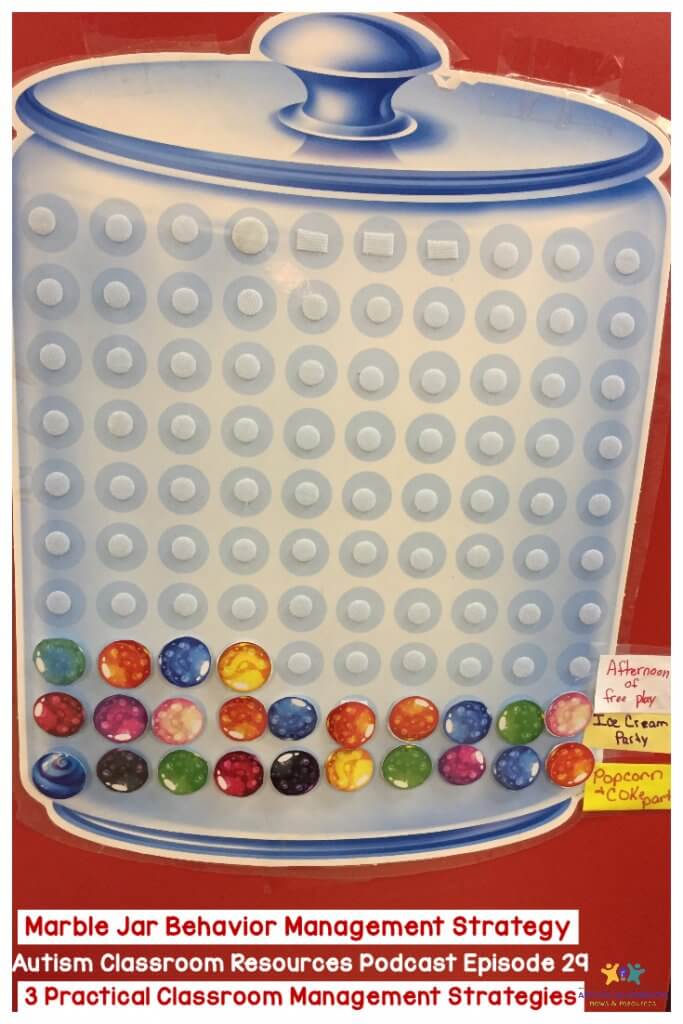 This is one of my favorites and I'll discuss it in much more detail on the podcast.  I like it for its simplicity. And I also like it because you can use it for lots of different goals.  You could use it to promote following the rules, as I discuss in this episode.  But you can also use it to promote kindness, for example.  In that situation, the teacher would put a marble in the jar for each act of kindness observed in the classroom.  And if you are looking for tools for teaching kindness to be able to use this type of strategy, grab the free social stories and kindness resolutions in my store.
Good Behavior Game
I review this much more extensively in the episode.  Essentially in this behavior management approach, the class settles on appropriate behaviors they want to see in their classroom.  And then they discuss what behaviors would not be among those behaviors–often called fouls.  The students are divided into teams and the teacher tracks infractions of each team on the scoreboard.  The goal is that the teams win a small prize if they score under a specified number of fouls.  And the team with the least fouls wins the competition.
I briefly review some of the research that shows how incredibly effective this strategy can be.  There has been research that shows you can switch it to focus on positive behaviors instead of fouls and it is still effective.  And most interestingly, there is significant research that this strategy, used 10 to 15 minutes a couple times in a school day with young students results in students demonstrating much fewer antisocial behaviors and fewer issues with drug use, among other things.  Embry even refers to it as a potential "behavioral vaccine" that can inoculate students against other more severe behavioral issues later.
Token Systems or Token Economies
Finally, I review the use of class-wide token systems or token economies.  They have the advantage of allowing for individualization by varying the tokens required.  They can be used in a wide variety of ways.  And the criteria for reinforcement can change for individuals as their behavior changes.  I've used them with all ages.  Below is a picture of a simple token economy store from a preschool classroom.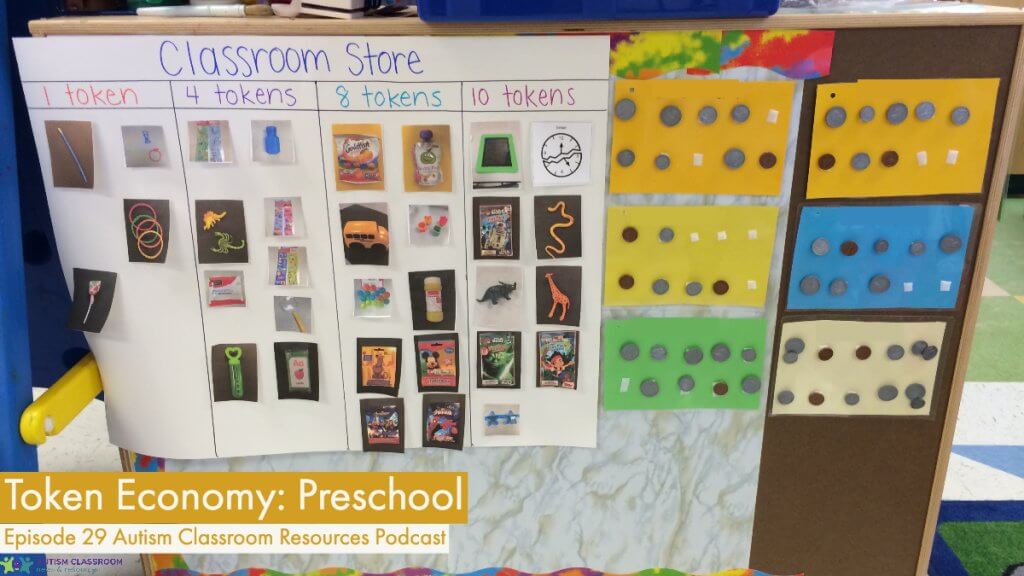 I also really like the flexibility that token systems provide.  If you have students for whom the group contingency might not be reinforcing.  Or a student whose behavior is significant enough that they need to earn fewer tokens to get reinforced regularly.  You can create something that will work for them.
Listen in above or grab the transcript to read instead.  And if you are looking for more ideas for behavior management, including tutorials on token systems for behavior, check out the Special Educator Academy.
Looking for more ideas for preventing challenging behavior and being proactive? Check out the FREE Preventing Behavior Webinar.