In this episode I'm covering the basic underlying issues to understand what research has provided us with concerning challenging behavior in the classroom.  I review 7 approaches to behavior that work or don't work and why.  I talk a bit about the research of how behavior problems develop (but not a lot) and then talk about how we can approach challenging behavior in the classroom for best results.
Why The Basics Are Important for Challenging Behavior
One of the most frequent questions I get through the blog, the Academy and social media is how to handle challenging behavior in the classroom. It's probably one of the biggest hurdles that teachers face in their classroom and the one that may contribute the most to burnout. And a good part of my career has been focused on assessing, addressing and researching challenging behavior in the classroom. So, I want to start off in the podcast by talking about the principles and research that underly my approach to behavior and some ideas about what works and what doesn't work to get us started.
And, let me add that these underlying principles are applicable to all students, not just students with autism or severe disabilities. The same principles are applicable to students who are gifted students, who have mental health issues, students who have severe cognitive delays, and students who supposedly appear typical.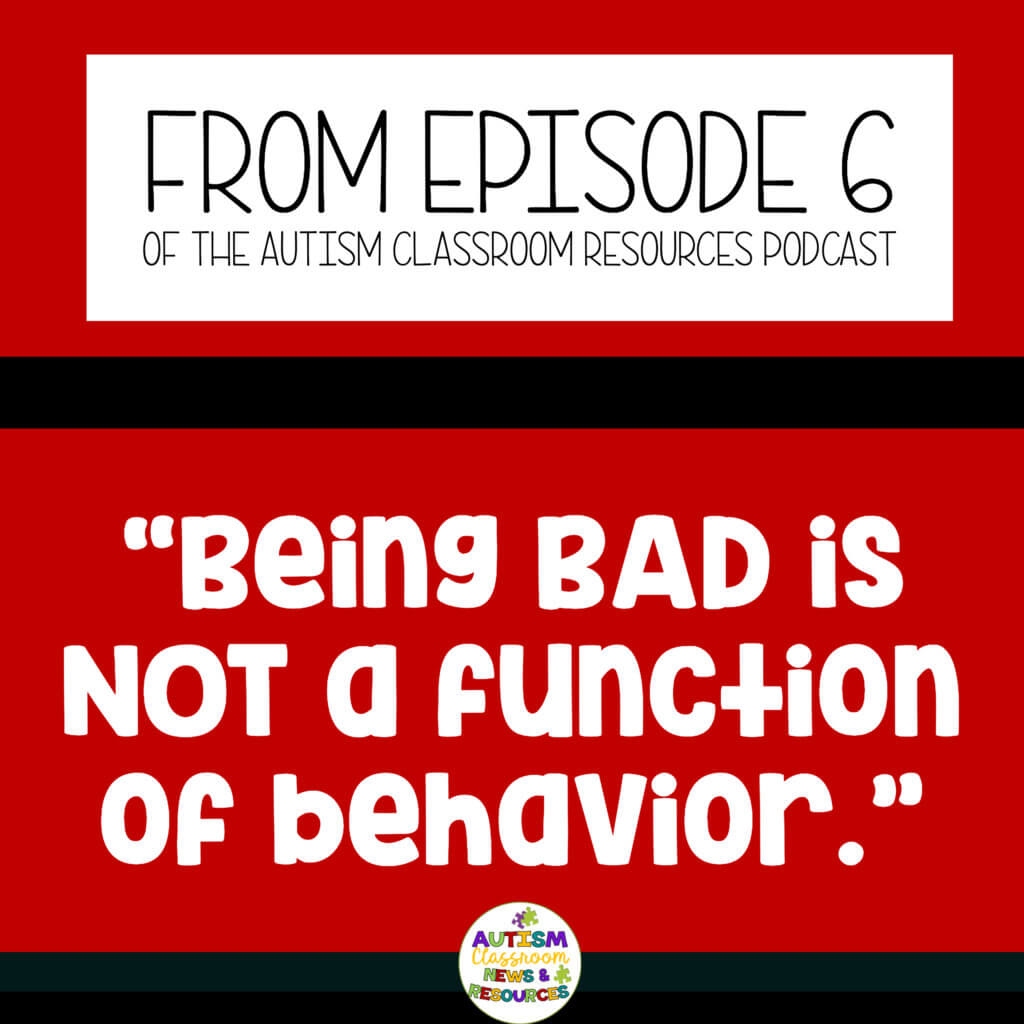 Highlights
Why expecting students to just behave isn't effective and what to do instead
That BAD is neither a function or purpose of challenging behavior in the classroom and why it's not helpful to think it is
How skill deficits are related to challenging behavior and why
What it means when we talk about the "context of behavior" and why it's important
Why communication isn't the only function around, or at least why saying it is might complicate matters
Why there is no answer to the question, "What do I do about spitting?"
Examples of how all of this applies to all different types of students you serve in special education from students with severe disabilities to students who have emotional and behavioral disabilities.
Even behavior pros will find some tips to share with staff
These principles may be a review for some, but I think even behavior pros will find at least a kernel that they can use to help their team understand how behavior works (and how it doesn't).  Sometimes it's unfathomable to those of us who do this all the time why others in the classroom or school just don't seem to get these ideas.  To us they may be basic principles that feel like water and air.  But to others, they are the opposite of what they learned about behavior from their parenting, previous classroom teams, previous administrators or just previous experience with students.  So I think they bear repeating a bit to make sure we are all on the same track.
Grab the FREE Webinar–Available on YOUR Time and Get the Bonuses to Get You Started