IEP Mastery Criteria: 9 Things You Need to Know
Data Collection and Analysis | May 10, 2020
IEP mastery criteria is the unsung hero (or dastardly villain) in IEP writing. We don't think about it nearly as much as we probably should. And there are so many ways it can help us or hurt us down the road as we actually are trying to teach the skills from the IEP.
We tend to slap on 80% or 4/5 on the end of the goal call it done.  But, the mastery level can be one of the biggest area of disagreement when determination of mastery of the goals comes about because they are often written in a way that meant different things to different participants.
Don't just slap 80% mastery criteria on a goal without checking out these 9 tips to help make data collection and instruction of IEPs easier and better.
Why is IEP Mastery Criteria Important?
While IEP mastery criteria seems pretty straightforward, it can trip up an IEP team in many different ways. If it isn't clear, there may be disagreement among the team about when the skill is or isn't mastered. If the mastery criteria is written vaguely, there is unlikely to be agreement. And some mastery criteria can seem different depending on the reader.
And, IEP mastery criteria is critical when you go to create your system of data collection. There is nothing worse than sitting down to analyze your data, only to discover it doesn't match the way the mastery criteria was written.
Highlights for Practical IEP Mastery Criteria
So, I thought I would share a couple of things I've learned over the years that might help when determining mastery criteria.
Learn how to make sure your IEP goals match your data collection
Assure the way you teach the skill matches mastery criteria
Find out why it's important to have a time frame in the mastery
Discover tips that are useful for making goals practical, meaningful and avoid issues down the road.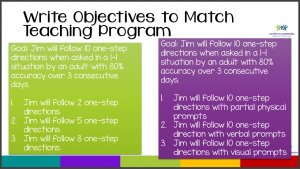 Grab your free IEP Checklist below in our Free Resource Library
This free, on-demand webinar will walk you through the initial steps I talked about in this episode. In an hour I will walk you through how to write data-friendly goals, share how the TIP can help you plan your data, and get you started with some initial steps in setting up a system for your classroom. It also includes free bonus tools at the end as well.