How to Run a Meaningful Virtual IEP Meeting
Families and Coping| Leadership & Collaboration | April 19, 2020
As we continue on this journey of distance learning in special education as part of the Covid 19 school closures, we come upon the need to hold virtual IEP meetings.  Many schools hold the majority of their IEP meetings near the end of the school year to prepare for the next year. So one of the questions I have heard recently is how to run a virtual IEP meeting.  
In my years as a consultant, I have participated in many IEP meetings virtually either by phone or video.  And as an online instructor, I've run quite a few virtual meetings. In reality there aren't that many differences between an in-person IEP meeting and a virtual one.  But there are some issues to keep in mind. And we have to recognize that it does feel very different to be online instead of in person.  
So I've got the top 10 tips to make your virtual IEP meeting functional and meaningful.
Highlights of Episode 34: How to Run a Meaningful Virtual IEP
This episode shares tips for:
preparing for the meeting

best practice for effective communication of the team

solutions for keeping teams on track

a sample agenda you can download and edit to your needs
Join our Free Resource Library and grab your completely editable IEP Meeting agenda.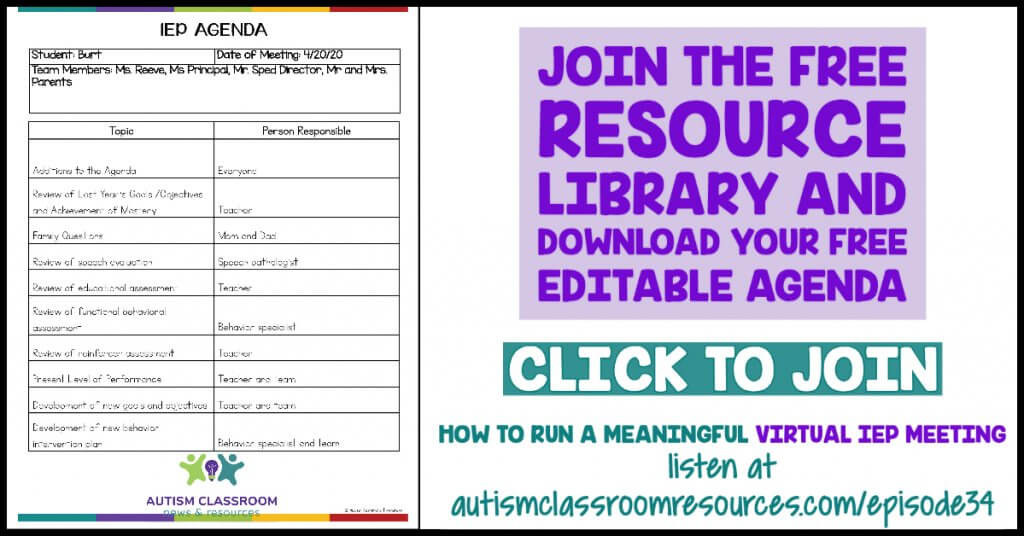 Come join our community for training and ideas you can use and connection with other special educators who get it.