It's time for workbasket Wednesday again and this month I'm focusing on Halloween. I can't believe it's already the first Wednesday of October!! And it's still 90 degrees in South Florida! I've lived here most of my life–you would think I would learn. Can't wait to get a little time out and about to places that have real fall! So, in my longing for fall, I thought I would make fall the theme for this month's work boxes.
If you want to link up, you don't have to follow the theme…it just helps me organize which pictures to pull out of the archives! So, I started with fall and pumpkins….and I kind of slid into Halloween. So, read on for fall workboxes and for directions, the graphic and the link up, skip to the end to link up!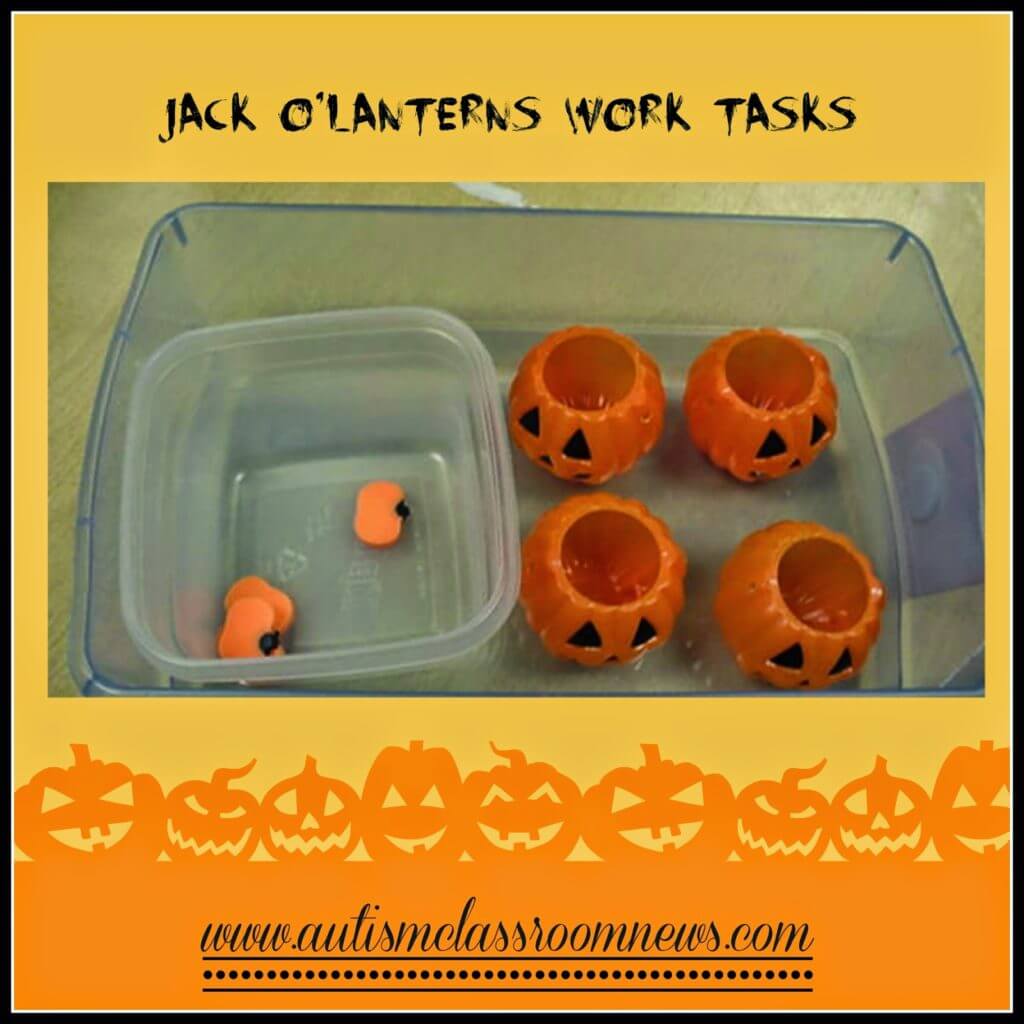 It appears, from looking at all of my pictures that over the years we have set up a number of classes in October. I have quite a few pictures of Halloween stuff. We have a training model that involves setting up a classroom and then having the staff watch the consultants run the classroom. Then on the last day we coach the staff through the new set up. We call it a demonstration classroom and it's where many of my pictures come from. In this particular class from many moons ago, I had he opportunity to go searching the Dollar Store for lots of Halloween items because we were actually going to be running the classroom on Halloween. In addition, I needed LOTS and LOTS of put-in tasks for these kiddos so I needed a variety of ways to do the same task, essentially. Holiday items are great, and often cheap, ways to set up tasks that change things up a bit. I had a bunch of Halloween erasers that I could use and the materials were all things I bought in the party aisle at the dollar store. So, in the task above, the students were just putting 1 eraser in each jack o'lantern to practice 1-1 correspondence.
In this one, thy had to put the bats or the pumpkins in the correct line of the ice tray. I love ice trays and egg cartons because they are cheap or free and put a little variety into simple tasks.
And then recently, as I was pining for fall (it's my favorite season), I decided to make a little Pumpkin Patch set of tasks that would be perfect for a work system.
It's just simple sets of number based task cards with varying levels of difficulty, a set of pumpkin patterns for students to practice patterning skills and a large page that you can cut into strips for pumpkin color matching. Just print, cut, laminate and print. Add some Velcro to the patterning and matching and your are done. I priced it at $2 at least for this season and thought it might just add some variety to work tasks for the season. If you want you can check it out in my store here. For more work tasks with an autumn theme (leaves and pumpkins and candy corn), click here.
So, want to link up and share your work tasks? Please share them by following the directions below and I will share them on all my social media to get those ideas out there!