It's that time of year again….the time for counting our blessings, giving thanks, spending quality time with family, doing some much needed cleaning, organizing the closets, writing lesson plans,….discovering Instagram, getting lost in Pinterest, and finally being able to catch up on all of our blog reading. Ironically it's also probably a time when we make resolutions to do things like spend more time moving and with our family than we do on Pinterest.
In any case, as many of you know, I LOVE Pinterest. I love it because it takes the place of having to actually save things on my computer and never being able to find them or (gasp!) print them out in order to put them in a notebook!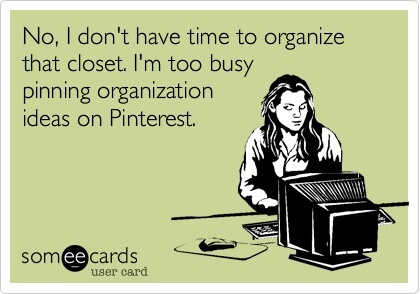 I love it because it's a great way to share ideas and save ideas for later to share with others. I use my Pinterest boards to gather information and share with our Facebook and blog community, but I also use it in my consultation business to share information. Many times in the last year I found myself saying to a teacher, "Are you on Pinterest?" If he/she says "yes" (apparently there are people who are not–shocker!), then I can share my boards on Independent Work Systems or Classroom Organization for ideas. It's also a good place for me to go to find ideas and visual supports so that I can share them in a consultation report.
However, we all also know the "dark" side of Pinterest. The Pinterest that sucks us in and doesn't let go until it's 3 in the morning and you are wondering why you haven't accomplished something and why you are suddenly realizing it must be time to go to bed. I'm not saying this has happened to me, mind you….I'm just saying I've heard of it. And Pinterest has some new tools that I have found amazing in making my feed more relevant and useful that I thought I would share (cause they aren't that easy to find).
So to help you find information in a more efficient manner and find the new tools (or to use your time unwisely during this last holiday week and suck you deeper into the Pinterest abyss), I thought I would put together some tools and resources to help you find just what you need on Pinterest when you need it. Because let's face it….we all know that sometimes our Pinterest feed is just what we need, but sometimes we just need something more. And when I'm searching for ideas for "data collection" on Pinterest….I meant data collection for ME not how to teach kids about data.
One of the first set of resources I'll cover is my Pinterest profile. These are all my pins and while they include some of my blog posts and products where appropriate, most of the pins are repins I've found around the internet that I want to reference or that I feel my followers might benefit from.
Visit Christine Reeve-Autism Classroom News's profile on Pinterest.
Second are my collaborative Pinterest boards. The pinners on the collaborative boards have been doing an amazing job of keeping the ratio of commercial pins to noncommercial ones low so there are many more ideas on those boards than there are products….although the products can be helpful too. I have elementary and secondary boards as well as boards that are autism-specific and more general special education.
Follow Christine Reeve-Autism Classroom News's board Awesome Secondary Special Educators' Ideas on Pinterest. Follow Christine Reeve-Autism Classroom News's board Autism Ideas for Teaching Secondary on Pinterest.
Follow Christine Reeve-Autism Classroom News's board Great Ideas for Teaching in Elementary Autism on Pinterest.Follow Christine Reeve-Autism Classroom News's board Awesome Elementary Special Educators' Ideas on Pinterest.
The third tool is the blog post I did last year on A Selection of Autism Related Pinterest Boards. I thought about updating it this year, but I covered so many of the good comprehensive boards that I didn't think it would be helpful. I've broken up the boards by different topics so you can see if they are helpful for you.
The fourth tool is a new tool on Pinterest that I am in love with. Some of you may have seen in your feed some pins that say "picked for you." That is Pinterest-speak for "if you like this pin, you might want to follow this board." They usually show up at the top of your feed (I think) and can be useful. If you don't like the pin, click the X next to the "Picked for you" and it will stop picking things like this pin. If you do like it, you can repin it and more like that will show up in your feed. I believe they base these pins on your interests and pinning history. You can find out more about them here. There is a similar feature called "related pins" that work about the same way. You can read more about them here. I love these because they make your feed more relevant to what you look for frequently.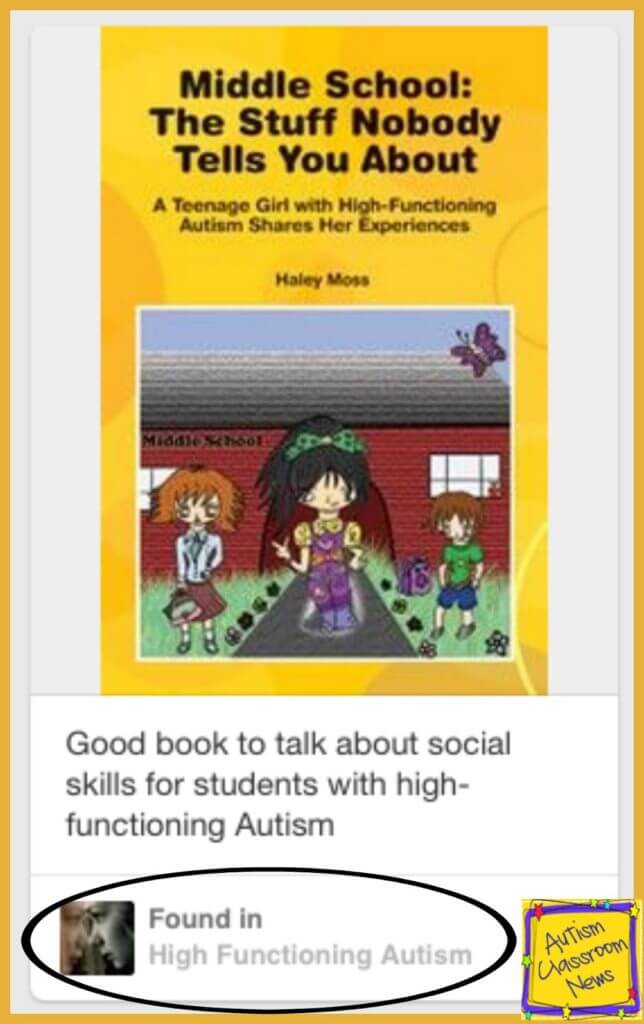 Pinterest is now developing "Interests" that you can follow so that any pin that is relevant to that interest may show up there whether you follow the pinner or not. When Pinterest originated this feature, you could go to the search (3 lines next to the address bar) and click "Explore" and see interests. However, when I went to do it this evening to take a screen shot, the explore button isn't there anymore. However, I do still have my interests that I follow. So I thought I would share them with you with links that might help you find resources that can help you. Under each interest you can also find related interests. Just beware that this may lead you down the Pinterest-Rabbit-Hole as you find more and more ideas to pin. Also be aware that there seem to be multiple interests under the same name. I'm not sure why this is, but it seems to happen.
Interests:
Autism
Autism Classroom
Special Education Teacher
Visual Schedules
Task Boxes
Special Education
Social Skills
Life Skills
And finally, to find more interests as I follow them, you can always go to my profile and click on "following." The first tab is interests and you'll see them listed HERE.
Are there Pinterest boards or interests that you would recommend for autism to follow? Please share them in the comments!
Until next time,