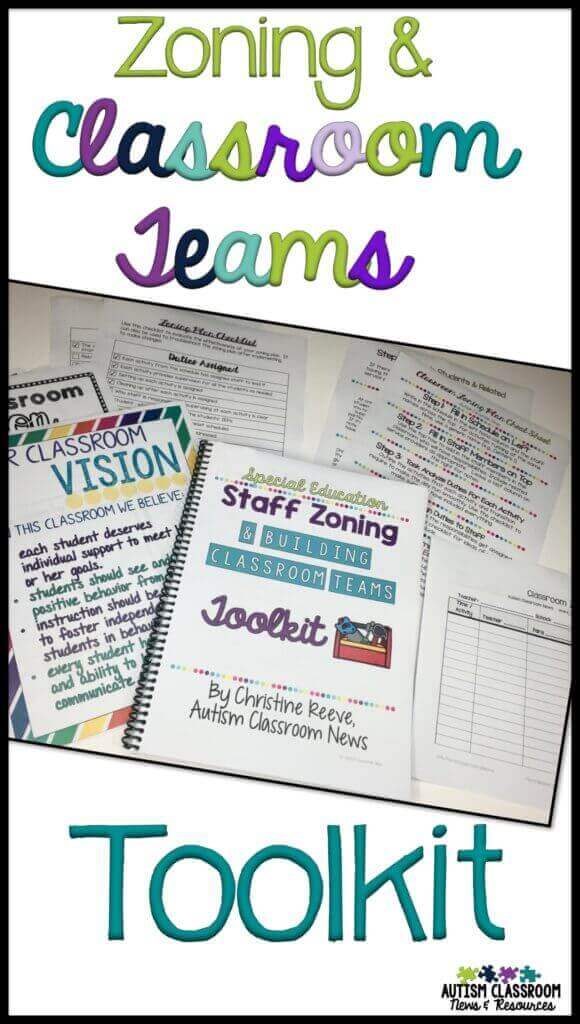 I've talked a lot on the blog about building classroom teams and using staff zoning plans to schedule staff in the special education classroom.  To bring all of that information together, I created a toolkit to walk you through how to build a team of classroom professionals. The toolkit includes printables and directions that:
help you create a vision for the classroom and why it's important
help with scheduling staff (e.g., paraprofessionals) using staff zoning plans
has tips for providing training to paraprofessionals
gives ideas about how to create time to collaborate as a team, and
gives suggestions about how to handle conflict when something goes wrong.
I really think this toolkit can be helpful to special education classrooms.  So, this post gives a brief overview of what's included.  Then you will have the chance to enter to win some amazing prizes including a resource bundle that includes this toolkit!
Some of what I shared in the toolkit is information I've had on the blog. But the manual provides so much more detail than I can go into in blog posts.  And it's all in one place!  I designed it primarily for self-contained and resource classrooms serving students with severe disabilities.  However, you could use it with any type of special education classroom.
E-Book
The first and primary part of the toolkit is the 89-page e-book.  You can choose to print it and bind it or you can download it and read it on the computer or tablet.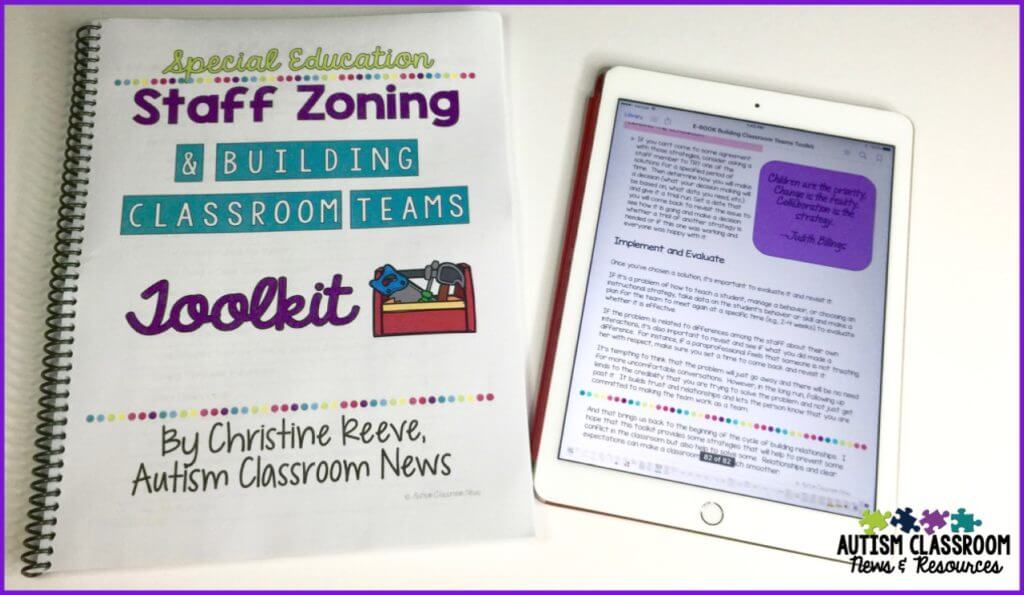 I put all the forms in separate files from the e-book. That way they are easier to print and you can use the book just for reference.  Then you can print the forms, as many as you need, from separate files.  In addition you get an exclusive video that outlines how to complete the zoning plan form that is linked to in the book.
Part 1: Get to know the team
Good teaching begins with building relationships.  Relationships with the students but also relationships with the staff.  The team can include the teacher, the paraprofessionals, the related service providers, behavioral support staff, and others.  Essentially I would include anyone working with the students or helping the staff work with the students as part of the team.  In special education, we all regularly work on "teams."  Some teams are productive; some not so much.  You are going to be working closely with this group of people for an extended period of time.  Many teachers struggle with providing boundaries between friendships that form between staff and providing supervision.  Most of us weren't taught how to supervise as part of our educational background.  And of course we are usually not officially "in charge" of the people we are asked to supervise and train.
[socialpug_tweet tweet="Good teaching begins with good relationships with staff and students. @sped" display_tweet="Good teaching begins with good relationships with staff and students."]
In this section I focused on tips for getting to know other staff members and the type of information you want to know to build professional relationships.  I also included tips on how to create time to get to know staff when you have little time together a framework in which to gather that information.
Part 2: Create a Shared Vision for the Classroom
I focused on the team creating a shared vision for the classroom because doing so can prevent future problems.  It gives you a touchstone to bring the team back to when there are conflicts or disagreements.  I included descriptions of what might go into a classroom visions.  I also give you some ideas how to manage the discussions about the vision so it is truly shared and is everyone's vision for the classroom.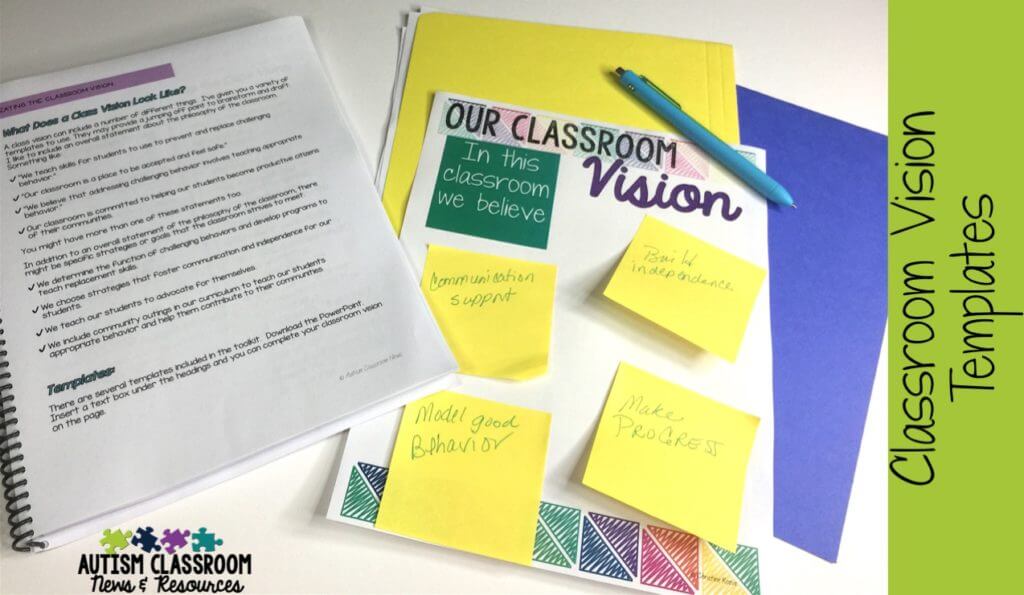 I shared some ideas about classroom visions in this post earlier that might help clarify what it would look like.  As I was taking pictures, a thought of another process to create a class vision.  Have each team member write an idea about their beliefs on post-its and then use those to create the vision.
[socialpug_tweet tweet="Creating a vision for the classroom can help build strong classroom teams in #sped classes. @autism" display_tweet="Creating a vision for the classroom can help build strong classroom teams in #sped classes. "]
The kit also includes more examples of visions and 4 vision templates that are editable in PowerPoint (one is black and white for those without color ink).  I think it is helpful to post the vision in the classroom for reference when there is a disagreement.  Having a vision can help to avoid conflict down the road and gives you something to refer back to when giving feedback.
Part 3: Create a Classroom Zoning Plan
I've talked about zoning plans a lot on this blog.  Zoning plans are essentially a way to schedule staff in the classroom to maximize engagement with students.  Zoning plans can also demonstrate how you are tasking your staff and what you can accomplish given the number of staff you are assigned.  There are a myriad of reasons to use zoning plans including managing absences, dealing with staff conflict, and more.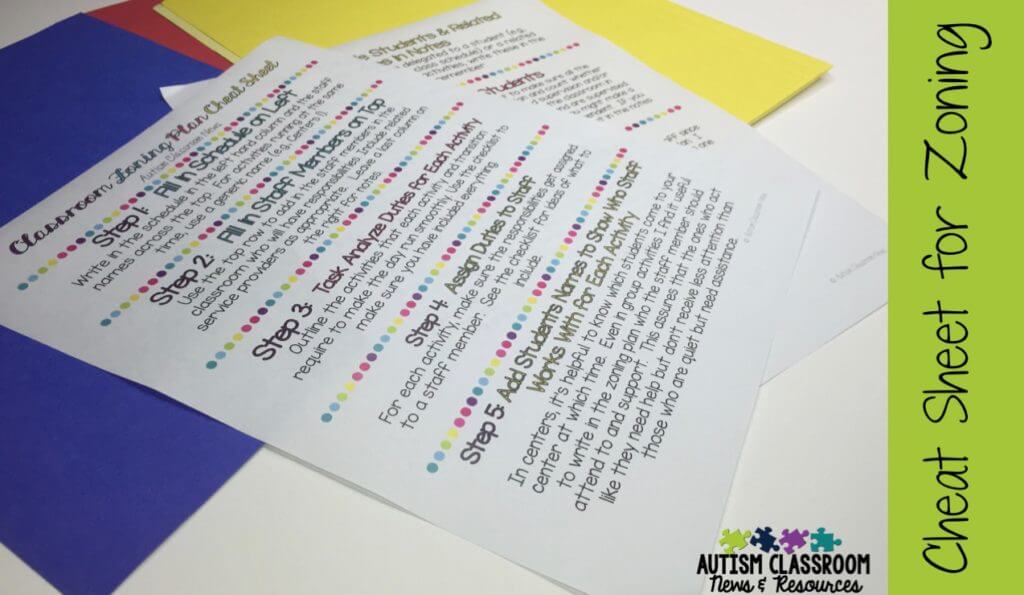 This section of the e-book focuses exclusive on creating zoning plans.  I included information on:
Why should I bother with it?
Zoning plans and substitutes or absences
Use of the 1-man down approach for training and absences
I wrote out detailed steps on how to create a zoning plan that include questions to ask, things to check for, and what should be included.  I also covered what to consider when trying to delegate responsibilities in the classroom. The book also discusses how to determine whether a zone or man-to-man strategy is best for coverage in the classroom.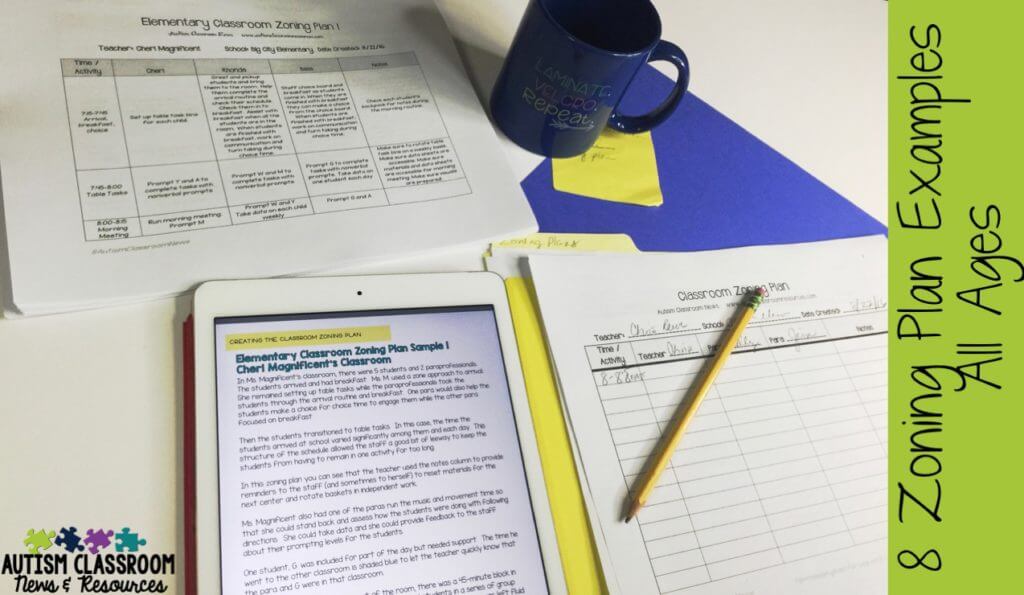 To help you create your zoning plan, I also included:
A fully editable Word document of a zoning plan
A zoning plan cheat sheet for a quick reference of the steps
A video screencast showing how the Word document of the zoning plan can work
8 Sample zoning plans, each with an explanation of its arrangement.

2 from preschool,
2 from elementary,
2 from middle school,
and 2 from high school.

A zoning plan check list to make sure everything is covered or troubleshoot problems
Part 4: Leading the Class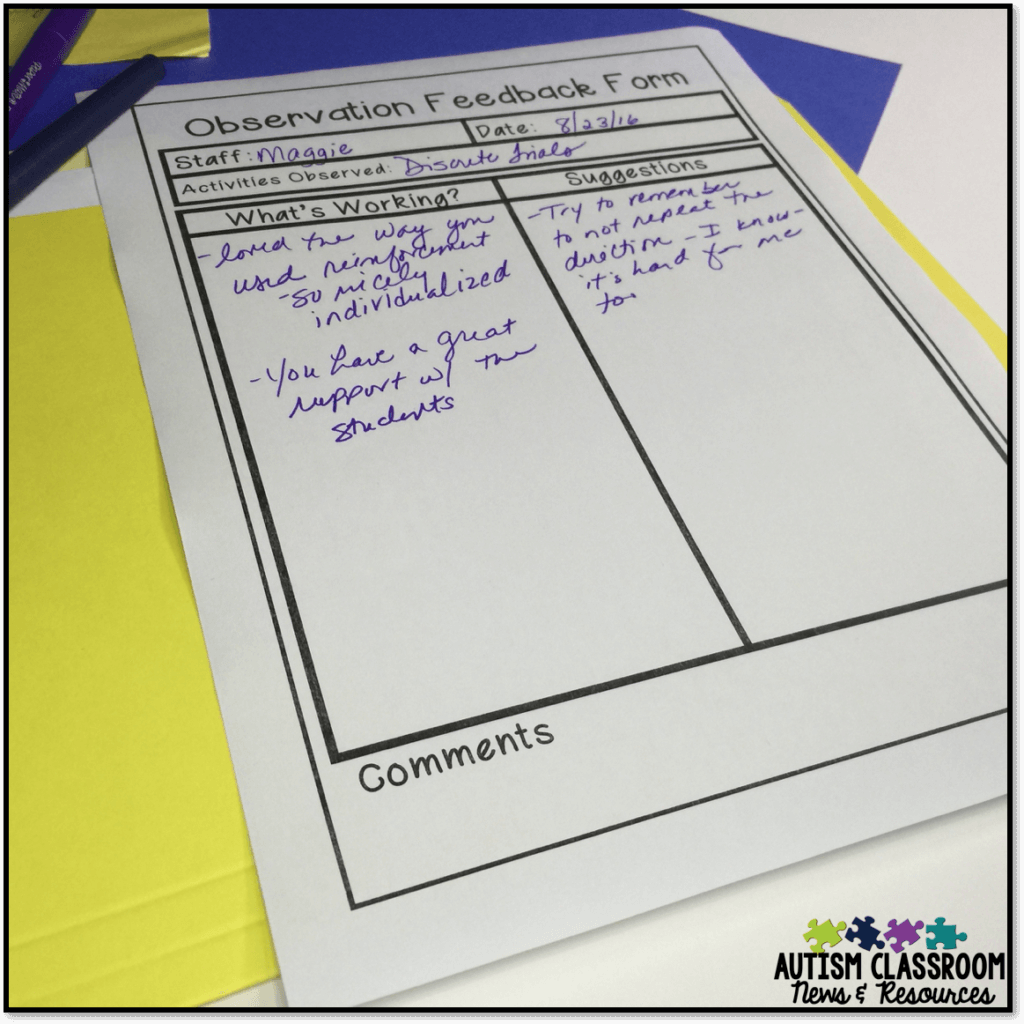 The final section of the book focuses on leadership in the classroom.  I covered everything from supervision and training of staff to ways to address disagreement.   Also, I included tips for finding time to train staff and ideas about strategies for training staff in the classroom hands-on.  I included a section of tips on giving feedback, because we all know that can be tricky.  In addition, I included an observation form that is editable or printable. You can find a very similar to one you can find in this post.  Finally, not everyone is going to be able to agree all the time. So I also focused on how to manage disagreements.
Check out the Toolkit in my TPT store or click any of the images above.
Until next time,